Welcome to week number 43 of A Favorite Thing! I'm waterlogged from all the rain we've had; when it hasn't been raining, I've been just as waterlogged from the humidity. Nevertheless, I've been trying to grab some time to mow the lawn. Rain = grass too long. Anyway, let's look at some highlights from last week: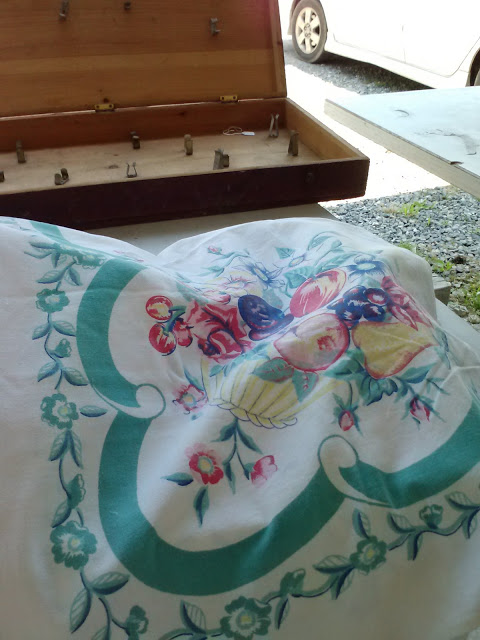 Virginia Retro shared a visit to the Flea Market and this beautiful vintage tablecloth she found there. Yep, she brought it home with her. I love vintage tablecloths.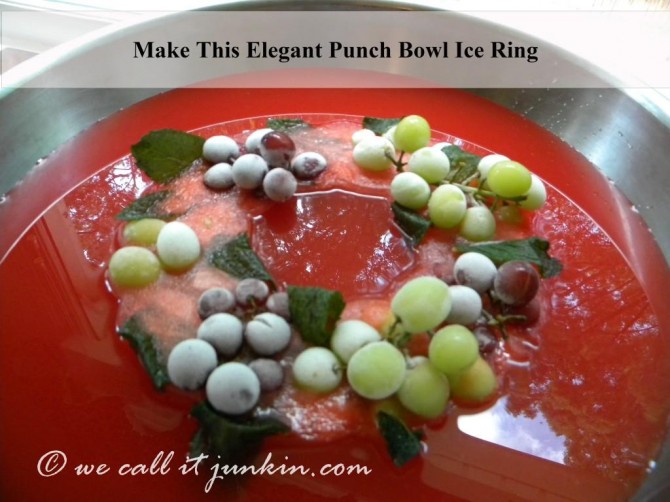 We Call It Junkin shared a tutorial on how to make this punch bowl ring. Isn't it gorgeous? This is the kind of thing I never think to make!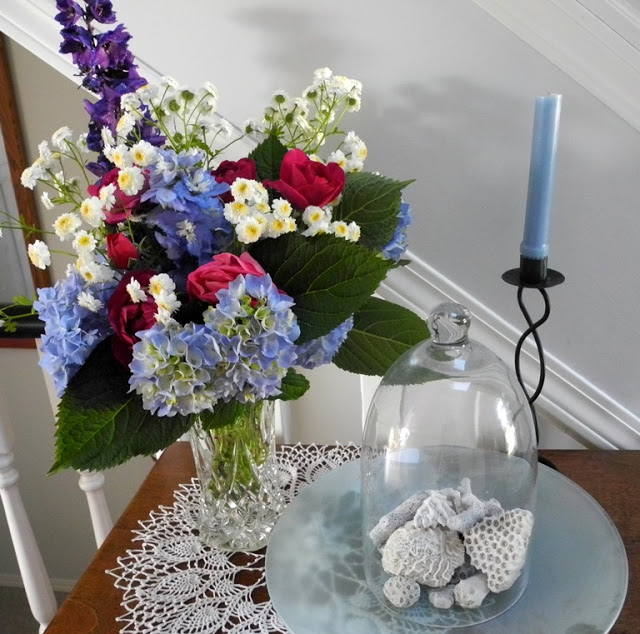 And Lorrie of Fabric Paper Thread shared the bouquet she made simply by strolling through her garden with her clippers. So lovely!
My favorite thing this week is this:
I have unimaginatively named it The Wrought Iron Thingy. Shameful, I know. I found it four years ago at a flea market in Southern California. I was working out there for an extended period of time and found quite a few little treasures at my favorite haunts. I think this is from Mexico. I just fell for the rusty-but-once-white wrought iron and the shape of it. I knew I could use it in many ways. At the end of my stay, I had it packed in a big old box and shipped it home. At first, I placed it on the kitchen table and decorated it for the seasons. But then I painted my kitchen table white and I didn't want The Wrought Iron Thingy to scratch the paint. Plus, it's big and takes up a lot of room. So now it lives on the porch and I like it there. I think I've found the perfect place for it.
Now it's your turn.
You can link up anytime from this evening through Sunday. Make sure you enter the URL of your post. If you're unsure how to do that, just click on your post title after you've published it and copy the information in your browser address window. Come back here, paste the URL into your link entry and there you go! If you have any problems, drop me an email and I'll help you out. Please link back to this blog on your post. That way, those that read your post and are interested in reading more can do so.

One of my concerns about link parties is that the very reason for them has somewhat gone by the wayside. They've become so big and there are so many of them that many bloggers don't take the time to visit any of the other participants. Link parties are a way to meet new bloggers and share with each other and the only way to do that is to visit each other. So, please, take some time to visit everyone over the next few days. No rush. Stop by, introduce yourself, and leave a comment. It's the neighborly thing to do. It's also nice if you leave a comment here, as well.
Enjoy!