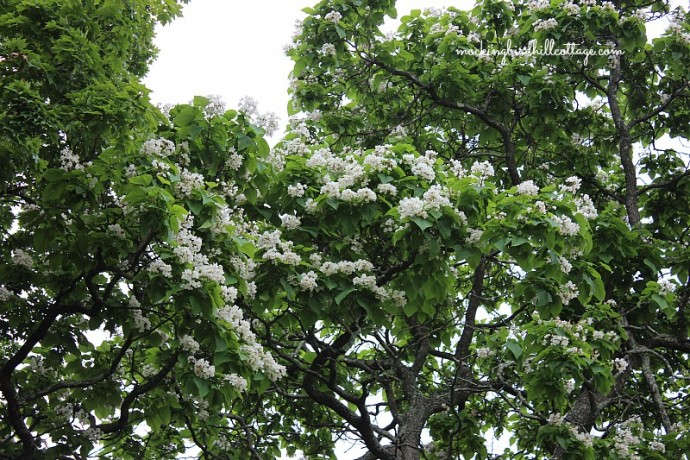 Have you ever been lucky enough to experience the scent of a catalpa blossom?
It's downright heavenly. Whether mowing the lawn, gardening, or sitting out on the funky patio, that gentle scent wafts through the air and I'm in a state of delight. It's such a gift, however short-lived. This year the flowers seem to have hung around a bit longer than normal. Maybe because of all the rain we were blessed with this spring?
The falling blossoms are everywhere and there's something wonderful about seeing them scattered on the ground.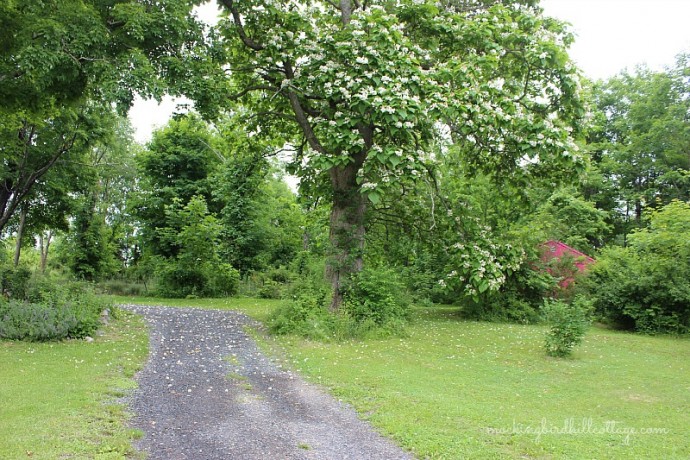 Across the driveway, on the lawn, here, there and everywhere. We have several catalpas, but most of them are up in the woods. This one proudly stands between the driveway and the shed. It's huge and lovely. And it has heart-shaped leaves.
Thanks for all your compassionate thoughts yesterday. I do miss my boy. As for long periods spent apart, this year is especially tough. Don and I will have been separated because of our work a total of 7 months this year. That's more than half the year. Seven months. We're tough and we do the best we can to handle it with grace, but frankly, that's just too much time spent apart. It might be hard to grasp if you are lucky enough to be in the same place as your spouse all the time, but believe me, it's very stressful. And lonely.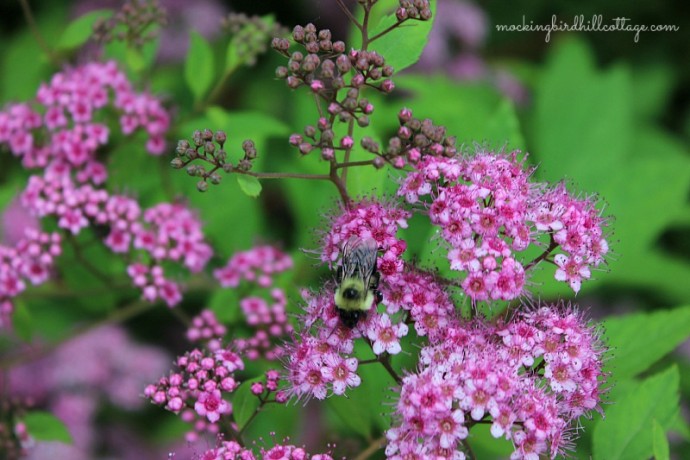 I did some work on the funky patio yesterday; flowers in the galvanized container, a pot on the bench. I'll share it with you in a couple of days. We mowed, but we seem to do that all the time. Mowing. I used to be the chief lawn mower around here. Don had to be 'persuaded' to do it. But something changed this year. While I was away in Hartford, Don had a conversion of sorts. He likes mowing. He likes the exercise he gets from mowing. He wants to do all of it.
Well, hold on there pardner! I like mowing, too. I'm glad you have discovered its benefits, not the least of which is a nice looking expanse of grass, but we have to share this chore. I like it, too. And I've been doing most of it for the eight years we've lived in this cottage. I'm asserting myself right back into the mix. Who would have thought I would have to beg to get my turn behind the lawnmower?
I guess I'll get my wish, as Don leaves Monday for five weeks. I will once again be the chief mower.
Tonight, Don and his friend Dan (he came over to the house to rehearse a week or two ago) are performing at a venue north of us. And I'm going along. I look forward to hearing them weave their musical magic.
I have a question. When I had the little problem with a spam comment going to one of my readers, I was at first concerned that I'd been hacked. So I deleted the plugin that informed you that I had replied to your comment. But I'm now convinced that it was a random spam comment that somehow got through my spam filter and since my reader had checked that box that said she wanted to be informed of a reply, she was notified when the spam comment went through. The blog is fine. There was no intrusion of any sort and I've instituted even stronger protection that blocks most of the spammers, so we should be a-okay.
Here's the deal. I really love threaded comments and the conversations that sometimes take place as I reply to a comment, and then that commenter or another commenter replies to my reply. As a rule, I try to respond to every comment. I don't know how many of you ever checked that box that allowed a reply to be sent to you as an email. I know some of you did.
I've found that most of us don't have the time to return to see if our comment has a reply, even if we have the intention to do so. I know I usually don't return, so I can only imagine you don't either. I'd rather get an email that tells me there is a reply.
So. Do you miss receiving those emails? I'm thinking of installing some sort of plugin that will allow comment reply notification because I miss our conversations. Let me know in the….wait…. hold on….comments section!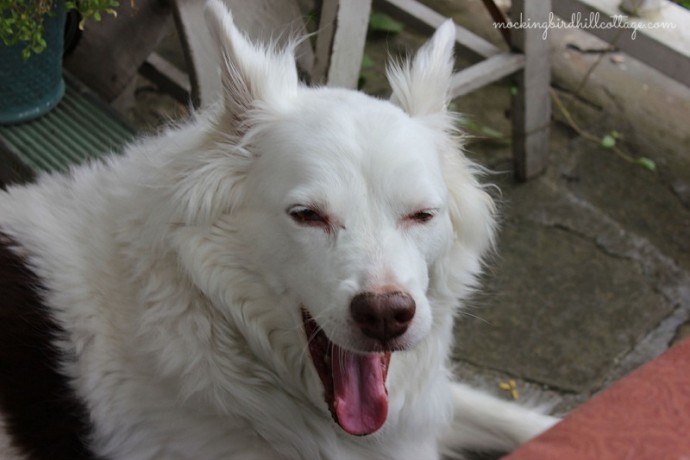 Have to close. Scout's bored.
Happy Friday.