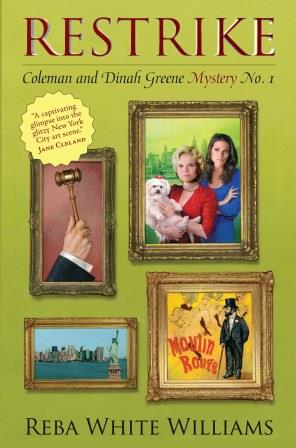 Hello everyone, today I am reviewing Restrike by Reba White Williams for TLC Book Tours. As always, I am provided with a copy of the book in exchange for my honest review.
About the book (from the publisher): Cousins Coleman and Dinah Greene moved to New York City after college to make their mark on the art world, and they have – Coleman as the editor of an influential arts magazine, and Dinah as the owner of a print gallery in Greenwich Village. But challenges mount as Coleman discovers a staff writer selling story ideas to a competitor, while Dinah's Green Gallery slips into the red. When billionaire Heyward Bain arrives announcing plans to fund a find print museum, Coleman is intrigued and plans to publish an article about him, and Dinah hopes to sell him prints. Then, unexpectedly, swindlers invade the art world to grab some of Bain's money, and a print dealer dies under mysterious circumstances. Risking her own life, Coleman sets out to unravel the last deception threatening her, her friends, and the once-tranquil world of fine art prints.
My review: What do I know about the art world, especially the world of fine art prints? Very little. But it is a world that the author knows well and that knowledge permeates every page of this mystery. The noun restrike, by the way, refers to "a fine art print made later than the first edition, usually inferior, and often made after the artist's death." Coleman and Dinah Greene are written in great detail, as are the other colorful characters in this book. (New York City is also a character, as Williams clearly loves and adores that great city.) We are in a world of money and privilege here: billionaires, millionaires, powerful collectors, wealthy patrons. Even Coleman and Dinah, who had a hardscrabble and poor childhood in the South, are now relatively well off. There is a fun element of 'Lifestyles of the Rich and Famous' here.
Though the male characters are interesting and well written, it is the female characters who hold much of the power in this book and I found that refreshing. They are smart, savvy, successful – and brave.
The plot is fairly complex and Williams does a good job of weaving together all the plot points and webs of intrigue. I am an avid mystery reader, as you know, and I really like it when I can't figure out who the bad guy is until the reveal. Though I had an idea, I wasn't absolutely sure. Kudos to Williams for creating a complicated enough plot with several potential villains. I was fully immersed in this unknown-to-me world and that is due to Williams vivid characters, a detailed plot and her ability to create a setting that comes alive.
I have a couple of quibbles. Some of the plot points and character connections were just too far-fetched for me – they fell off my 'believability scale.' They didn't ring true. Resolutions for some of the characters were curiously unsatisfying. But that may be deliberate on Williams' part, as this book is the first in a series that will feature Coleman and Dinah. Perhaps we'll see these characters again.
In the end, this book was well written with a plot that kept me reading until the end. I really enjoyed it. And I look forward to more of this series. Williams, who has led a fascinating life, is an author to be watched.
I'm sure you will enjoy this debut mystery.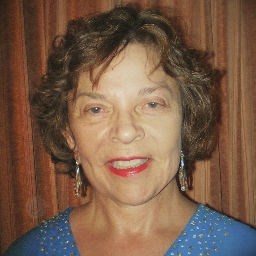 About the author: Reba White Williams has written articles for American Artist, Art and Auction, Print Quarterly and Journal of the Print World. She served on the Print Committees of The Boston Museum of Fine Arts, The Museum of Modern Art, The Metropolitan Museum and The Whitney Museum. She was a member of the Editorial Board of Print Quarterly and is an Honorary Keeper of American Prints at the Fitzwilliam Museum, Cambridge University.
Williams grew up in Mississippi, Tennessee and North Carolina. She graduated from Duke University and her ambition at 21 years old led her to New York, where she began writing about art, business and finance. She holds numerous post-graduate degrees.
Fine Art Print Collecting has been a major activity for Williams and her husband and they assembled what has been called the largest collections of prints by American artists in private hands. They circulated seventeen exhibitions from their collection to more than one hundred museums worldwide, Williams writing the exhibition catalogues. In 2009, most of their collection – about 5000 prints – was donated to the National Gallery of Art in Washington, DC.
She and her husband founded the annual Willie Morris Award for best Southern fiction, now in its sixth year. With her husband and their dog, Muffin, who is fictionalized in her books, Williams divides her time between New York, Connecticut and Palm Springs.
Regretfully, there is no giveaway for this book. It's available in paperback from your favorite bookseller.