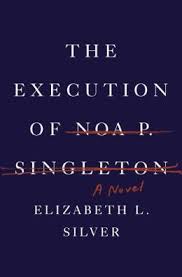 Today I am reviewing The Execution of Noa P. Singleton by Elizabeth L. Silver for TLC Book Tours. As always, I am provided with a copy of the book in return for my honest review.
About the book (from the publisher): The Execution of Noa P. Singleton is a clever, gripping and psychologically astute novel about a young woman on death row, what she did to get there, and why she may never share the truth with a living soul. It is unapologetic, unpredictable and unforgettable. It begins with Noa's imminent death in a Pennsylvania penitentiary. Incarcerated at the age of twenty-five for the murder of Sarah Dixon and having served ten years with little hope of appeal, Noa Singleton is ready to die. Yet, six months before her execution date, she has an unexpected visitor, high-powered attorney Marlene Dixon. Marlene, the mother of Noa's victim, has initiated a clemency petition on Noa's behalf. But why would Marlene change her mind, and what does she want from Noa? As Noa's prison memoir unfolds, we learn about the events leading up to Sarah's murder, as well as the links binding Noa, Sarah, and Marlene's fates. Interspersed throughout the novel are Marlene's confessional letters to her daughter that reveal clues exposing a past filled with love, anguish and deception. But which story is sincere? As Noa's execution date looms large, we are faced with truths just as sinister as the crime of which she has been accused.
My review: I read this book during the course of one day. I rarely do that, but I couldn't put it down. What a powerful debut novel from the author! Silver is a gifted writer who takes us on a journey through the mind and memories of Noa P. Singleton, as well as Marlene Dixon, slowly revealing a 'truth' here, dropping a hint there. This 'reveal' is done so artfully that it will keep you guessing right up to the end.
The character of Noa is vividly drawn, her voice unmistakeable. Through her words, we get a detailed picture of the trial process, legal maneuvering and the prison system. The author studied and practiced law and her knowledge of the system contributes mightily to this novel. Encouraged to tell her story by Oliver, the young idealistic lawyer who is assisting Dixon on the plea for clemency, Noa gives us bits and pieces of her past that flesh her out – but she holds some things back.
Marlene's letters to her dead daughter also give us tantalizing clues about her motives and her feelings about Noa, her daughter and the legal system. The death penalty looms throughout the book; is it morally conscionable? What about the legal system, does it serve those accused of crimes? Is the issue black and white or are there shades of gray?
Here's what I loved about this book. There are so many twists and turns, so many supposed facts based on a character's perceptions, so many missing puzzle pieces that are not found until the very end. The publisher uses the word 'unapologetic' and I can't think of a better way to describe this book – it's a complicated and complex book that is riveting. You can't help but ponder the moral issues here and you can't help but be caught up in Noa's story. She serves it up in bits and pieces; she's unwilling to reveal her final secrets until the end. I haven't  seen a more compelling character than Noa in a long time.
I still can't stop thinking about the story and about Noa herself. And though I pride myself on being able to figure out the way a complicated plot will end, I was completely surprised by the secrets that are revealed toward the end of this book. Silver is an amazing writer and this novel is one I would urge everyone to read – not just for the characters and plot but for the issues it raises, the questions that linger.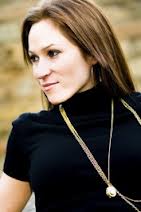 About the author:  Silver, a writer, attorney and former English teacher, is a graduate of the University of Pennsylvania, the MA program in Creative Writing from the University of East Anglia in England, and Temple University Beasley School of Law. She studied capital punishment with some of the nation's leading anti-death penalty attorneys at The University of Texas School of Law at Austin, where she worked on a clemency petition, and later worked as a Judicial Clerk for the Texas Court of Criminal Appeals. As part of the clemency investigation, she visited death row, interviewed inmates and met with victim family members. While exploring the provocative and polarizing issues of the death penalty, Silver wanted to explore both sides of the issue, and thus her novel was born. Silver's taut writing, which has brought recognition from Glimmer Train, funding from the NEA, and writing residencies in Spain and France, carries the reader forward to the story's shocking end.
One of you lucky readers will win a copy of this book. Just leave a comment on this post and I will pick a winner on Sunday night. Good luck!