I was talking on the phone with my sister, Meredith, the other day. You all know Meredith, right? We got to a point in the conversation where we journeyed down memory lane, sharing stories that have always made us laugh. We have been through some silly adventures together and we often find ourselves laughing about something. We are also able to find some dark humor in life's challenges – as with our aging parents. It keeps us sane. Anyway, one story in particular makes us laugh so hard that we start crying. How about if I share it with you? At the risk of an all text post putting you off, I'll share a few garden photos. (I don't like using photos from the web, I'd much rather share my own.) This will be the first in an occasional series.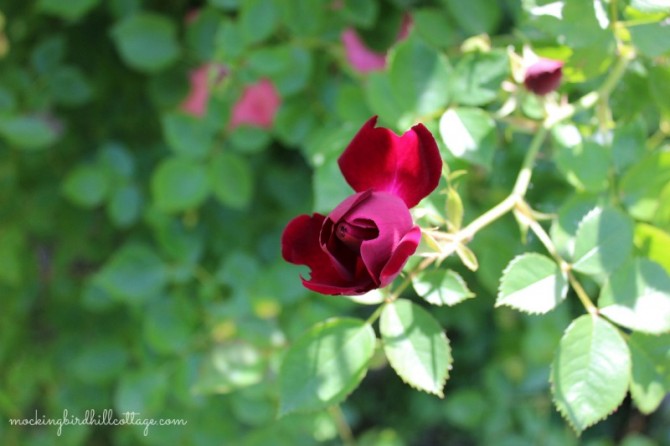 Many years ago, my dad took an early retirement and one day, much to our collective surprise, our parents announced they were selling our childhood home and moving 'up north' to Rogers City, MI. Rogers City is a small town on Lake Huron at the top of the 'mitten' that is lower Michigan. They bought a lovely home with 5 bedrooms (2 more than our family of 6 had during our youth – how ironic) and we proceeded to gather there at Christmas time. Now, we were all adults at this point: Meredith was the youngest of the kids, my brother Dave was the oldest. I was in my thirties. Meredith was in her twenties. We had careers. We were living on our own.
Now, just to let you know a little about my mom, she has a wonderful sense of humor. Many is the time we laughed ourselves silly over something. There is one area of life, though, that she was deadly serious about: church. When she moved up to Rogers City, she started attending a tiny little Episcopal church on the edge of Lake Huron. When I say tiny, I mean it seated about 50 people, tops. Charming. But teeny tiny.
Cut to Christmas Eve. All the kids were home. Mom was thrilled that we would all be in her church on Christmas Eve.  She wanted to show us off. This little church shared a minister with two other churches, so services had to be scheduled at different times in order for the minister to travel between congregations.
There were several inches of snow on the ground and it was very, very cold.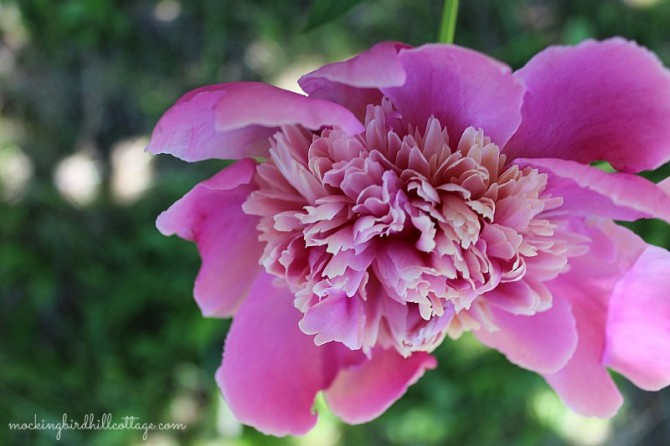 We arrived at the church, bundled in our coats. No space for a coat rack, so we did that thing you do while sitting in a pew; after sitting down, we took off our coats and arranged them around us.
We grew up in a Lutheran church, so the practice of using incense during a church service was new to us. Unfortunately, they went a little crazy with the incense and the smell of it took over the tiny church.
The service still hadn't started. Clearly there was some sort of delay going on, as evidenced by stage whispers between the organist and someone else as to "Where is the minister?" "I don't know!" This was long before cell phones became a part of everyday life, so no one could call him.
Along with the ongoing back and forth about the minister's whereabouts, there were also whispered conversations about "Where is the baby Jesus?" "He's missing!" "Who saw him last?"
Baby Jesus was missing from the rather large creche.
Meredith and I were sitting next to each other. My mom was right next to us. Meredith and I started to exchange glances as the quite audible whispers grew more and more frantic. We started to giggle. Just a bit. Then a little bit more.
Meanwhile, we waited for the minister.
The incense was overpowering.
Finally, the minister arrived. There was no back entrance in the church. He simply came in the front door, was greeted by the whisperers, shucked his coat, and made his way up the aisle. The baby Jesus had been found – where, I don't know. The long delayed service was just about to start.
We were still a bit giggly. We'd been on the receiving end of a few quelling looks from my mom.
The service started. We picked up our hymnals and started singing the opening hymn. In the usual fashion, we remained standing while the minister greeted us and read from the opening of the liturgy.
Then we received the signal to sit down.
It was totally quiet in the church. You could hear a pin drop.
Meredith was on my left. You know how you reach back to make sure your coat is arranged against the back of the pew in a way that allows you to sit down without sitting on the coat? Well, Meredith looked back and to her right, I looked back and to my left.
We clunked heads.
Now, when I say we clunked heads, I mean we clunked them so hard that it sounded like two bowling balls had crashed into each other. The sound was deafening. Everyone in the church turned toward the unexpected sound.
We saw stars. Our heads hurt. The sound of the clunk reverberated throughout the church.
And we started laughing. Uh oh. Can't laugh in church, especially with Mom there. So we tried to not laugh. We bit down on our lips. We thought about serious, weighty issues. We wouldn't, couldn't, look at each other. None of it worked. On went the service. My mother gave us more than a few razor-sharp 'Stop it!' looks. We couldn't stop. Honestly, we tried. But the more we tried to stop, the more we laughed. Most of this laughter involved shoulders shaking, tears streaming down our faces, and most of it was inaudible to anyone but immediate family. Every once in a while, though, a quite audible gurgle of laugher would escape and we'd clamp back down on it.
We were in full view of the minister and the rest of the tiny congregation. It was impossible not to see what was going on.
My mother was furious with us. Her lips compressed into such a thin line that I thought she might explode. Or turn to her immediate left and shake me. With great willpower on her part, she refrained from throttling me.
She simply would not look at us. One can only imagine the thoughts going through her head.
At times we would seemingly get control; we'd wipe our eyes, take a deep breath and think "Okay! This is finally over."
Then one of us would remember the sound of the bowling ball clunk and we'd be off again.
This went on for at least twenty to thirty minutes.
I don't think I've ever laughed so hard in my life.
Church services. Funerals. Important speeches. Occasions of state. One is not supposed to laugh in these situations.
Needless to say, my mother would not speak to us the rest of the night.
I remember looking down the pew in my dad's direction. He had a grin on his face. He got it.
Not Mom.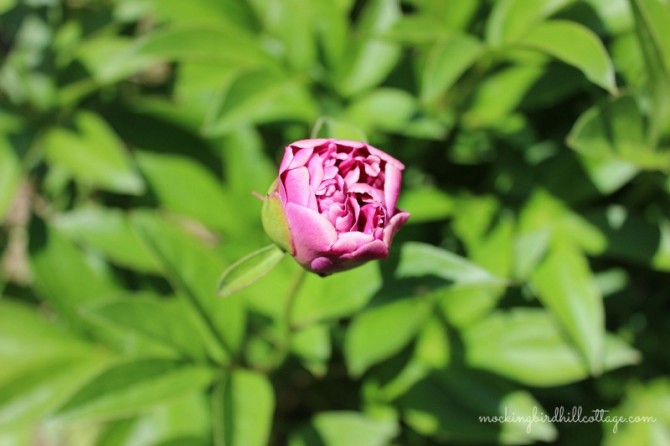 Now, these many years later, we will talk about this incident like we did the other day and find ourselves engulfed in laughter. Once again, tears stream down our faces. We cannot stop laughing.
Mom never, not even years later, found the situation remotely funny. We'd try to make her laugh about it. She would have none of it.
Meredith and I, by the way, have been know to literally (and I really mean literally) fall down laughing. There's another story about that for another time.
Laughter, even laughter in church, is the best medicine.
Happy Thursday.