After 36 hours of constant rain, courtesy of the most recent tropical storm, we are sunny and dry. At least for today. Friday afternoon consisted of heavy rain but the atmosphere here was considerably lightened by the sound of guitar, dobro, mandolin and banjo – along with my husband's voice.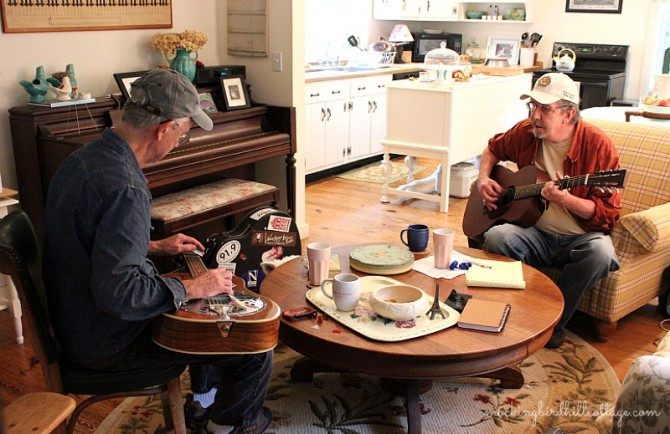 That's Dan on the left playing the dobro and Don on guitar. Just on the other side of the table, you can see Scout's ear. That girl never left the living room. It was as if I didn't exist. She loves people and music, so I can't blame her.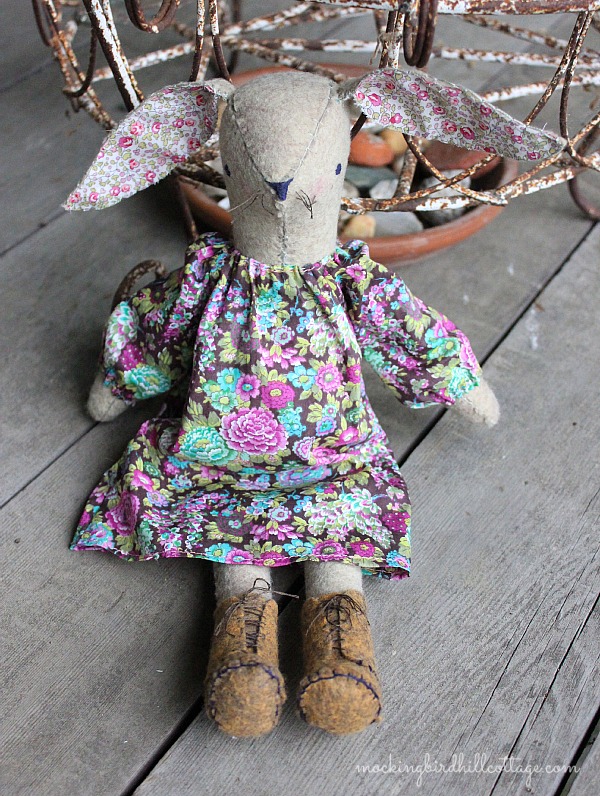 Friday's mail brought something from my sister. Meredith recently ordered her own Maggie Rabbit kit, as well as Alicia's new pattern for a knit dress for Maggie. Since Meredith is a far better knitter than I am, I asked her is she would make a knit dress for Maggie.
Let's see if we can get Maggie to stand up.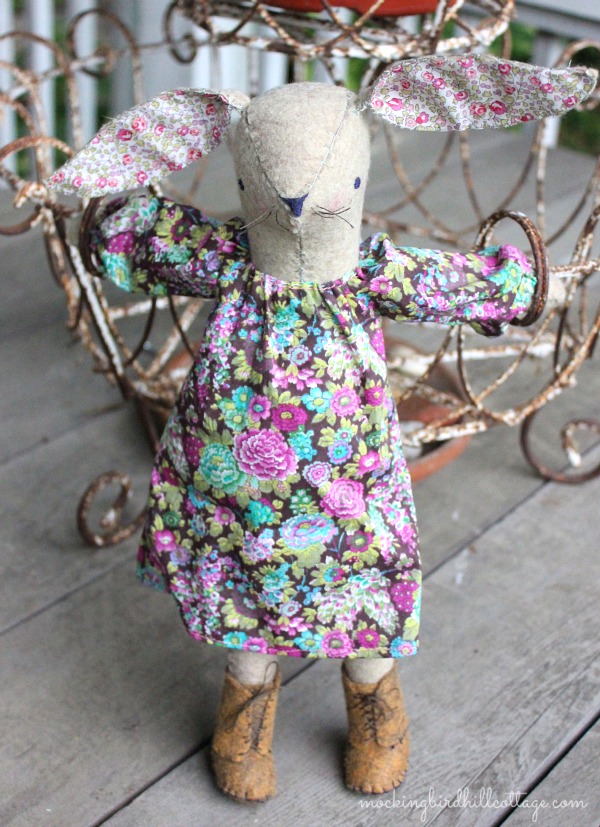 There! She needed to hold on to the wrought iron. Okay. Now we'll put her in her new dress.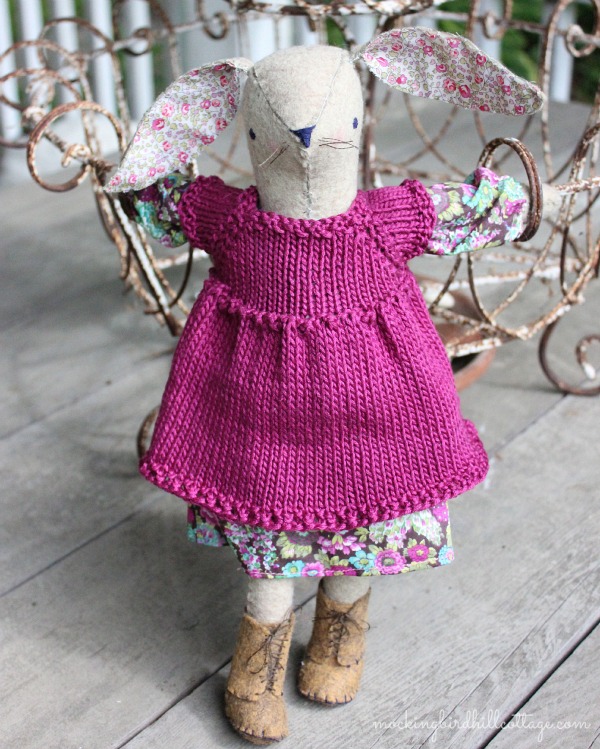 Hello! Could that dress be any more adorable? Maggie likes the layered look.
Meredith also sent along something she designed; an apron. After all, Maggie works in the garden and in the kitchen and all around the house. She needs an apron.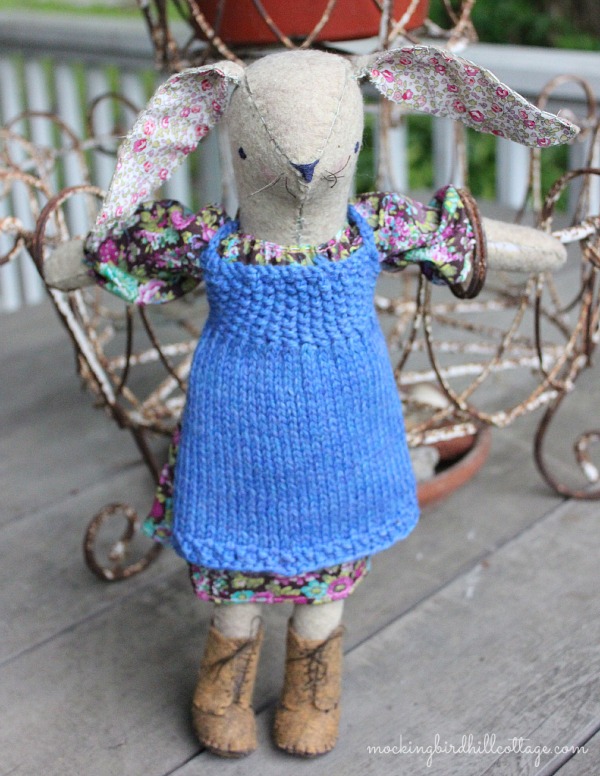 Be still my heart. She looks so cute.
Every time I put something over Maggie's head, I have to rearrange her whiskers. I clearly forgot to when I took this picture.
Meredith is quite talented, you know. Thank you, sister!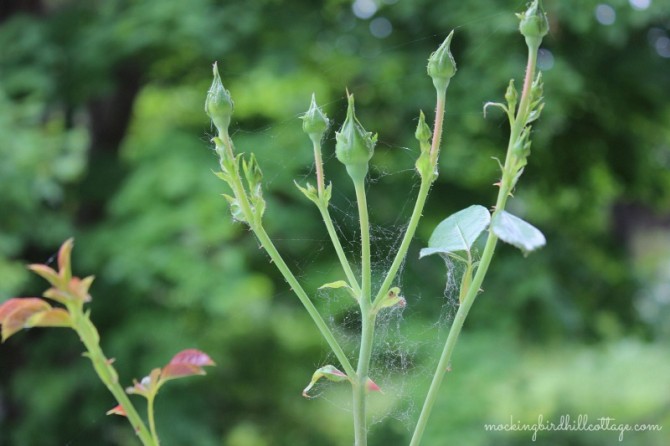 Lots of buds on the New Dawn roses.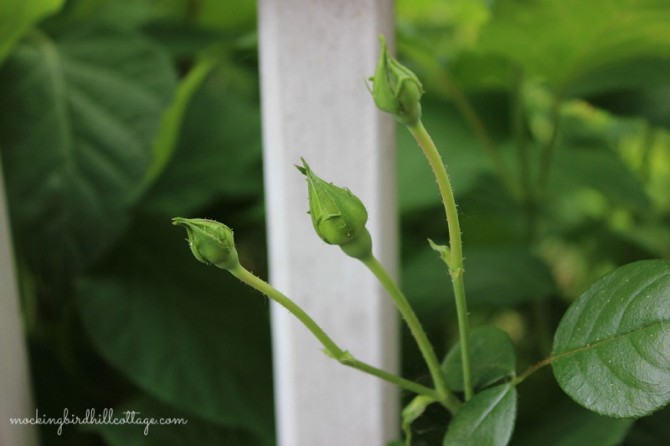 And the Julia Child roses, which were originally a pale yellow but now have reverted back to red, are really taking off.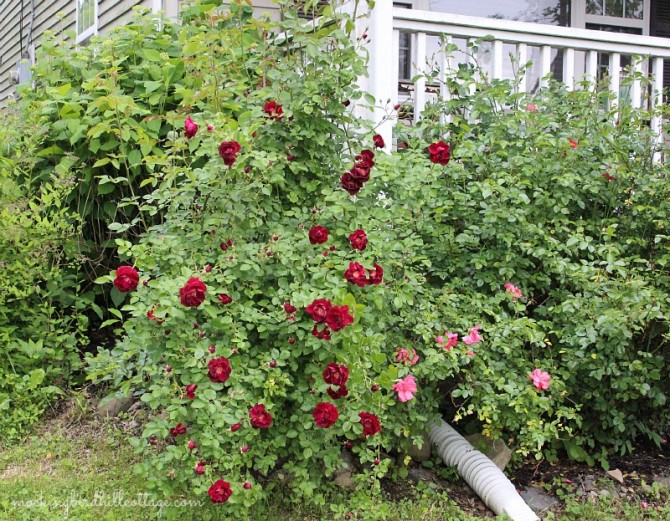 I love all my roses, but (shhh!) I love the New Dawn roses the best. They are in the side garden, so you can't see them in this picture. I did plant another New Dawn rose bush at the end of the summer last year. It's several feet to the right of this area of the garden, which is in front of the house. I'm hoping it takes off.
I have to start work on the text for Much Ado About Nothing. I've got a two-day gig in mid-July – I will be working with the cast of an upcoming production of that play being produced by the Barrington Stage Company (situated in the lovely Berkshires.) But our work will be in NYC. And then, not long after that, I will be once again coaching at Hartford Stage. This time it will be Macbeth and a French play, La Dispute.
I think I'd better tear myself away from the garden.
Umm….tomorrow. Because today is sunny and tomorrow will be rainy.
By the way, if you tried to download any of Don's music and had a problem, we hope to resolve that within a few days. Just a glitch with Paypal that will soon be cleared up. I'll give you the all clear when everything is resolved. Thanks for your patience!
Happy Sunday.