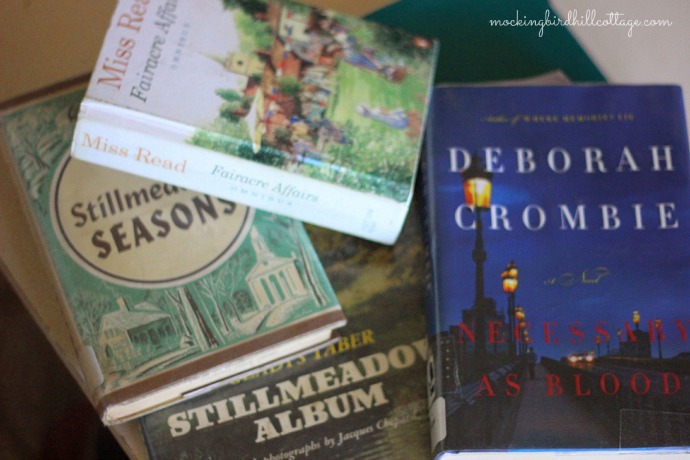 • Reading the next to the last Deborah Crombie mystery. Only one more to go. Say it isn't so! I did the same thing with Lee Child's mysteries two summers ago – I read every one of his books over the course of the summer. As I near the end of the books, I get sad.
I also ordered some books through my local library. Susan Branch speaks so highly of all the books by Gladys Taber and I seem to share Susan's sensibility. So I've started in on Stillmeadow Seasons. As to the other book, I read one of Miss Read's wonderful books while in Hartford and I fell in love with her cozy and funny stories of English small town life. She was a prolific author, so I will have plenty of books to explore.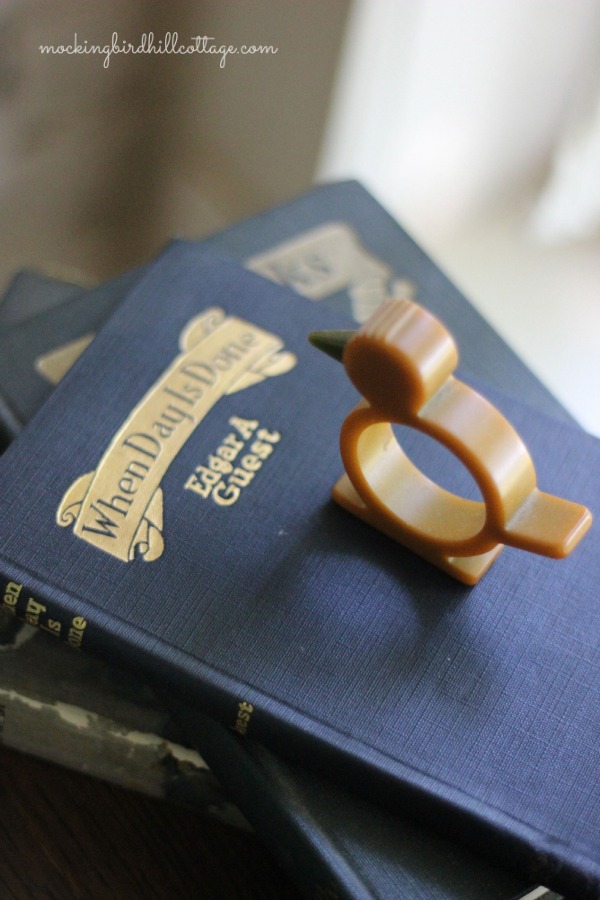 • Dusting, swiffering and vacuuming. I'm not a big fan of dusting since I'm allergic to house dust, but when I'm in the mood to do it, I suddenly see dust where I previously hadn't noticed it at all. Selective sight, I suppose. These books of poetry by Edgar Guest got some attention and now they look beautiful once more. By the way, did you know that Edgar Guest was my dad's godfather? Yep. He and my grandfather were very close friends – Dad remembers them playing cards at his house. According to my dad, Edgar Guest was a great guy.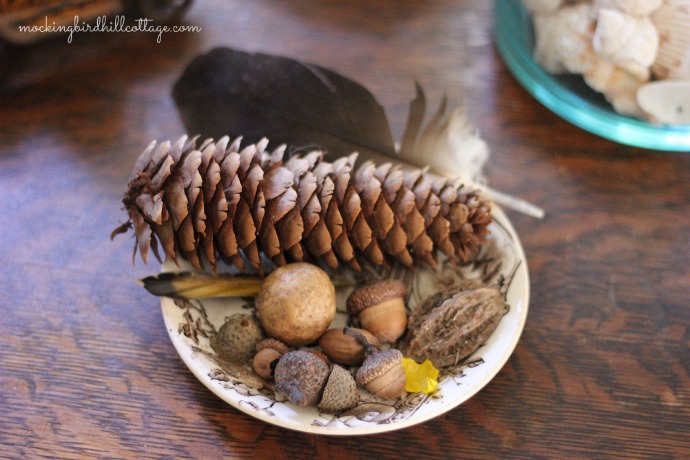 • Adding to my collection of natural wonders. Remember the flicker feather I found in Hartford? There it is on the left. I just added half of a walnut shell from our black walnut tree. And that splash of yellow? Part of a bird's egg that had fallen onto the funky patio. Does anyone know what bird lays yellow eggs? I've searched online but have been unable to come up with a definitive answer.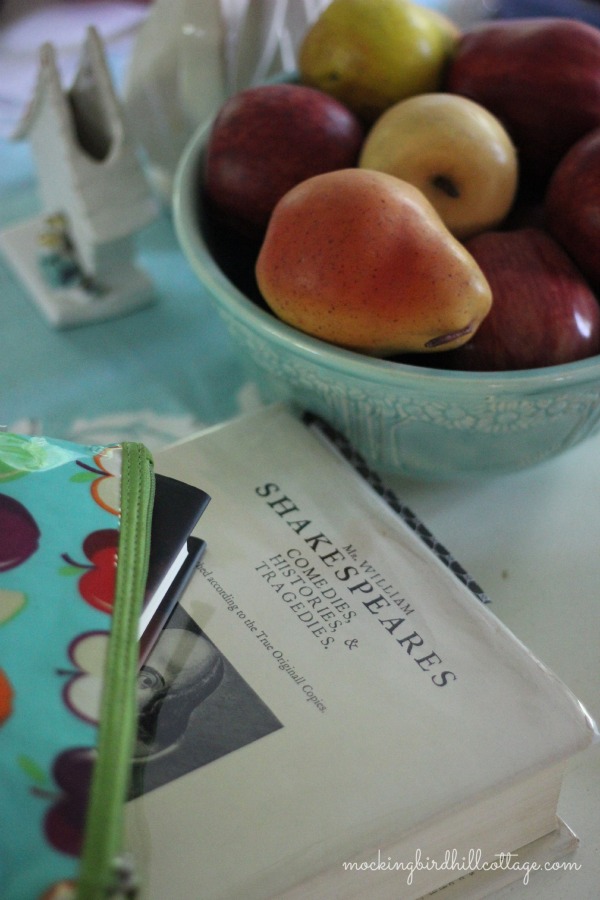 • Preparing for two coaching jobs – a two day job in the middle of July and the next gig in Hartford starting at the end of July. By the way, I just realized I will be gone for nearly two months this time around. I was expecting six weeks. Yikes. I can't think about that too much or I get really sad.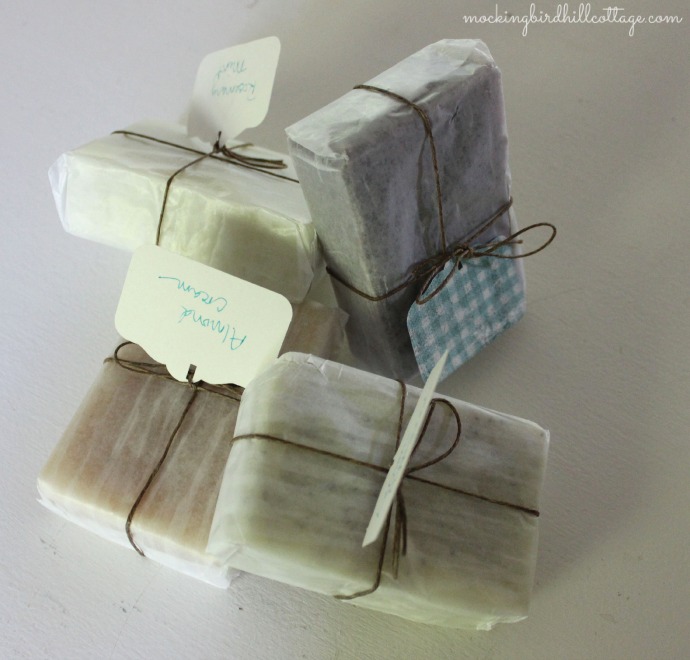 • Getting a package in the mail. My blogging friend Cindy, of Cottage Instincts, sent me four bars of her amazing homemade soap. After my post the other day about The Struggle, she thought I could use some pampering. They smell heavenly.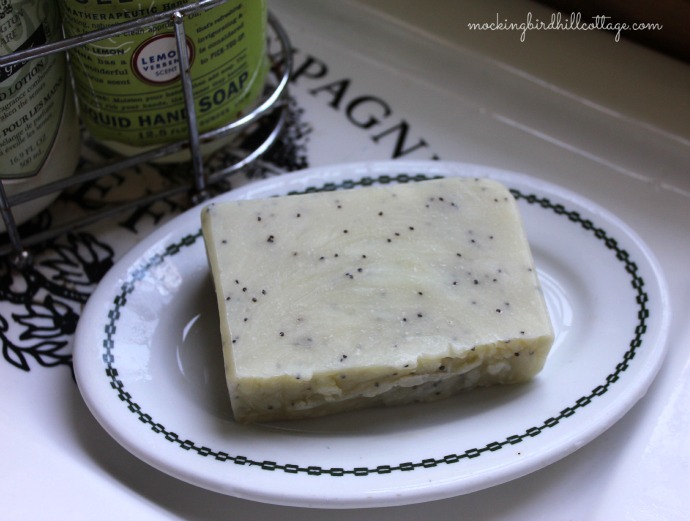 Cindy mentioned that Lemon Poppyseed was especially nice to use after some gardening, so I've put it in the soap dish by the kitchen sink. Thank you, dear Cindy, for your sweet and thoughtful gift!
• Mowing. No picture necessary. Just take my word for it.
• Getting the car fixed: new radiator and new something or other bolt that had deteriorated. causing my right front tire to wear more quickly than the other tires. It was, according to my mechanic, 'becoming a safety issue.' No picture necessary.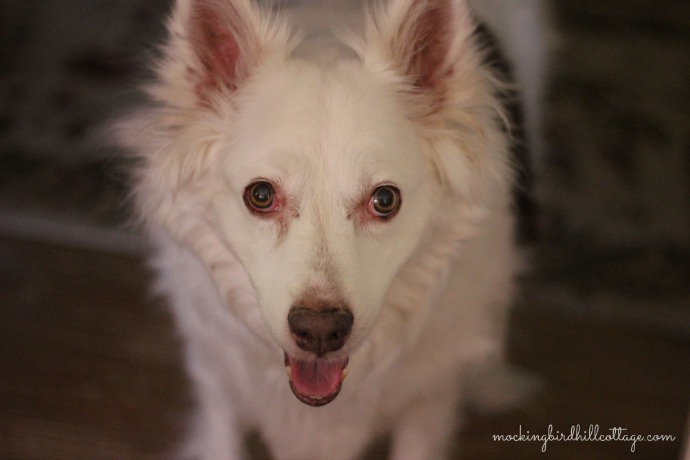 • Spending time with this girl. She's still full of spunk and is doing well. She misses her dad, of course, and he misses her. (Her allergies are troubling her, hence the red, weepy eye.)
Oh, let's look at her again.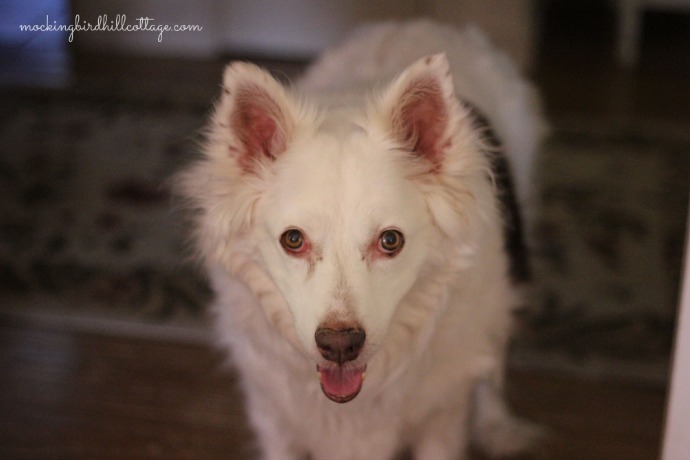 She's gorgeous. And smart. And funny. That's a good combination.
Happy Sunday.