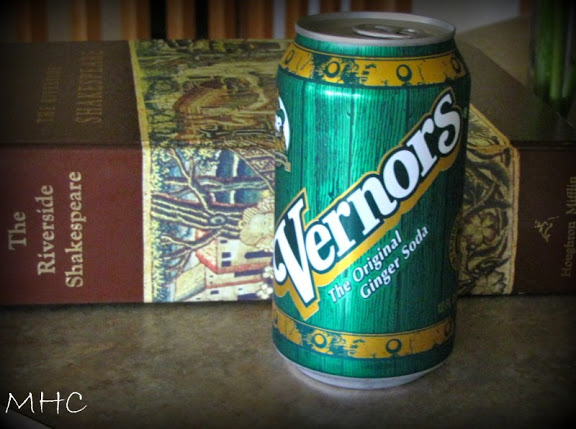 Detroit, the city of my birth, is the home of Vernors Ginger Ale. It originated there. If you aren't familiar with this uniquely Midwestern soda, I understand. But those of us who grew up drinking Vernors are spoiled and refuse to drink any other 'supposed' ginger ale on the market. At one time, I lived just down the street from Vernors' headquarters.
However, it is a regional delight and I haven't been able to find it out here in the East. A couple of years ago, I was working in Wisconsin and I discovered that a local store stocked it. I was in heaven. I even wrote a post about it.
If I was visiting my home state right now, you may be sure that I would be stockpiling some Vernors to bring back to the cottage. It's that good. Years ago, I found some in San Diego, of all places, and when my parents were visiting, my dad made Boston Coolers for us from Vernors and vanilla ice cream. A friend of mine who moved to Ithaca, New York, bought several cases and stored them in his bathtub. We love our Vernors.
I get it. If I had an extra bathtub, I might do the very same thing.
So….the other day I was browsing in a local antique mall. And what did I see? (For pennies, my friends, for pennies.)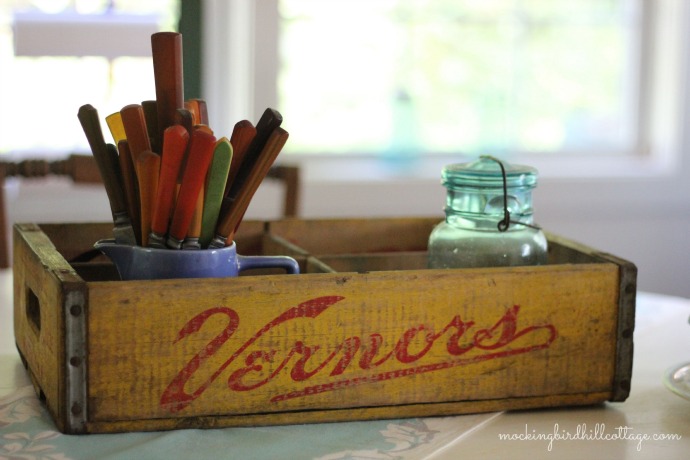 This. An oh-my-goodness, incredibly wonderful, calling-my-name vintage Vernors soda crate.
I've never encountered one out in this neck of the woods. I had to get it.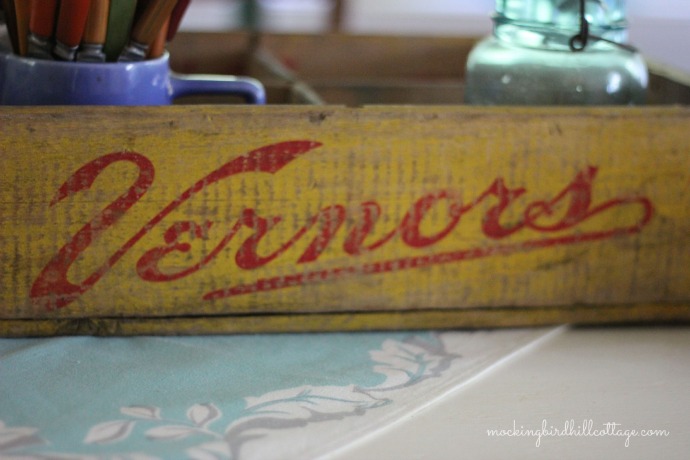 Mustardy yellow and red. A nicely battered patina.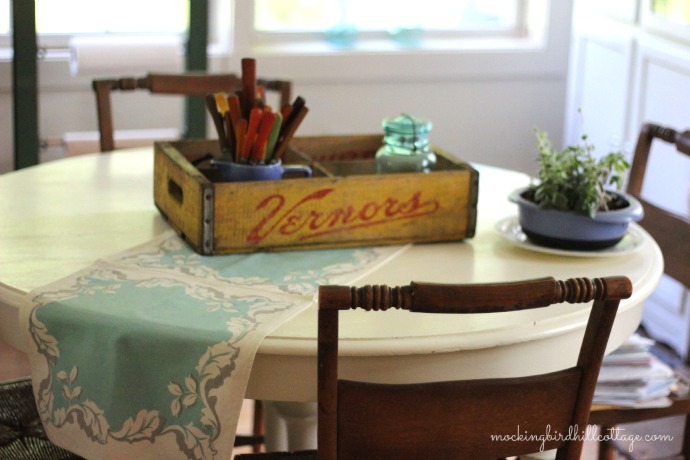 Everything else that was on the table? Moved to a new home. Except for Riley's Dish Garden. That stays.
The other side advertises Squirt.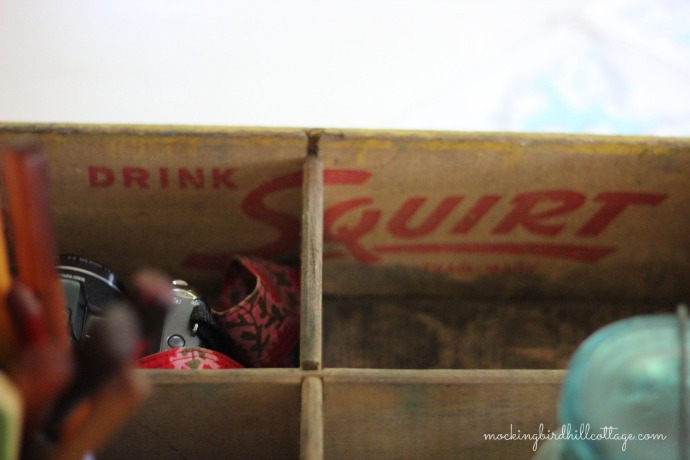 It's on the inside of the crate as well. So is the Vernors logo.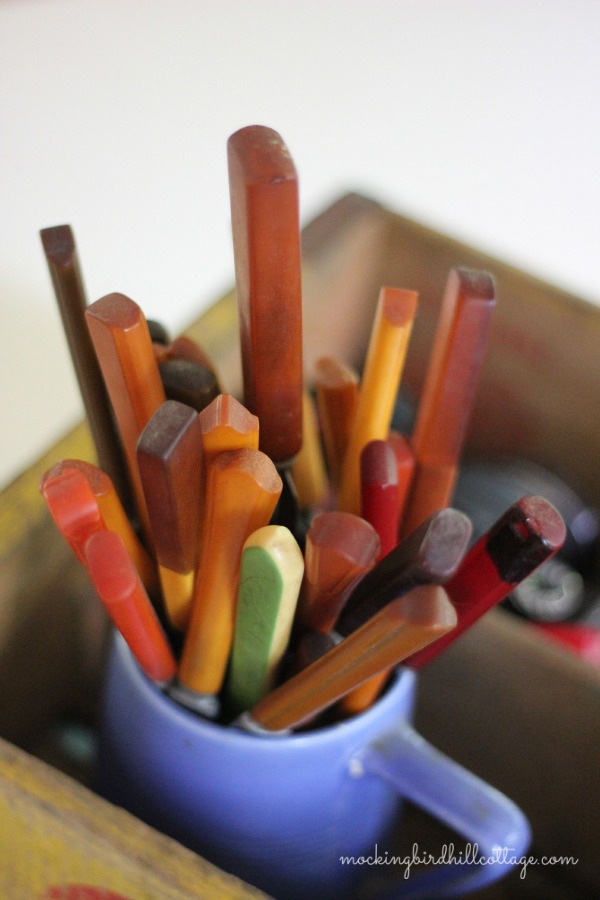 My bakelite flatware seems to be made for the crate.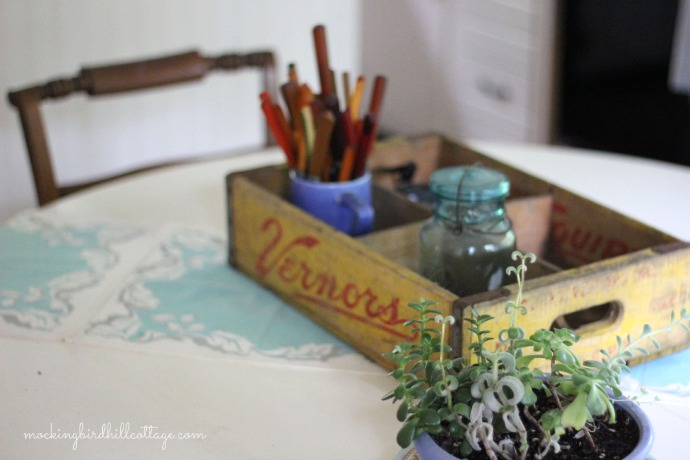 I love it. It's perfect for our kitchen. After trying all sorts of things on this table, I think I've finally found the right mix. Rustic, nostalgic, bright but faded paint and a memory of my childhood – could anything be better?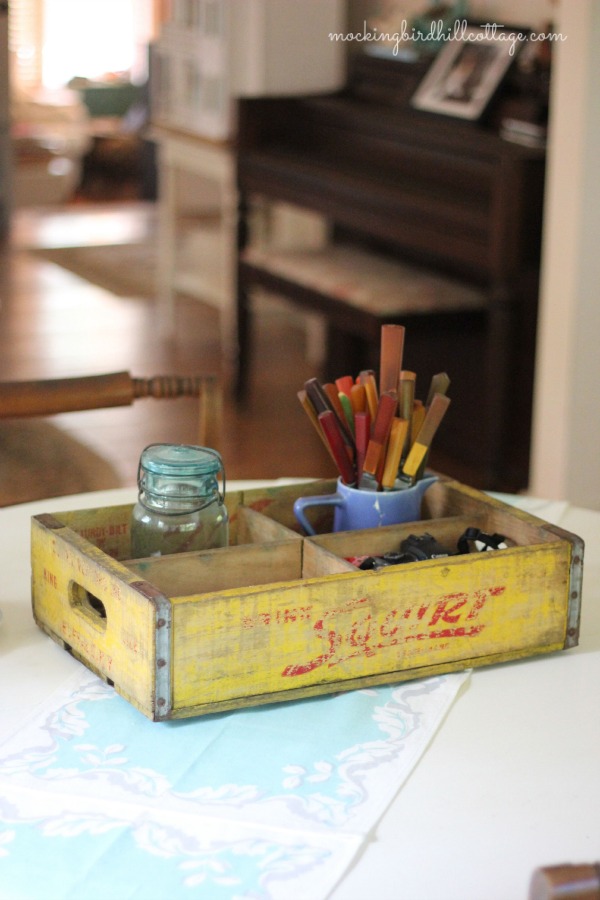 I'm thinking I need to put some flowers in that vintage Ball jar.
I can see it from my blogging chair in the den and it makes me smile. We love graphics here at the cottage. This may be my best find yet.
I was born in Detroit, Michigan. I lived in the metropolitan Detroit area for 30 years. My parents grew up and attended school in Detroit. This post is a tribute to something that is uniquely Detroit. I must say that my heart is aching for Detroit as this once-proud and thriving city goes through a terrible ordeal. I lived on the edge of downtown Detroit for several years in an area called Lafayette Park and my friend who still lives there assures me that businesses are moving back to the city, young people are renting and buying apartments downtown, theater, the symphony and the opera are thriving, lots of urban farming is happening and that Detroit is far from dead.
I'm banking on it.
Happy Wednesday.