Hello, everyone. Today I am reviewing The Last Camellia by Sarah Jio for TLC Book Tours. As always, I am provided with a copy of the book in exchange for my honest review.
About the book (from the publisher): On the eve of the Second World War, the last surviving specimen of a camellia plant known as the Middlebury Pink lies secreted away on an English estate. Flora, an amateur American botanist, is contracted by an international ring of flower thieves to infiltrate the household and acquire the coveted bloom. Her search is at once brightened by a new love and threatened by her discovery of a series of ghastly crimes.
More than half a century later, garden designer Addison takes up residence at the manor, now owned by the family of her husband, Rex. The couple's shared passion for mysteries is fueled by the enchanting camellia orchard and an old gardener's notebook. Yet its pages hint at dark acts ingeniously concealed. If the danger that Flora once faced remains very much alive, will Addison share her fate?
My review: This is the first book I have read by Jio. And I love a good mystery, as you well know. Jio spins a pretty neat tale with lots of twists and turns and that's what we all want when reading a mystery. I liked the premise very much – a rare flower that is so rare that some people will do anything to protect or steal it. That's intriguing.
I'm going to call this book a good beach read. Beach reads, by my definition, are books that are compelling enough to hold your interest but are also all about relaxing and don't require too much of you, the reader. Beach reads are a whole genre in themselves. We've all packed a few books to take along to the beach, or the lake, or on a camping trip. This is one of them.
It reminds me of the Gothic Novels I used to read as a teenager. All the elements are there: the big estate in the country (in England, of course,) the mysterious housekeeper, the extensive grounds that one can wander through and that just might be dangerous, the handsome leading man who just happens to be really rich, the mysterious stranger. It's all there. I used to love reading those books when I was younger.
Here's what I had trouble with. The plot elements can be simplistic and clunky. Flora just happens to meet a handsome stranger within about two minutes of boarding an ocean liner. Addison, who has a mysterious past, just happens to have married a wealthy Brit whose parents have bought this fabulous estate as a weekend getaway. Flora, who works in her family's bakery in NYC, just happens to be approached by the ringleader of a gang of flower thieves, in the bakery. I had trouble believing any of that. Things happened too quickly, there wasn't enough writing space given to a more believable progression between, say, boarding an ocean liner and, bam!, meeting a handsome stranger. Or working in a bakery and, in the very first scene where we meet Flora, immediately being approached by the ringleader. I would have liked to have seen more time given to character development, as well.
Perhaps because I have been immersed in reading a series of mysteries written by two amazing writers who do just that, this clunkiness sticks out more than it might have otherwise. I'm not sure. I found the believability factor to be wanting. It just may not be my cup of tea. But that doesn't mean it isn't your cup of tea.
Having said all that, this book is a good beach read. If you want a bit of light fare (and don't we all at times?) you will enjoy this mystery. I've decided that it is a Gothic Novel, with all the elements that type of novel contains. If you are a reader that is drawn to that genre, you'll have a good time reading The Last Camellia.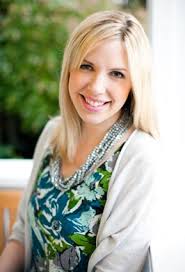 About the author: Sarah Jio is the New York Times and USA Today bestselling author of Blackberry Winter, The Violets of March, and The Bungalow. She has written thousands of articles for magazines such as Glamour, SELF, Health, Redbook, Cooking Light, O, The Oprah Magazine, Woman's Day and many other publications. She lives in Seattle with her husband and three young children.
Good news! I can give away up to 5 copies of The Last Camellia. So leave a comment here and I'll draw the winners on Sunday evening. Good luck!
Happy Thursday,