Yesterday afternoon, I headed up to Williamstown, Massachusetts to see my husband's closing performance of Pygmalion at the Williamstown Theater Festival. It was a beautiful day to drive up into the Berkshire Mountains. I arrived about a half hour before the matinee performance ended. I walked a couple of blocks to the theater and hung out, waiting for my husband to appear.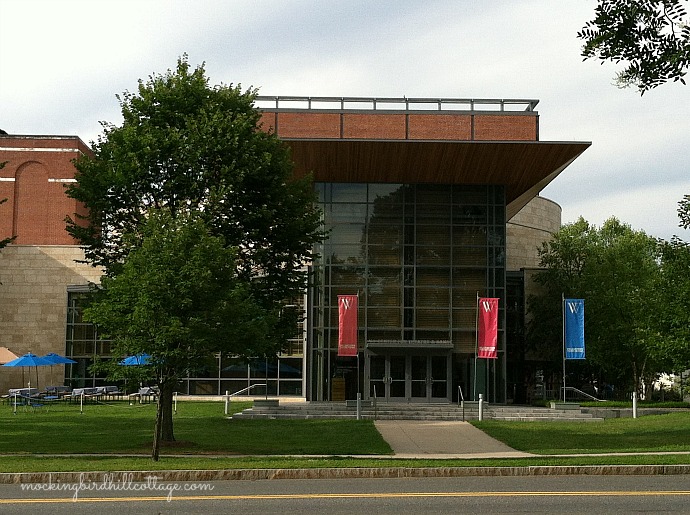 I was standing here, across the street from the theater, when I finally caught a glimpse of him as he came out the stage door. It took a while for him to make his way in my direction because he was continually stopped by theater goers; I saw him shaking a hand here, signing a program there. As he made his way toward the street, I shouted out his name. Big broad smile. And a huge hug when he finally reached my side of the street.
The Williamstown Theater Festival is a the tip-top of summer theater in this country and has been for years. It was started in the fifties and has always been a summer home for some of the best stage actors in the country. I can see why. It's a magical place. The town is a college town – Williams College is there – and in the summer, everything revolves around the Festival. The campus is full of stately old architecture, sort of your classic New England college campus.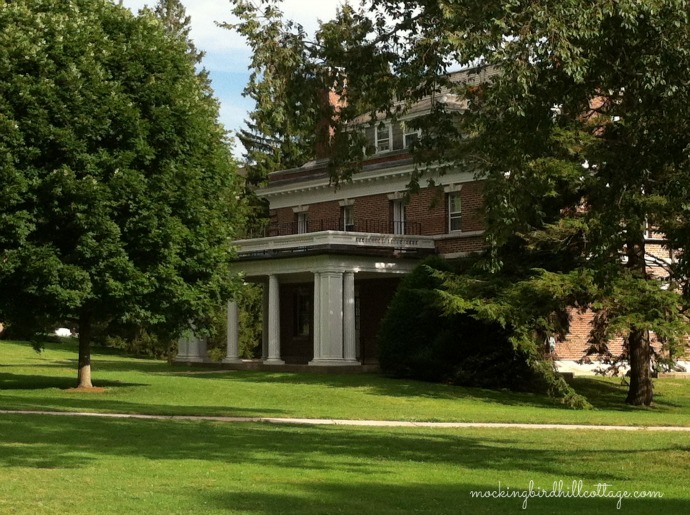 As Don and I walked the few blocks to a restaurant to grab a bite to eat, he was constantly stopped by people who had seen him in Pygmalion. He told me this happens all the time. Someone mowing his lawn would shout out how much he loved his performance. People would call his name, cross the street and grab his hand, thanking him. Don's a tall guy and it isn't easy for him to blend in, hence the instant recognition. As we stood in line at the restaurant, the young guy behind us tapped him on the back and thanked him. This happened everywhere.
Don told me that being there was almost like being in actor heaven. This Festival is thriving. People flock there from all over the country. Actors are definitely 'seen' there – industry professionals make it a point to see everything each season. There is always something creative going on. And there is the famous cabaret that starts around 11 pm, where actors in the Festival perform. We're talking some of the brightest musical stars on Broadway.
Back to our late afternoon. We ate some dinner, walked to a fabulous ice cream shop and had perhaps the best milkshake I've ever had and after loading up the car, made our way to the theater for the evening performance. Again, the stopping, the shaking hands, the apprentices calling out his name, telling him how much they'll miss him.
Then the performance.
Brilliant. My husband is friggin' brilliant. I've always known this, of course, but I haven't been able to see him onstage for a while. Riley was ill for a couple of years, so I couldn't go see Don's out-of-town performances. Just as he couldn't come see the shows I coached.
He was made to play Alfred Doolittle. He brought the house down. He made me laugh out loud repeatedly. His Alfred Doolittle was complex, layered, funny and touching. He got applause at the end of his first scene. I've always loved George Bernard Shaw (in my acting days I used to do a one woman show called Shaw's Women.) Shaw was an early advocate of women's rights, he was years ahead of his time. He was a brilliant writer. He was a vegetarian. "Animals are my friends and I don't eat my friends."  And his phenomenal skill with the English language just blows me away.
I was entranced. The entire cast was excellent, a wonderful ensemble of actors, led by Robert Sean Leonard as Higgins and Heather Lind as Eliza. I flew backstage at the end of the show to tell them all how much I loved their work.
And then to top it all off, Don played at the Cabaret, which runs for 3 nights. After the show, we were whisked away in a van and taken to the venue – an old church – where the Cabaret takes place. As we walked toward the door, those people standing in line, waiting to be admitted, broke out in spontaneous applause for Don. He sang one of his songs, Trouble and Joy. 
A guy can get spoiled in a place like that. And he deserves some spoiling.
He absolutely loved his time there, oppressive heat and all. I am so proud of him. It was a magical night. Along about midnight, we got in the car and started the drive homeward. I think we got to bed around 3 am. A very late night for me but entirely worth it.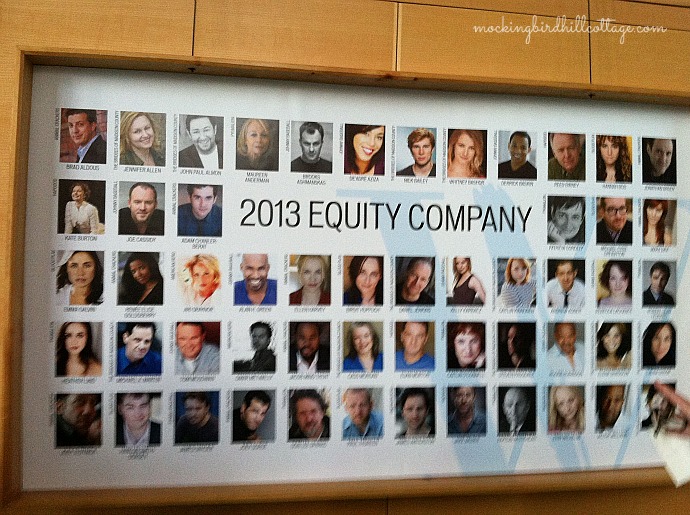 Blurry, but there he is, fifth from the left in the bottom row.
Now, I have to leave that magic behind and start packing my things for Hartford. Hartford Stage does amazing work, but Hartford isn't the magical place that Williamstown is in the summer.
Ah well.
Happy Sunday.