Nineteen years ago today, I was in the midst of my first full summer in San Diego. I was working at the University of San Diego and the Old Globe Theater. In those days, the Globe employees and actors were like a big family. One of the actresses had a home in Ocean Beach and she always had a big party on the Fourth that everyone was invited to.
That morning, I stood in the kitchen in my wonderful apartment (a kitchen with all the original circa 1930 tile counters and backsplash and fabulous wooden cupboards) and I whipped up a batch of guacamole. My dear friend Rick picked me up and out we drove to the beach. The atmosphere was festive and fun and many of the actors I was currently working with were there. Lots of laughter and good food.
There was this guy there. He was an actor. I had seen him in a production the previous summer when I flew out to San Diego for my job interview. I remembered him and I remembered how good he was. He had just been made an Associate Artist a few weeks earlier and was cast in a show that I wasn't coaching. Anyway, I knew who he was. He didn't know who I was.
As the afternoon went on, I noticed that every time I came inside the house, he was watching me. Catching my eye. And smiling. This went on for a few hours. Hmmmm. I was intrigued. Finally, though I am pretty shy, I decided to bite the bullet and I walked up to him and introduced myself. We had a lovely chat. Rick was right there, as well. There's a picture of the three of us on the sofa that was taken by another actor. He sent it to me many years ago. It captures that first meeting, that first talk.
I guess we were flirting. Slightly.
Later that evening as all of us sat on the beach watching fireworks, I looked in his direction and his eyes met mine and we smiled at each other. I was glad that Rick drove, because as we made our way home, I was able to sit back in my seat and think about this interesting guy I had just met. And think I did. I was just a wee bit smitten.
Four years later, to the day, that guy asked me to marry him.
So, yes, it's the Fourth of July but what we celebrate around here is the anniversary of the day we met.
Happy Anniversary, sweetheart.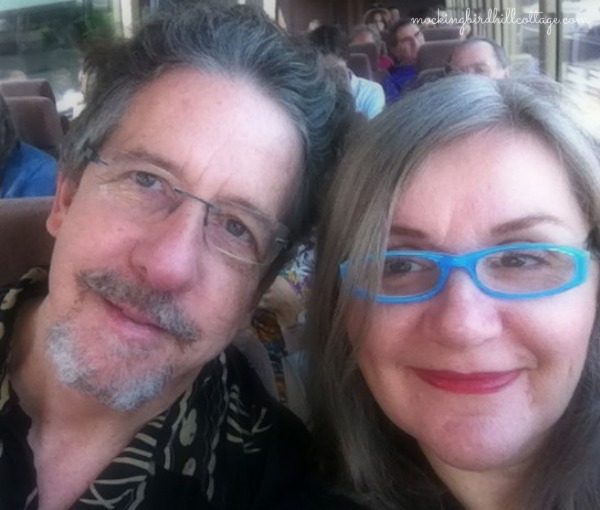 Happy Fourth of July.