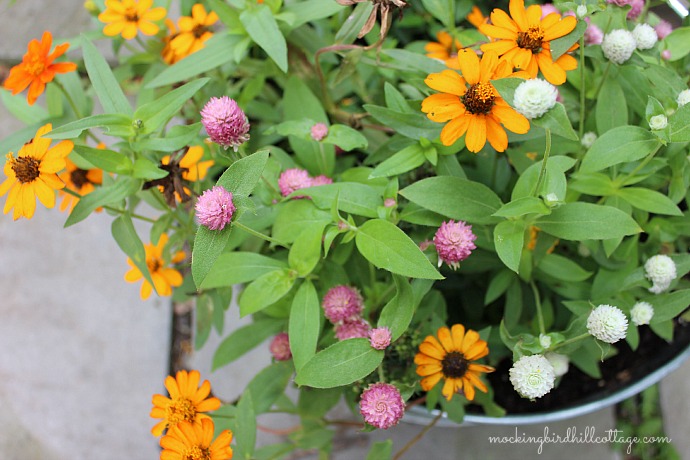 Orange and pink look pretty good together, don't they?
I was thinking about the ubiquitous phrase 'trends in decorating' yesterday. I see it everywhere; certainly all over blogland. The design industry, whether it be for the home or fashion, is driven by 'trends.' Everything, including Twitter, seems to be driven by trends. (If I hear one more newscaster use the words, "Trending on Twitter" I'll scream). I understand that. It's all about marketing. Color of the year. The dreaded chevron. Mid-century modern. Burlap. Geometrical shapes. White. These are just a few of the many hot fads in design and design blogging. I know I'm missing several. Feel free to add more in your comments.
When I was younger, a whole lot younger, I followed the fads. That's part of the pack mentality of being young and easily influenced by others, of wanting to belong. Nothing wrong with that. I'd venture to say it is expected. It's the rare young person that can buck the crowd and follow his/her particular likes and not give a dang about what others think. They're out there, however, those young people that march to the beat of a different drummer. I find that enormously comforting.
I'm a 'seasoned' adult now. I'm more comfortable in my skin. And I don't give a dang about what is trendy. I can look at photos of white rooms and admire them, but I know in my heart that particular trend is not for me. I like color. I can admire the lines of a room full of mid-century modern furniture, but since I grew up in a house with that look, it's not appealing to me. It's simply been done.
Ever since I hit my twenties, I have been that someone who, when told that 'everyone is doing it,' makes a U-turn and goes the other way. I never did drugs. I didn't care how many of my dorm friends were smoking marijuana – I didn't like the smell. And when my friend in grad school tried to get me to try cocaine because 'everyone loves it, trust me' I left the room. All it took was hearing the words: everyone is doing it. Bye bye.
"If everyone jumped off the Empire State Building, would you?"  My mother asked me this frequently as I slogged my way through my teens. I bet most parents ask that question in some form. Congratulations, Mom. It took.
That's my own particular sensibility. If you tell me that this or that is 'in,' chances are I will be making that U-turn. I'm a stubborn girl and telling me that something is in and I should partaking in it because it is in just makes me dig my heels further into the ground. We Hill girls are stubborn. Ask my dad. Or my husband.
One of the benefits of growing older is not caring anymore what others think. I no longer feel it necessary to follow the rules. Certainly my decorating style has evolved over the years as I have evolved. I decorate with the things I love, with as many colors as I want, with comfort and a dash of funkiness. I mix patterns. I have a lot of stuff. If I love something, it goes in the room. And if I truly love it, no matter what it is, it will work.
As I look at blogs and decorating books and magazines, my favorite rooms have always been those that are unique. That don't follow the trends. That are a reflection of the person that lives, breathes, eats and daydreams in that room. That are funky and individual and full of surprises. That throw orange and pink together, thank you very much, and make it work. That look real. And, apologies to designers everywhere, that aren't done by a designer. Because I can see that in a room from a mile away.
Being a seasoned decorator is a good thing. It's freeing, don't you think? We can do whatever we like. We've been through all the needing to belong stuff; we left that behind years ago. We don't care about trends. We decorate for our needs, for our sensibilities. Isn't that wonderful?
And by the way, the sensibilities of a seasoned decorator are not necessarily entirely defined by age. There's a dash of 'who cares?' in there that I've seen in every age.
Thank goodness.
Happy Friday.