Hello from Hartford. Same apartment, though some things I left behind (nothing big) are missing. This used to happen to me at the Old Globe apartments in San Diego; things seem to migrate elsewhere. I've fluffed the apartment as best I can. Here's what it looked like pre-Claudia.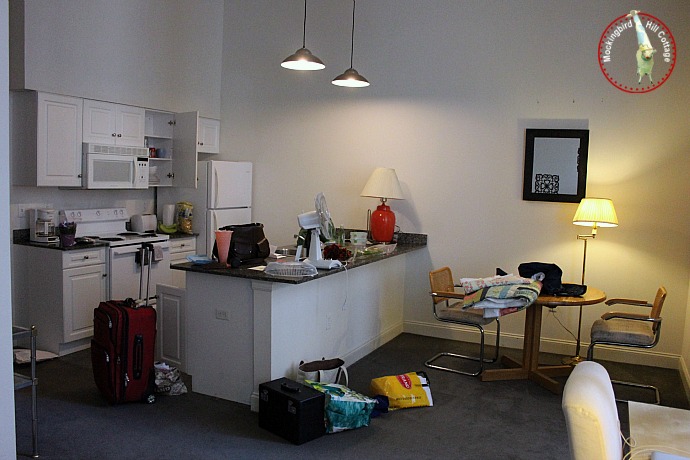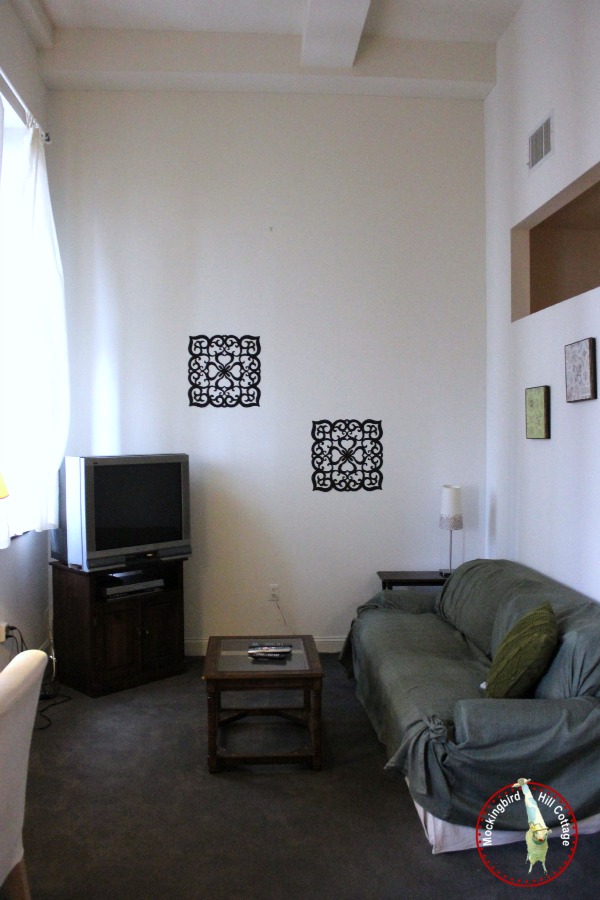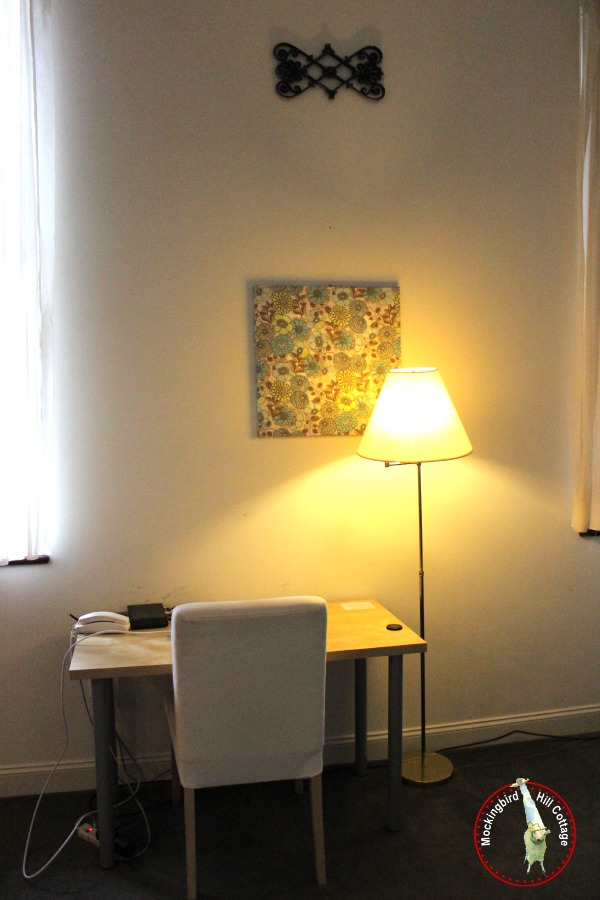 These apartments are in an old office building and they have incredibly high ceilings, which help to make a smallish apartment seem more spacious.
After: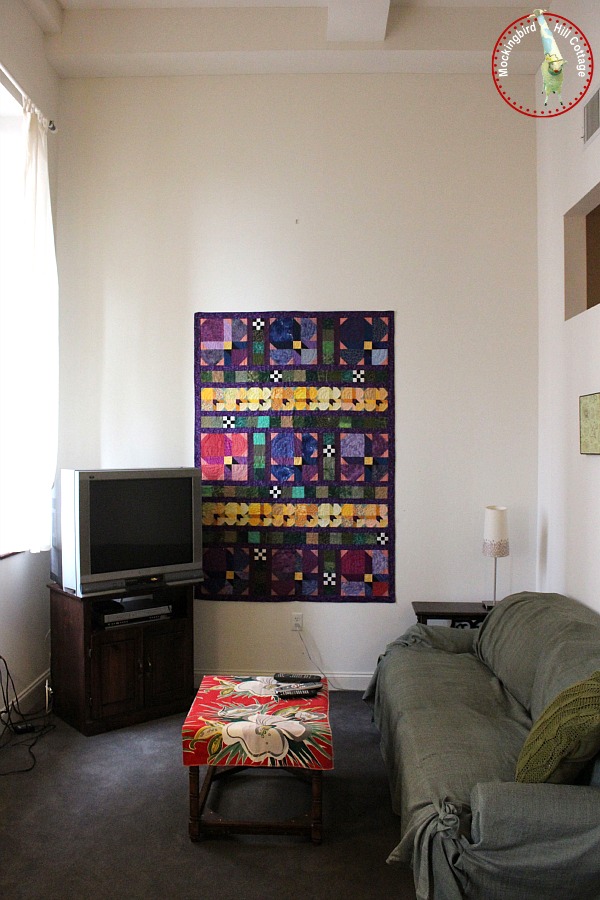 I brought a quilt from home. I made this pansy quilt several years ago and it remains my favorite. I decided that if I had to be away from home for 2 months, I was going to secure that darned quilt to the wall with pushpins. Purple pushpins, I might add.
I also added that piece of barkcloth. It covers an incredibly ugly table.
I'm fortunate to have a television with a larger screen. Some of the TVs in these apartments are really tiny.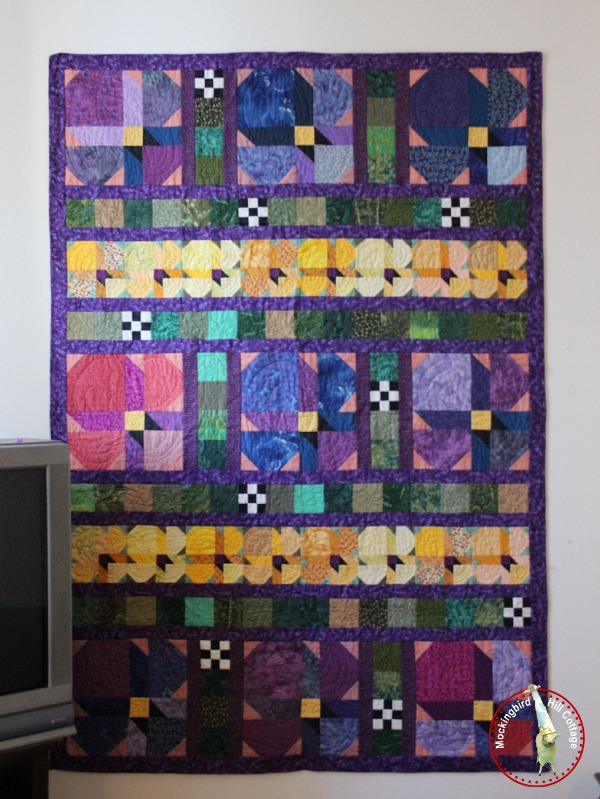 I'll try to get a crisper photo of the quilt another time. It's a wee bit dark in this apartment at the moment.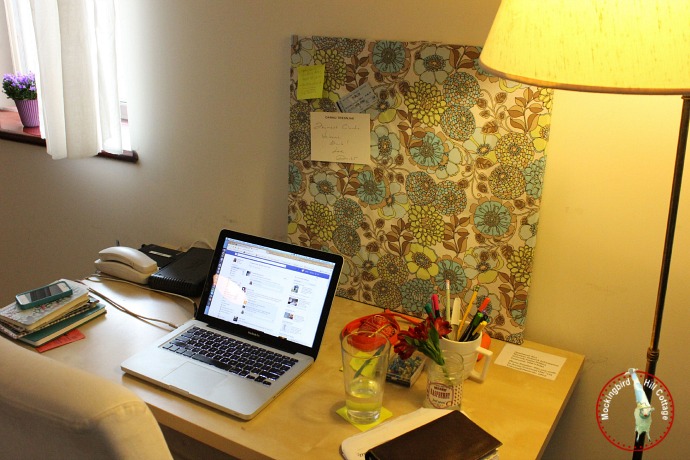 The desk – where I tap away at the computer and create compelling blog posts. I moved that covered canvas off the wall and decided to use it as a bulletin board.
My director is a really nice guy. He left me this note with a bottle of wine. I'm crazy about him.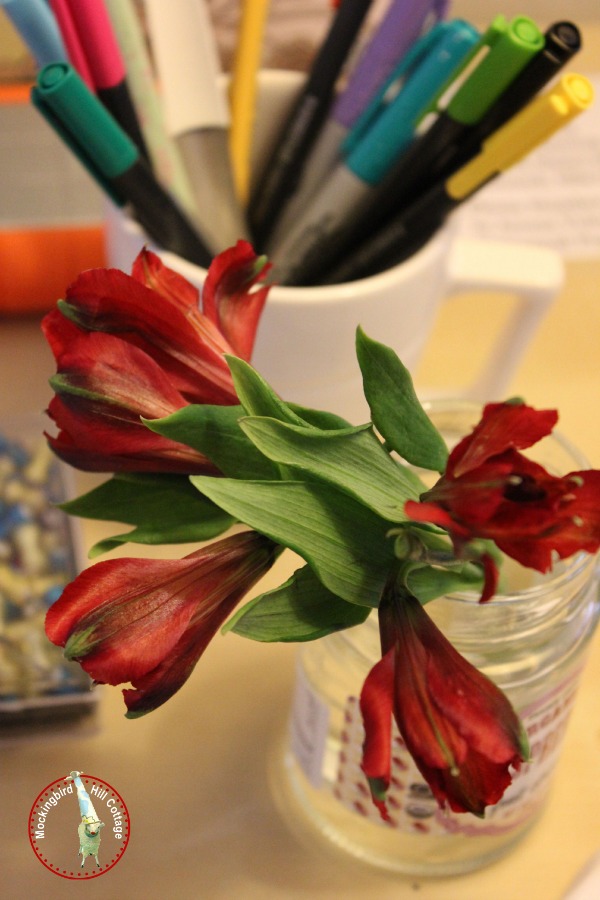 We stopped at Trader Joe's along the way, of course. Had to stock up on food…and flowers.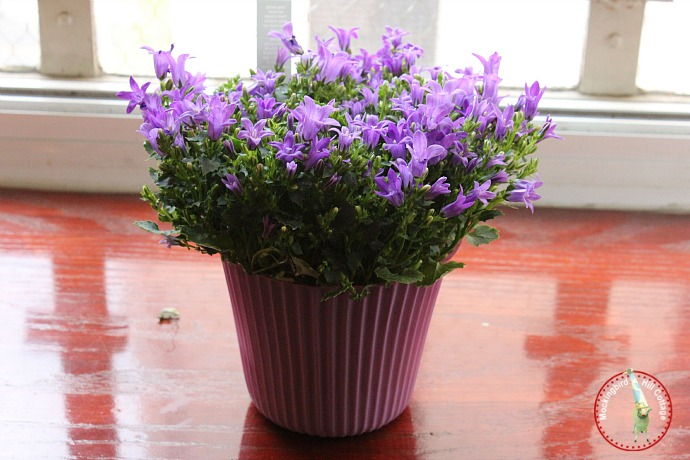 Hello, pretty purple flowers!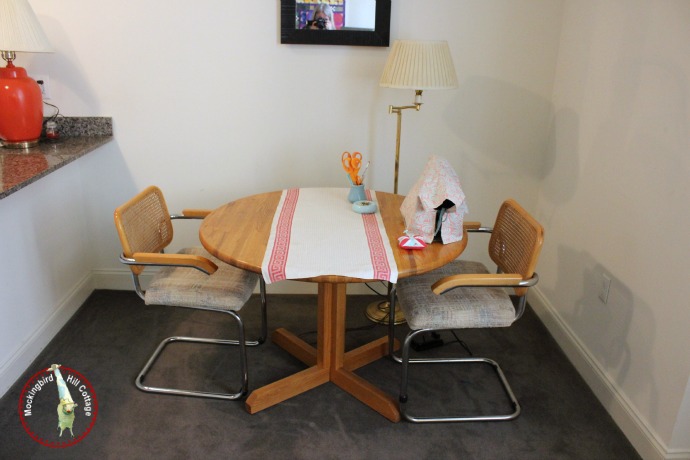 My own little sewing studio. There's Mabel. She's wearing her little cover-up at the moment.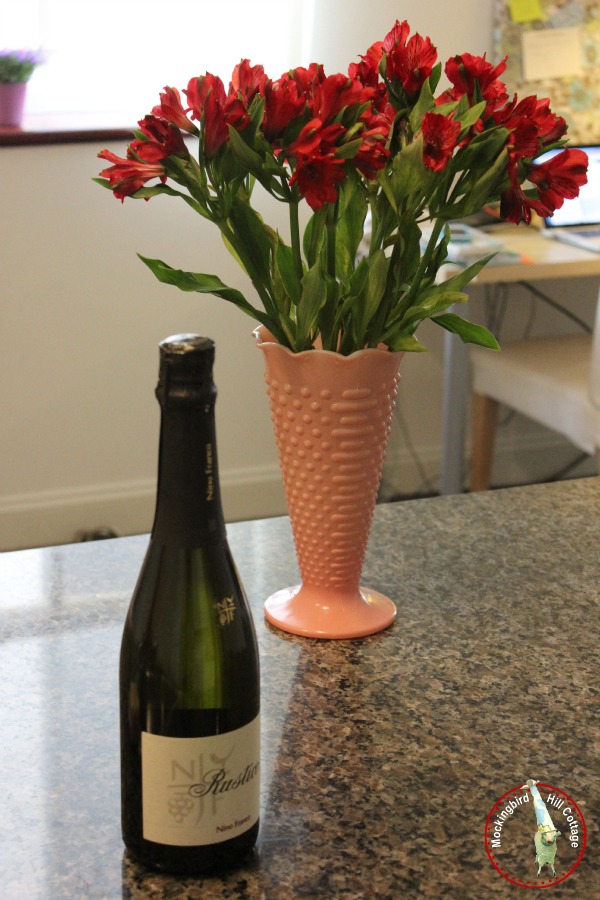 I brought my pink vase from home and filled it with pretty flowers from Trader Joe's. That's the wine that Darko left for me. I don't really drink, so it will probably be in its intact state at the end of my two months here. Unless I have a particularly difficult time. Ahem.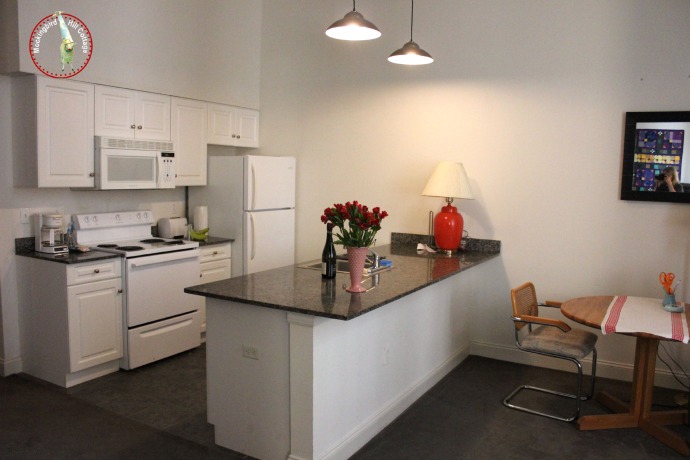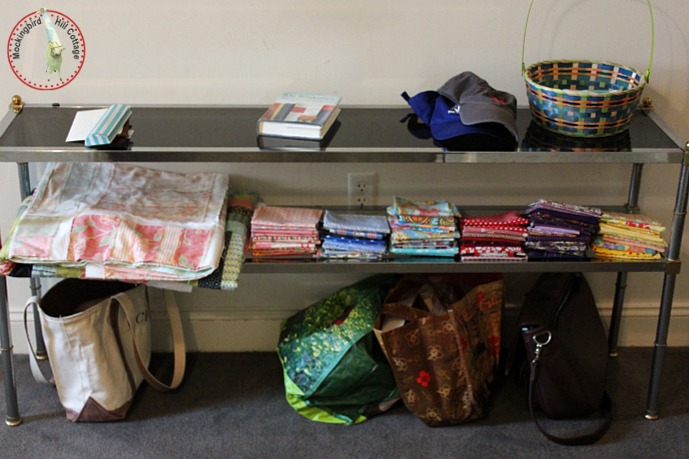 Bags of reference books ready to be transported to the rehearsal space. Quilt tops ready to be hand quilted. I haven't a clue what kind of project I want to do, so I grabbed a lot of fat quarters and brought them with me. Hopefully, I will be inspired.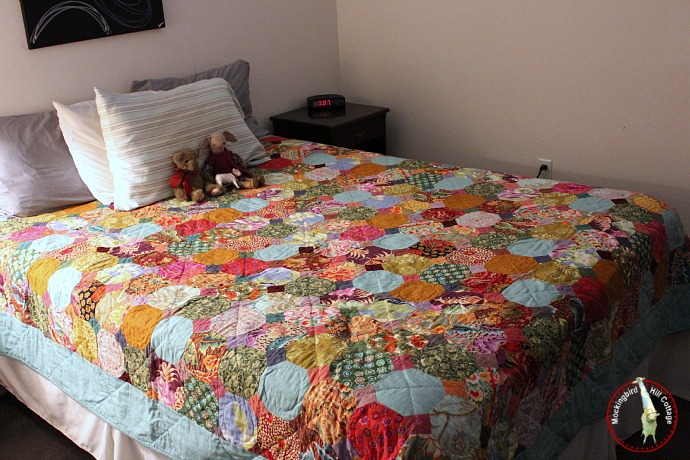 I snatched this quilt off of our bed at home. Don will be fine without it. But I wouldn't be. There, ensconced among my pillows (also brought from home) are Wayfrum Holmes, Maggie Rabbit and Little Lamb.
They like adventure.
So, there you have it, my friends. My little home-away-from-home.
By the way, some of you complimented me on my new watermark. See it up there? A red circle with dots, along with the name of my blog and my trademark lamb-with-the-party-hat?
My good friend Dawn Cain of Creative Cain Cabin designed it for me. I have a full on crush on this watermark. Dawn lives in Michigan (my home state.) She's preparing to move to WordPress and I've been helping her in my own small way as she navigates this transition. Oh, you're going to love her new blog design!
I've never regretted for one minute moving to WordPress, by the way. I love everything about it. I did the whole thing myself and the transition was relatively seamless. It's been nothing but a positive experience for me.
Anyway, Dawn made two versions of this watermark, one with black lettering and one with white. Once she moves her blog, she will be available to design one just for you. I'll keep you posted as to when she's up and running.
Rehearsals start today. I had dinner with my friend Mary, who is the stage manager, last night. Here's to old friends and the new friends I will make during this process.
Oh by the way, one of the perils of staying in temporary housing? Not realizing the alarm clock has been set and being jarred awake by a continuous ringing at 12 am and 1 am.
Happy Tuesday.