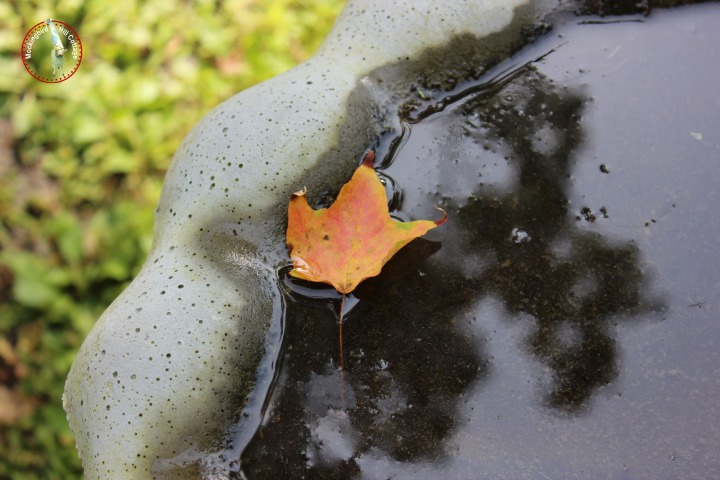 I saw this little leaf in my birdbath when I was home last week. Autumn is around the corner.
I'm not ready for it yet.
I'm celebrating a little anniversary of sorts. It was one year ago today that I stationed myself at my computer, completed the necessary final steps and made the transfer from Blogger to WordPress. I was nervous. I had already designed my new site and had been ready to move about 6 days earlier, but that was the week that Riley died. Grief and tears took over for several days. Finally, needing something to focus on other than my grief, I decided to go for it. I had studied and researched and meticulously followed each and every step in the book, How to Move from Blogger to WordPress, so I felt pretty confident it would all work out.
It did. Everything went smoothly.
Here's what I love about self-hosted WordPress:
♥    I own my content, including every photo that I have posted since the move
♥    The possibilities for design and content are endless; you can create a custom look and design due to WP's flexibility
♥    In that same vein, there are plugins available for just about anything you can think of that give you many more options for design and content
♥    Support, via my host (24 hours a day with a real person on the other end of the phone line,) WordPress, and StudioPress (the designer of my themes), is excellent and ever-present
♥    Security. I was hacked four times on Blogger. No one could help me. The Blogger Forum was useless. Whether you feel the need or not, there are free security plugins available. There are also paid security options with companies that specialize in WordPress.
♥    If you're interested in that sort of thing, there is much better SEO (Search Engine Optimization)
♥    In my humble opinion, a much more user-friendly way in which to write a post and add photos. I really love it. A lot.
I'm so glad I made the move; I haven't regretted it for one instant. I didn't use a designer. I designed this site all by myself. I'm proud of it. I learned a lot about coding, though I'm far from an expert. I like to learn new things. It keeps my mind sharp.
I know that it isn't for everyone. Most everyone I know, however, has benefitted from the move to WP. I sure have. I never felt or experienced a loss of readers; quite the contrary, my readership grew. Since my blog is about my life, the content didn't change, the focus of my blog and my writing didn't change, and neither did the community that I am humbly a part of and which consists of bloggers from all sorts of blogging platforms. Variety is the spice of life!
There's a blogging platform out there to fit everyone's taste and/or needs. WordPress has turned out to be the perfect fit for me.
On another topic, I have a book giveaway going on this week. Scroll down if you haven't read the post and want to enter. I really liked Mystery Girl. But I want to mention that in its world of off-beat characters and in the mystery that the protagonist is trying to solve, there are descriptions of bad porn movies – they figure prominently in the plot. Some of the language is rather graphic. I just wanted to give you a heads up, in case you've entered the giveaway and might find that objectionable. If you do, let me know and I won't include you in the pool of entrants.
Just thought I should include that information!
Happy Sunday.