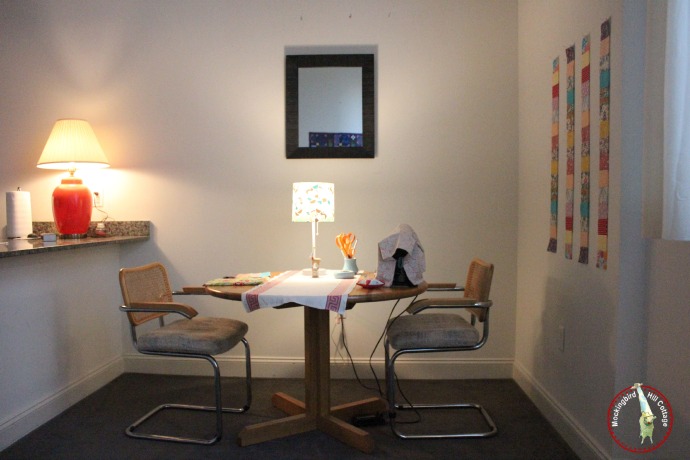 I've lived in a lot of different dwellings; from tiny, and I mean tiny, studio apartments to a basement to an attic bedroom to a dorm room to larger apartments to a two bedroom home for Don and me. Never three bedroom, not that I wouldn't love that, but it's just never been in the cards. When bloggers write about small space living, I wonder how many of them have lived in a truly tiny studio apartment where there was room to turn around and that's about it? I have. Two of them. When I graduated to a separate bedroom in a still-small apartment, I was thrilled.
I've shared spaces with roommates, I've lived in a tiny bungalow with 5 other women, all of them Drama majors, I've lived in another tiny bungalow with 5 other people – my parents and siblings. I've lived by myself, I've lived with a husband and dogs. In every space, though my tastes have changed through the years, I've done by best to put a personal stamp on it. For most of my life, I lived in rental apartments/houses, where I was limited as to what I could do. I quickly learned that you have to make do with what you have and turn a nondescript space with features that you don't like into a livable oasis.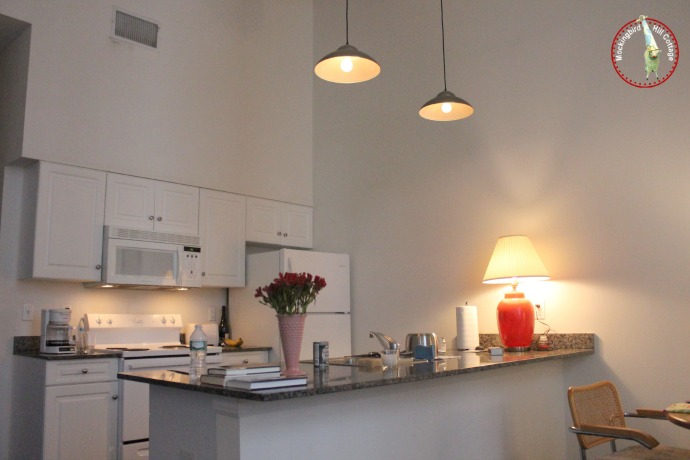 When I was renting, I often did things like change out the knobs on kitchen cabinets, mask ugly walls with hanging art, cover the ugly stained carpeting with a throw rug, mask an unattractive view with sheer curtains, repaint a wall if the landlord allowed that sort of thing, hang a quilt or two, cover a wall with bookcases full of well-loved volumes…you name it. When Don and I were renting in San Diego and out here in the East, I asked the landlord if I could add a garden. Though I knew I would have to leave it behind eventually, I also knew the pleasure and beauty it would afford me was worth it. And, when I did move on, I had left the rental better than I had found it.
If you're interested in what I did with my temporary theater housing in San Diego, you can read about it here and here. And that apartment had one of the ugliest chairs imaginable! It gives me a headache just looking at it.
So what I do when I'm on the road isn't foreign to me. I think about what I can ship or throw in the car that might make my temporary space more personal. I shop my cottage. I did it in San Diego, during stints that covered 10 weeks to 6 months. I did it in Wisconsin for a 10 week stay. I consider what I might need: what can be packed in a box if I have to ship my things, or what can be packed in a car. What can I take that will personalize a nondescript space and make a long period of time away from my home bearable?
This time:
Quilts, both on the bed and on the wall
A vase for flowers
Scraps of barkcloth to cover ugly table and dresser tops
Mabel – she brightens up any space
A lamp
My sewing accessories in their aqua containers
A runner for the ugly golden oak table in the dining area.
Fabric. Whether stacked on the shelf or put to use in a project, all the colors and patterns liven up this space.
Books. And more books. Nothing warms up a space like books.
Fresh flowers.
A framed photo or two.
My little friends: Wayfrum, Little Lamb & Maggie Rabbit. They live on my bed and warm up the bedroom.
All of these things can be easily transported. Nothing takes up too much room when packing. But every one of them adds to my temporary living space.
This apartment, as is the case with most theater housing, is full of donated or cast-off items. Sometimes props from past productions make their way into the apartment. The sofa is worn and is covered with a slipcover that doesn't fit right. The oak table and seventies-era chairs are just plain ugly. (I've never shown you a close-up of the fabric that covers those seats. Horrendous.) The television stand and coffee table are finished in a dark stain that I personally detest. The dresser in the bedroom is also done in a dark stain, as are the bedside tables. None of it is my taste.
So what do I do? The same thing I did when I was living in a dorm room or a tiny studio apartment or a hotel room. The same thing I had to do when I moved from my larger apartment in Philadelphia to the tiniest studio apartment imaginable in Boston. Sort. Shift. Figure out what I can do to make a silk purse out a sow's ear. Make do. Do what I can to make an unwelcoming space a haven that I can retire to at the end of a long day. Do whatever I can to make the time away from my family somewhat bearable. And for me, a highly visual person, it's all about creating a home – whether on the road, in a rental or in my own little cottage – and that includes finding places for my eyes to land that give me visual pleasure.
I used to decorate my Barbie case with wallpaper and hanging lamps made out of Dixie Cups and a pipe cleaner. What can I say? I have to have things I love around me. I have to be able to have my eyes light on something colorful and loved, rather than on the dark ugly television stand. My eyes immediately move to the hanging quilt. It's a welcome distraction. When I walk into the bedroom I don't see the ugly dresser, I see my colorful handmade bed quilt. When I look at the oak table, I see my runner and lamp and some fabric and Mabel.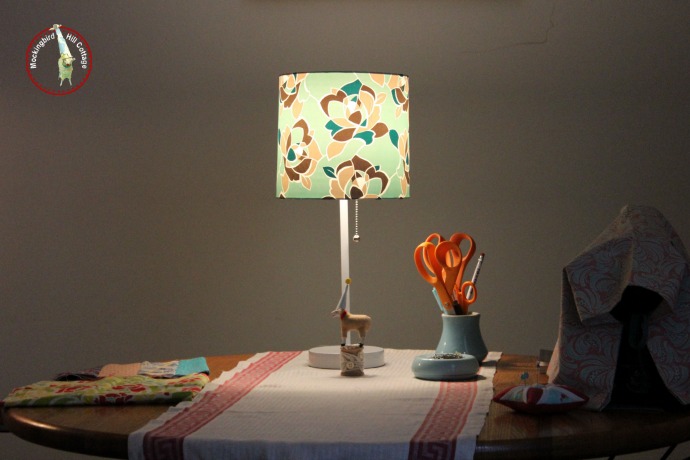 I've had to do this a lot in my life. Once I moved on to graduate school, I often moved from year to year, always trying to find a better and more affordable space. When I think back on some of those spaces, I am amazed that I found a way to make them work. But I did. My first apartment in Boston was the tiniest. I can't even begin to describe how tiny it was. Some students helped me move in by unloading all my boxes and futon. When it had all been unloaded, there was no room to move. Literally. I remember one of them asking me if I needed him to stay and help because surely I wasn't going to be able to fit everything in? He looked as if he was abandoning me on some small desert island.
I made it work.
From someone who has a lot of experience with this sort of thing: you can, too.
Happy Thursday.