I woke up this morning feeling particularly creaky. My back was really sore, I couldn't seem to unwind into an upright position. What, I wondered, was the problem?
About twenty minutes later, fueled by some freshly brewed coffee, I remembered. Oh yeah, I spent over two hours yesterday pin basting my quilt. On my hands and knees. Hunched over. That might be the source of this morning's problem.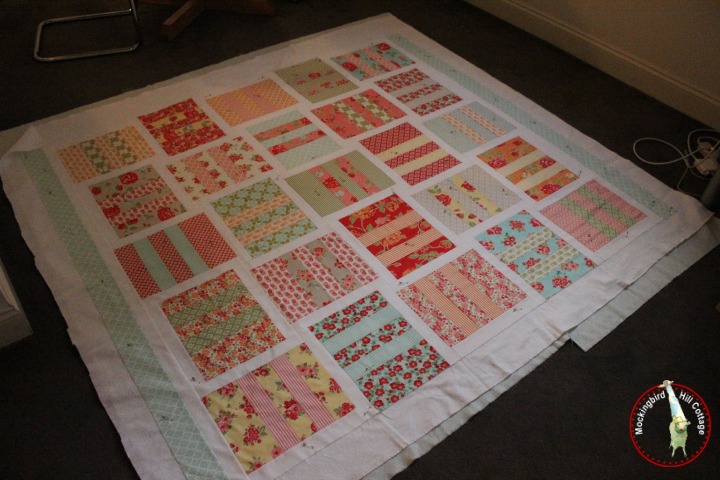 But the adventure started before I laid it all out on the floor. Because I sometimes do things on impulse, i.e., buy the backing fabric online, I immediately had a problem. The ironing board was set up, the iron was heating up and I opened up the folded backing fabric to press it. What? Had there been some sort of misunderstanding? It seemed long and narrow, this 4+ yards that I had ordered.
Then it hit me. Duh. Since I usually order bolts of fabric that are especially made for backings – 108 or 110 inches wide – I forgot that this fabric was only 44 inches wide. Uh oh. Could I somehow salvage it by piecing the fabric together for the back?
The short answer is yes. But it added some time to my all-figured-out schedule. Live and learn.
If you've never pin basted, it involves 4 steps:
• lay background fabric out on the floor, right side down, taping it (I use painter's tape) so that it remains secure
• lay batting on top of the backing
• lay quilt top on top of the batting, right side facing up
• starting in the center, pin all three layers together. I usually pin every 4 or 5 inches and that seems to work for me. Take care to pin the outside edges, as well.
Oh wait, there's five steps:
• Get up after pinning and feel sore all over.
No, I meant to say six steps:
• Feel even worse the next day.
I know lots of people use a basting spray. I'm a bit old school. I pin.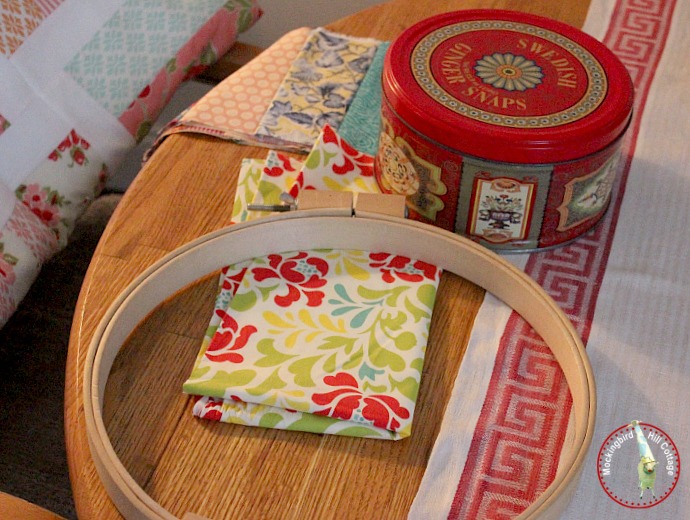 Then, I experienced a mild panic when I couldn't find my tin of hand quilting supplies. Did I forget to pack it? I immediately envisioned having to find the time to make a trip in the car to Joann's or some quilt shop. I looked in the boxes I packed. Nope.
Oh wait, there it was, on the floor of the closet, functioning as a sort of stand for my iron. Why, I don't know.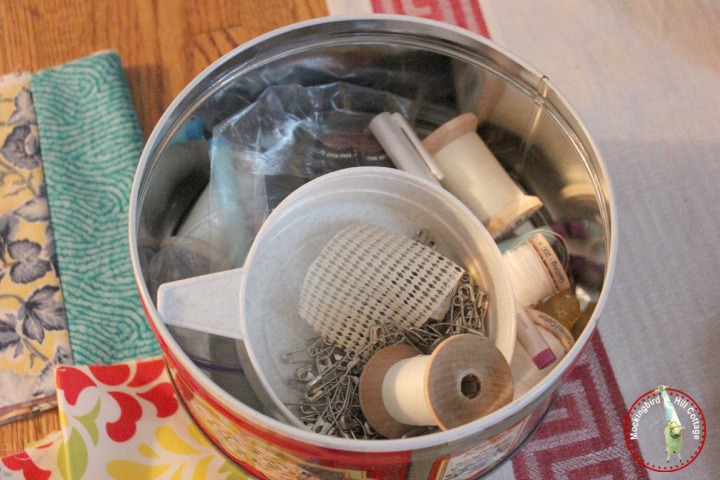 Ah, there it is, full of thread. And needles. And markers. But now that I look at it, I'm wondering if there's any white thread in there. I usually use ivory or ecru or gray. I need white for this quilt. I'd better go look.
I'm back. There is. Sigh of relief.
There's the rest of my pins! I'll probably pin some more, just to make sure everything is secure so the layers don't shift.
After all the piecing and sewing and pressing seams and  kneeling and taping and pinning and duck walking, my plans for starting the quilting later in the evening changed. I ate some dinner and watched 2 episodes of House of Cards instead.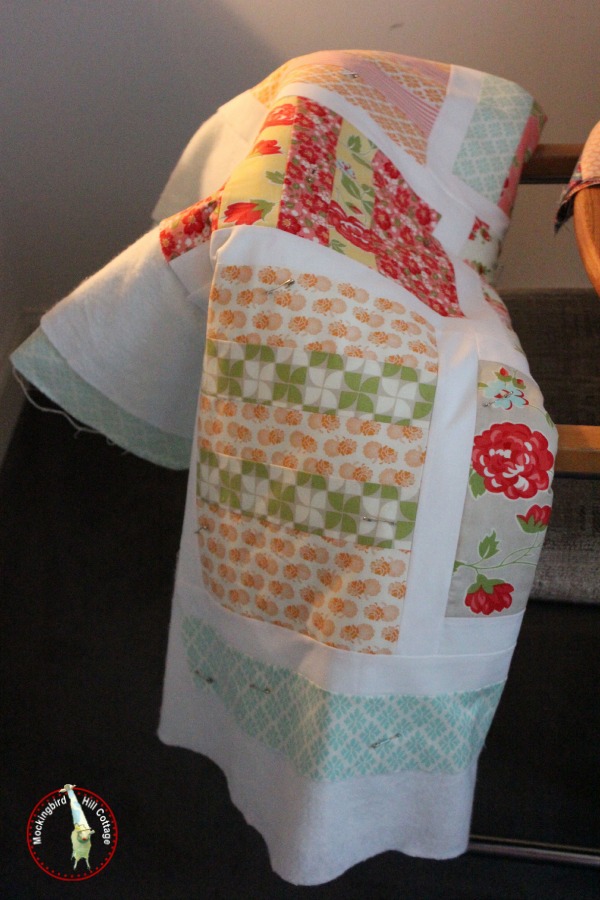 But it's ready to go. (Take note of hideous nubby fabric on home-away-from-home chairs.)
A little Don story: You all know that I snatched my handmade quilt off our bed and transported it here to the apartment, right? I substituted our older pale aqua bedspread. At the time I told you that I didn't think Don would care one way or the other.
The conversation during our ride back to Hartford:
Me: Have you even noticed that the quilt I made is gone from our bed?
Don: No.
Me: You didn't notice that the aqua spread is back on the bed?
Don: (with a grin) No.
Me: I knew it!
See? At least I've trained him to make the bed at some point in the day.
Have to go. I have a very long day of rehearsal today. And another one tomorrow.
Happy Saturday.