Despite my good intentions, I inevitably arrive at my home-away-from-home having neglected to pack certain essentials. This time: clothespins to secure open bags of chips and other foodstuffs, a good cutting knife (the ones in actor housing are always too dull and, therefore, unsafe) coffee filters, matches to light candles, and on and on. The other morning, spurred on by the realization that my Peets French Roast would be running out in about 2 days, I hopped in the car that 3 of us share and went to Target.
Peets? Check. All the other stuff? Check. Except for the coffee filters, which I forgot for the third time. I finally got them yesterday at CVS. While maneuvering my cart down all the aisles, I saw this lamp for $15.00.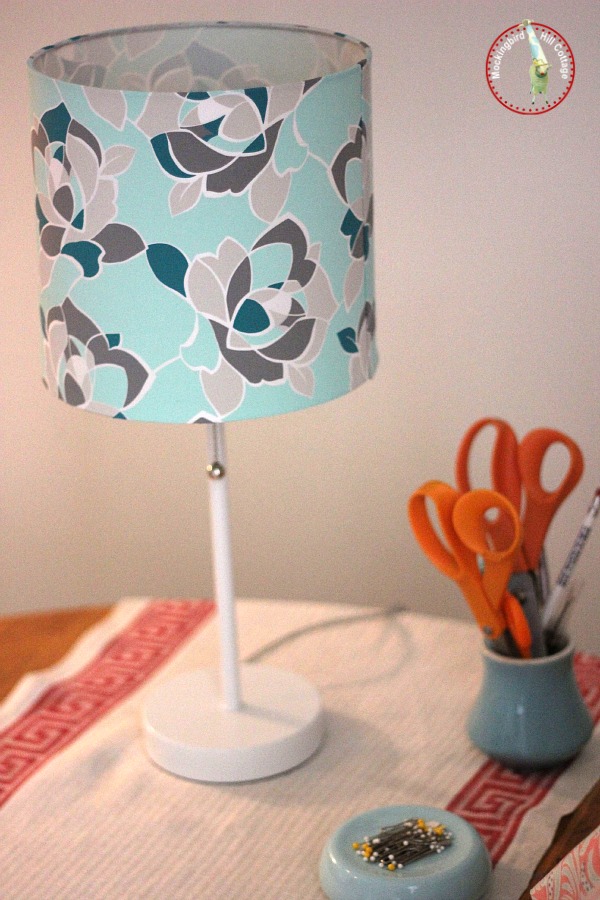 I grabbed it. The floor lamp I had been using in this end of the apartment was dicey. Maybe dangerous. I originally had it next to the desk but when my hand touched the 'brass' I felt the vibration of the electric current.
A big fat no to that one. So I switched it out with another floor lamp and put it in a corner in the sewing area. Unplugged, of course. So when I came upon this little lamp, I thought, why not? $15 is a pretty good deal. And I can use it somewhere in the cottage. I'm thinking it might go in my little studio space eventually. The faulty lamp went in the closet.
Looks sort of cute, no?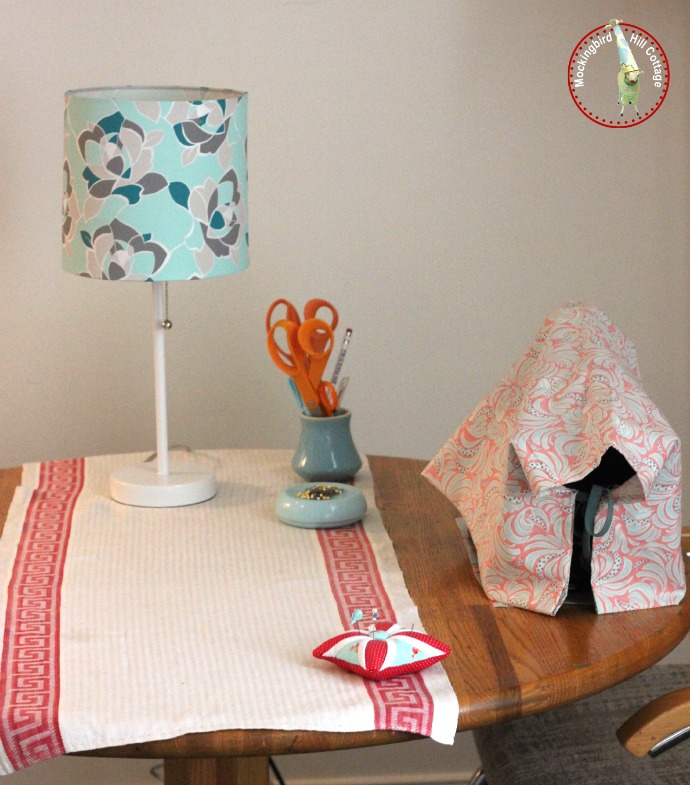 I have yet to do any piecing. No time. Not to mention the fact that I have no idea what I'm going to create in this little Hartford studio. Time enough for all of that later.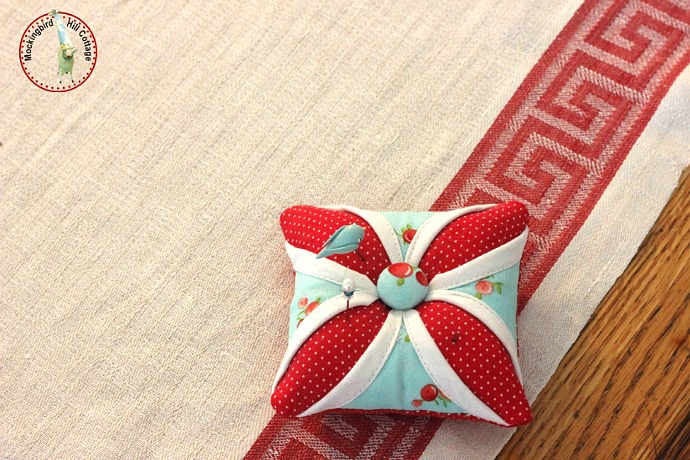 This pincushion always makes me smile. It was made by Debbie of Happy Little Cottage. I thought it might want to come along with Mabel to Hartford.
Rehearsals continue. Today the rest of the acting company arrives and we have introductions and Darko talks about the plays and the designers show their costume and set designs and then we read through Macbeth. I already know a few of the company members but there are some actors that are new to me.
By the way, a few of you have mentioned the superstitions about the title of this play – actors used to be very superstitious and  some still are. Supposedly, one is not to say the name of the play within the theater space. That means in the dressing rooms and in the wings. Everyone usually substitutes "The Scottish Play" for the title. Obviously, since the title character's name is echoed several times in the text, it's okay to say it on stage if it's part of the dialogue.
I don't believe in such things but I honor it, if only for the people who do.
I've lost all track of time. I keep thinking it's Thursday and it's Friday. Where am I? What am I doing? Why am I here? Where are my husband and my dog?
Happy Friday.