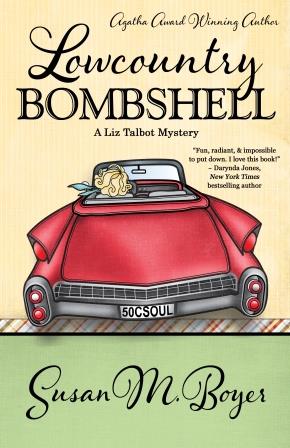 Today I am reviewing Lowcountry Bombshell by Susan M. Boyer for TLC Book Tours. As always, I am provided with a copy of the book in exchange for my honest review.
About the book: Private investigator Liz Talbot thinks she's seen a ghost when she meets Calista McQueen. She's the spitting image of Marilyn Monroe. Born precisely fifty years after the ill-fated star, Calista's life has eerily mirrored the late starlet's – and she fears the looming anniversary of Marilyn's death will also be hers.
Before Liz can open a case file, Calista's life coach is executed. Suspicious characters swarm around Calista like mosquitoes on a sultry lowcountry evening: her certifiable mother, a fake aunt, her control-freak psychoanalyst, a private yoga instructor, her peculiar housekeeper, and an obsessed ex-husband. Liz digs in to find a motive for the murder, but she's besieged by distractions. Her ex has marriage and babies on his mind. Her too sexy partner engages in a campaign of repeat seduction. Mamma needs help with Daddy's devotion to bad habits. And a gang of wild hogs is running loose on Stella Maris.
With the heat index approaching triple digits, Liz races to uncover a diabolical murder plot in time to save not only Calista's life, but also her own.
My review: This is the kind of mystery that has eccentric characters, lots of local color and a strong Southern flavor running through the pages. The author clearly loves the coast of South Carolina (the action takes place on an island near Charleston) and she has painted a vivid picture of life there. The heroine, Liz Talbot, is smart, strong and savvy and the cast of characters surrounding her are often quirky and offbeat. Boyer writes a tight plot that is compelling as well as fun.
The premise is absurd enough to make things very interesting and it seems to go right along with the wonderfully eccentric, even wacky, people who inhabit this novel. If you like the Stephanie Plum series by Janet Evanovich, you will like this book as well. This is the second mystery in a series centering on Liz Talbot – the first was Lowcountry Boil.
Though this isn't the kind of mystery I am normally drawn to, it certainly is a entertaining read. One of the blurbs on the inside cover of the book called it Chick Lit and I agree, but I hesitate to call it that simply because it sometimes is perceived as derogatory and that is certainly not my intent. Lowcountry Bombshell is fun and smart and the lead character is strong and independent.
I was thinking about this kind of mystery and came to the conclusion that it is the American version of the English cozy/country mystery that takes place in a small town full of eccentric characters. It's a bit higher in octane and a bit splashier but it's roots are the same and that's a good thing.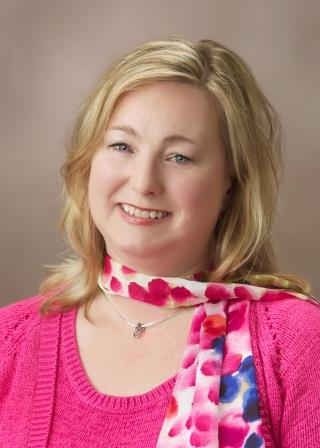 About the author: Susan M. Boyer has been making up stories her whole life. She tags along with her husband on business trips whenever she can because hotels are great places to write: fresh coffee all day and cookies at 4 p.m. They have a home in Greenville, SC, which they occasionally visit, and they run away to the beach as often as possible.
Susan's debut novel, Lowcountry Boil, is an Agatha Award winner for Best First Novel, a 2012 Daphne Du Maurier Award for Excellence in Mystery/Suspense Recipient, and a 2012 RWA Golden Heart Finalist.
Susan's short fiction has appeared in moonShine Review, Spinetingler Magazine, and Relief Journal, among others.
Giveaway: I have a copy of Susan's first novel in this series, Lowcountry Boil, to giveaway to a lucky reader. Please note: this is the first novel, not the one I am currently reviewing. If you are interested, leave a comment on this post and I will draw the winner on Sunday evening.
Happy Thursday.