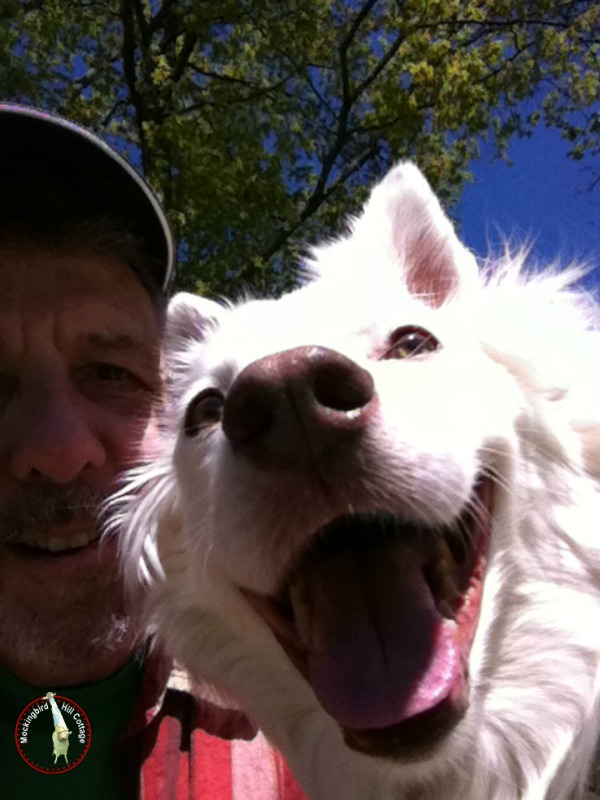 Just had to share this photo of Scout that Don took with his iPhone. It cracks me up. You can see why the border collie rescue group temporarily named her Smiley.
Oh, I love that girl.
Autumn seems to be a time of cleaning and reorganizing. I've been doing my fair share of that here at the cottage and I've been doing a bit of that in my cyber world, as well. Just a little bit.
You may or may not have noticed that the links to my Etsy shop are missing from the blog. Meredith and I went into a sort of hiatus over the summer, the same as we did last year. Summer isn't the best time to sell crocheted scarves and shawls. Or, for me, to work on them. Normally I would have re-opened the shop by now. But a few things are holding me back. I don't seem to want to crochet or knit at the moment. I started a scarf and it sits on the desk where I left it 3 weeks ago – untouched and unfinished. More importantly, the shop's success in the past has been wonderful but it also means I have to pay taxes on my sales – all well and good and as it should be. But most of my work income as a contractor (which is how theaters label me) is untaxed as well. As is my ad income for this blog. When you start to add it all up, it can become overwhelming at tax time. I keep receipts, of course, and deduct those out-of-pocket expenses necessary to make my inventory; yarn, packaging materials, etc. Nevertheless, it all adds up.
My gut tells me I need to cut back and since Meredith and I are both busy and neither of us seems to be motivated to create new inventory for the shop, I'm going to keep it on semi-permanent hiatus for the present. I'm not closing the shop – at least for now. But I'm also not linking to it. I've removed the link from the navigation bar.
I've replaced it with a link to my most recent book reviews. I've happily discovered that a lot of you really enjoy my book reviews and I started thinking that it would be handy to have the links in one place. So I went through the last year and a half of blog posts and made a list of all the books I have reviewed and added links to the review posts. (I was surprised at how many of them there were!) These aren't all of the reviews, as I've been writing them for about three years, but they are the most current. I hope you enjoy them. I sure enjoy writing them. I have another one coming up next Wednesday and I think you'll like it.
Speaking of book reviews, the winner of a copy of Killer Image is Christy. Congratulations, Christy!
I've also decided to discontinue A Favorite Thing.. I loved our little party and I enjoyed hosting it for you each week. I post daily, as you know, and it's all original content. Adding the weekly meme and the visits to everyone taking part in the party took a lot of additional time. I hope you understand and I thank all of you who participated from the bottom of my heart.
Last but not least, why is it that light bulbs seem to burn out in clusters? Does that happen to you? We have recessed lighting in the kitchen ceiling that uses floodlight bulbs. One died about five days ago and I went to the store to replace it. No sooner had I returned home with my $7.00 bulb when another burned out. I hadn't had a chance to get a replacement bulb yet which turns out to have been a good thing, because when I got up this morning and turned on the lights, another bulb burned out.
Are my light bulbs messing with me? Are they getting together at night to plot the timing of the next demise? Are they laughing behind my back?
Hmmm.
Happy Saturday.