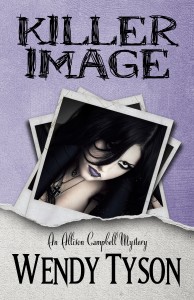 Today I'm reviewing Killer Image by Wendy Tyson for TLC Book Tours. As always, I am provided with a copy of the book in return for my honest review.
About the book (from the publisher): Philadelphia image consultant Allison Campbell is not your typical detective. She's more familiar with the rules of etiquette than the rules of evidence, prefers 3-inch Manolos to comfy flats and relates to Dear Abby not Judge Judy.
When Allison's latest Main Line client, the fifteen year old Goth daughter of a White House hopeful, is accused of the ritualistic murder of a local divorce attorney, Allison works to prove her client's innocence when no one else will. But in a place where image is everything, the ability to distinguish the truth from the façade may be the only thing that keeps Allison alive.
My review: This mystery revolves around the Main Line, a wealthy enclave outside of Philadelphia, where money, especially old money, is key. Tyson clearly knows her subject matter. Killer Image is the start of a series involving Allison Campbell so Tyson has spent a lot of time defining and fleshing out the characters, especially the ones who will most likely be in future books. All of them have a past they are wrestling with. Everyone has secrets. Image vs. Reality.
Campbell's client, a young mixed-up girl, is one part of a web of relationships that connect to Allison's past and to the lives of her friends and family. What Tyson does well, and what I think needs to happen with any series involving a 'detective,' is this: she shows us that the subject matter, the mystery itself, springs up in the midst of a busy life, full of ongoing commitments and ongoing relationships, some of them troubled. That's what happens in real life, isn't it? There may be something that takes center stage in our lives but at the same time we are dealing with parents, friends, misunderstandings, worries and fears. While Allison is doing her detecting, the rest of her life doesn't stop. I get a real sense of where the characters have been prior to the beginning of the novel and of what they are wrestling with in the present.
It's a tightly plotted mystery and the characters are interesting and compelling. The setting is detailed and, as someone who lived in Philadelphia for five years and is familiar with the Main Line, I think Tyson does a neat job of creating that world for us.
A good start to a series.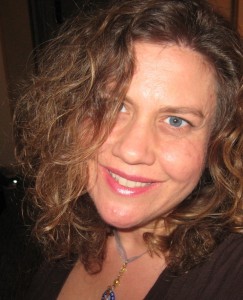 About the author: Wendy Tyson wrote her first story at age eight and it's been love ever since. When not writing, Wendy enjoys reading other people's novels., traveling, hiking, and playing hooky at the beach – and if she can combine all four, even better. Originally from the Philadelphia area, Wendy has returned to her roots and lives there again with her husband, three kids and two muses, dogs Molly and Driggs. She and her husband are passionate organic gardeners and have turned their small urban plot into a micro farm. Killer Image is Wendy's first novel in the Allison Campbell mystery series.
I'm giving away a copy of Killer Image to one lucky commenter. To enter, please leave a comment on this post. I'll pick a winner on Sunday night.
Happy Wednesday.