Before I begin, might I take a moment to say "Yay, Boston Red Sox?" Because I am: Yay, Red Sox! What a series! What a nail biter of a game, but they all were. I love my Sox and all the late nights and lack of sleep were worth it. I'm thrilled for that bearded, fun-loving and amazingly talented team.
But no more baseball until the spring? Be careful around me; I'm going into withdrawal. And it ain't pretty.
Okay. The kitchen. Let me say that, as always, the photos are 'as is.' And that includes some problems with light. Yikes, I had a hard time capturing the room. It was either too sunny or too dark. No in between. So, while these aren't my best pictures of the kitchen (and there are plenty more of them around this blog) they are current.
Here goes. Let's title this: The Kitchen (in All Kinds of Light.)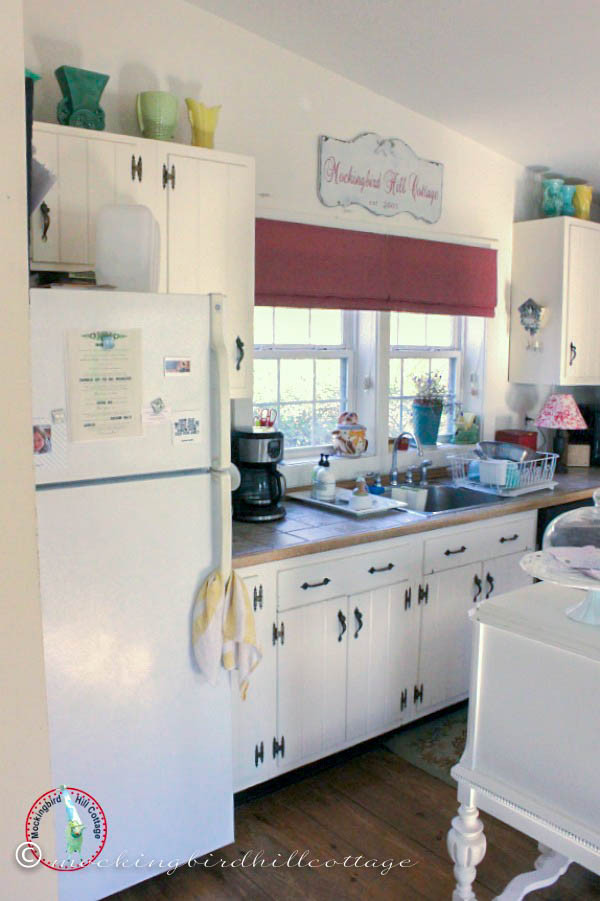 Funky light. The shades are redder, the cupboards are more creamy. But there you go.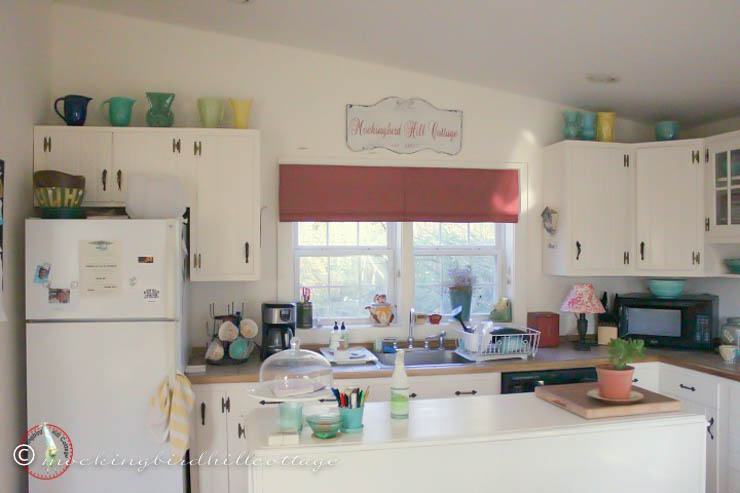 This is so 'as is' that you can see I left a bottle of cleaner out on the island and a water container on top of the refrigerator.
McCoy Pottery is scattered throughout the room; on top of the cupboards, on the island, in the hutch. We don't have a lot of cupboard space, which is why I came up with the idea for the island. I needed an inexpensive way to create an island and I got it by purchasing a old, dark sideboard at auction for $75. Some paint, some new glass knobs and we now have our favorite piece in the room.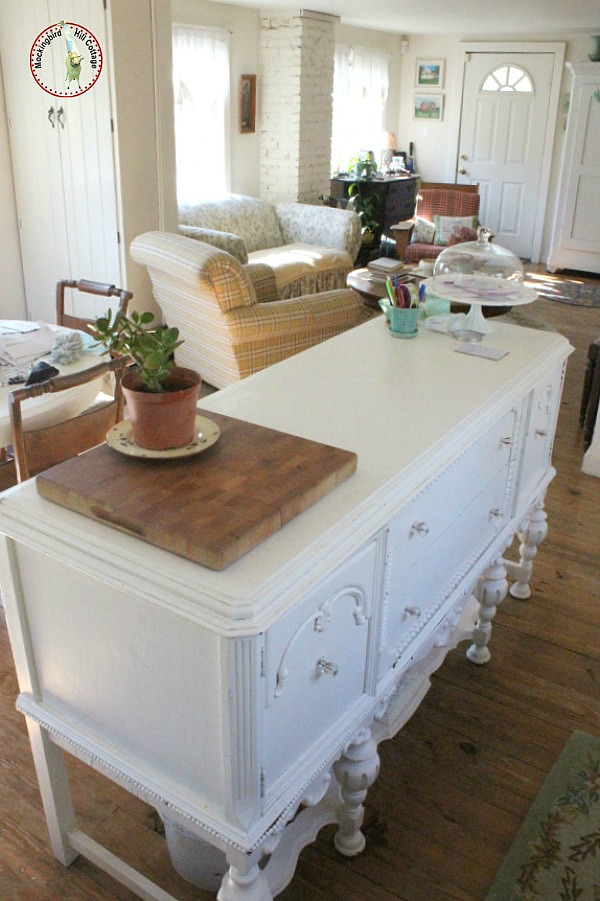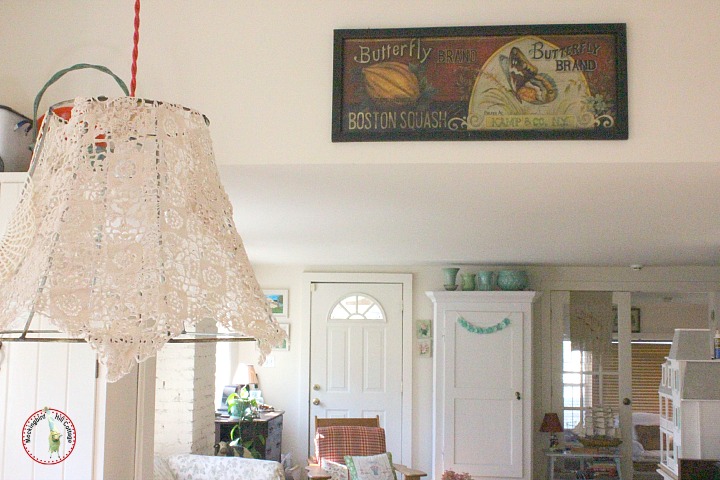 Looking out at the living room. That tall cupboard to the left is our pantry.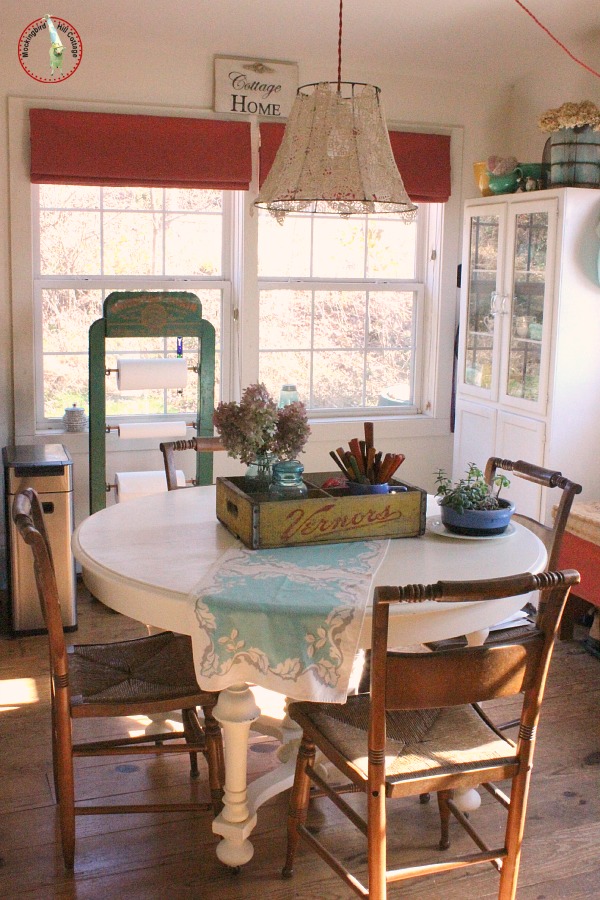 This table had a dark, damaged finish and I eventually painted it a creamy ivory. The chairs, though sweet, are a pain. They need to be re-glued. I'm always on the lookout for replacement chairs. The green metal stand in the background is a piece we got at auction. It's a display stand for chain. I added some dowels and it's now our Funky Paper Towel Holder. I made the hanging swag lamp from an old lampshade frame and doilies. The table runner was made from four vintage napkins.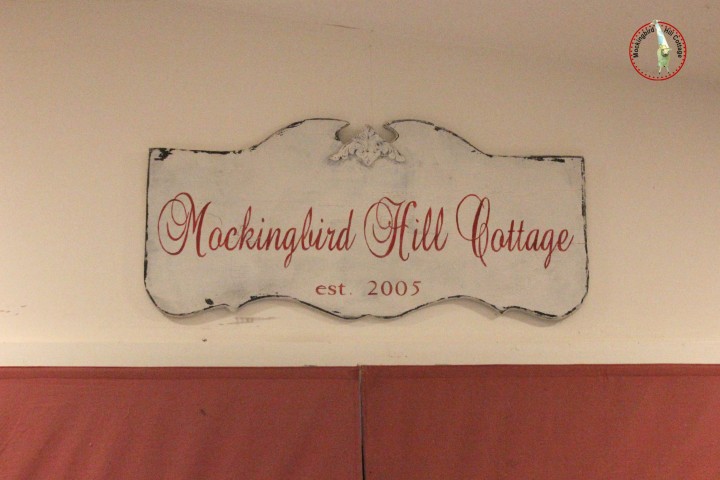 The sign was painted for us by Paula of Castle and Cottage Signs.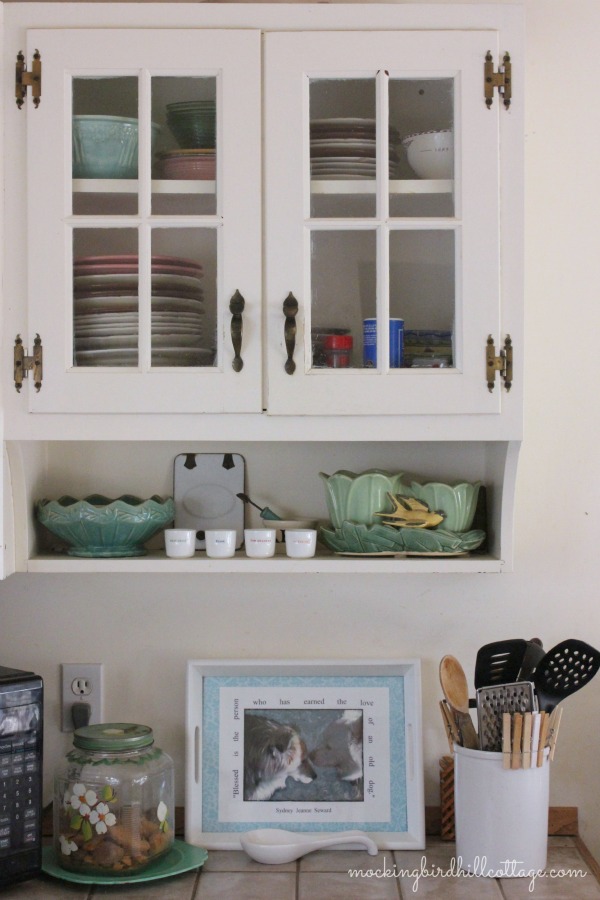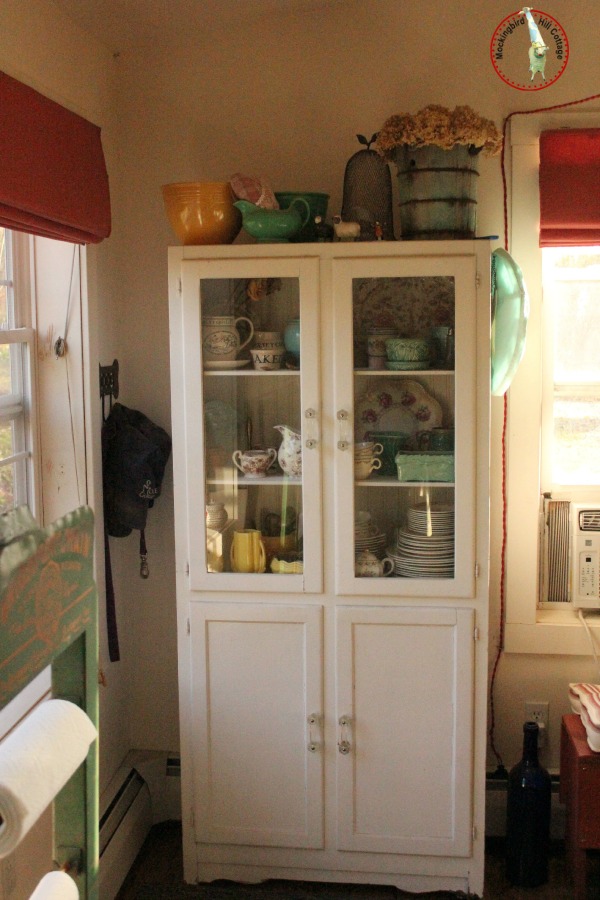 The hutch. We found it in an antique shop when we we first moved out East. Our rental had a teeny, tiny kitchen and we needed more storage. I changed out the handles. You can't see it, but the backing behind the shelves is beadboard. Love this piece. As you can see, we still haven't taken out the window air conditioners. Today, I hope.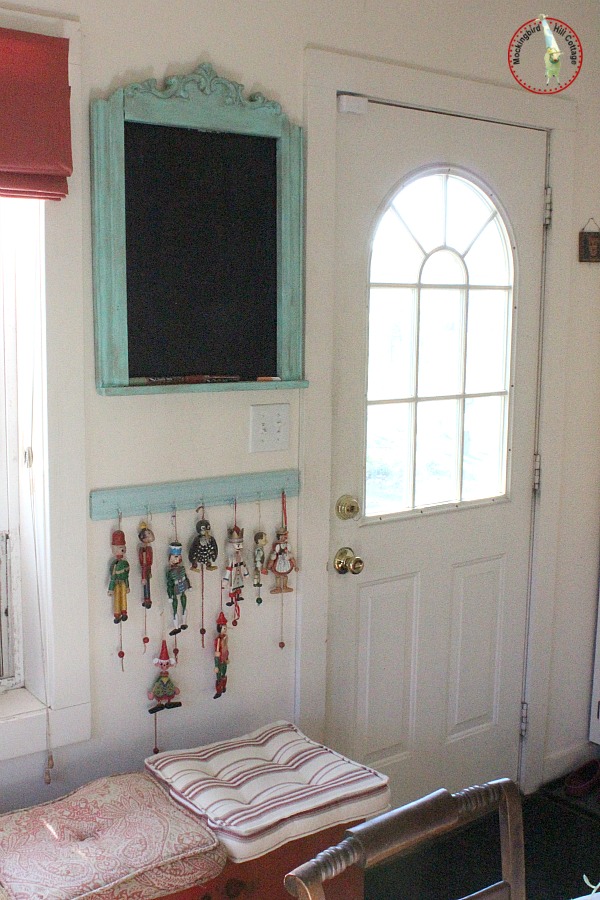 The red bench holds all sorts of tools. I made the chalkboard from left over trim on the sideboard-turned-kitchen-island. And the Jumping Jacks are my husband's collection. I made the hanger from some old trim.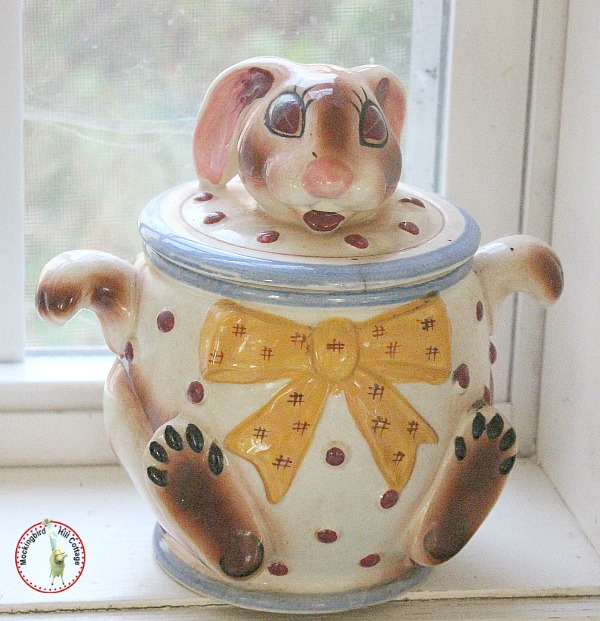 Our favorite cookie jar.
I apologize for the less than crisp photos. Now, if a magazine came in the door and set up these shots, they would be perfect. Any takers? It's cute, it's funky and it's charming, don't you think?  It would look fabulous in a glossy magazine. Sigh. I dream.
Happy Thursday.