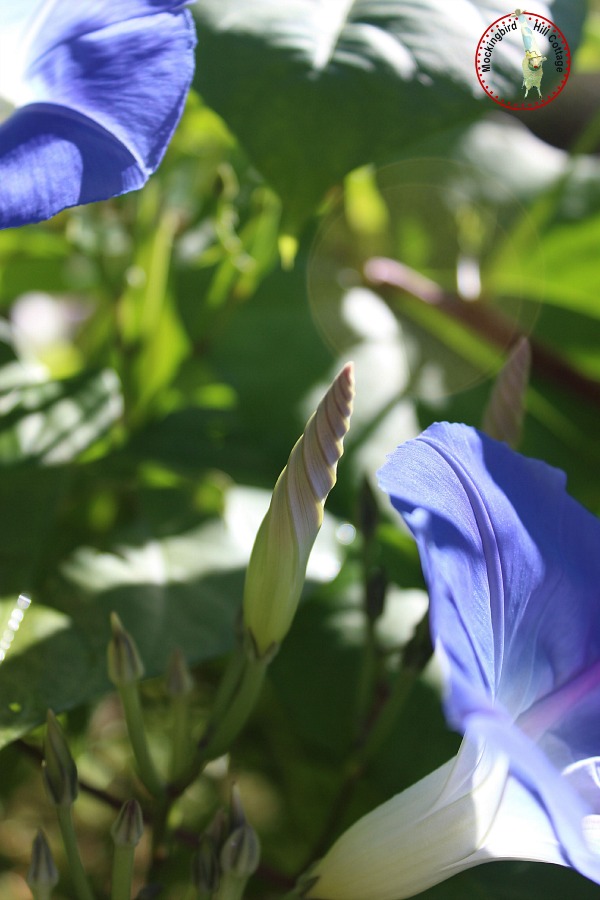 Amazingly, the morning glories are still blooming here at the cottage, with new buds everywhere. If it stays relatively warm, I should be able to see these beauties for a bit longer. The zinnias are also still blooming, as are the cosmos and geraniums. Thank goodness! Otherwise, I would be forced to confront my severely injured garden bed and the now lopsided sugar maple tree. Seeing these flowers sure goes a long way toward lifting my spirits. Don and I sat on the funky patio yesterday, with the sun on our faces and flowers blooming everywhere. Much needed.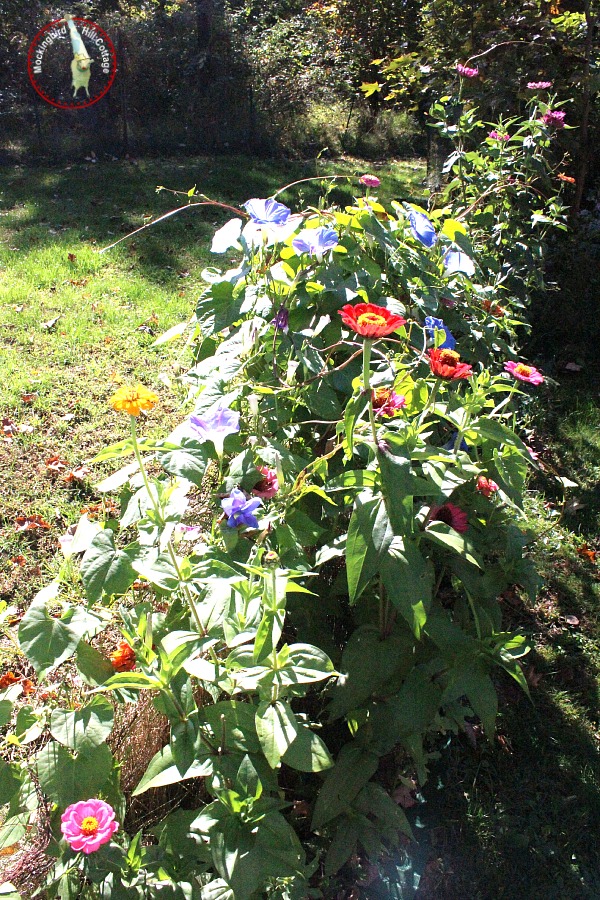 Splashes of color and riotous growth along the Chicken Wire Fence Garden = there's still a bit of summer left. Of course, everywhere I look there are leaves on the ground so it makes for an interesting contrast between the onset of autumn and the end of summer.
Scout is hanging in there. The doctor gave her some Acepromazine (a sedative) yesterday and she apparently cannot metabolize it very quickly, so she remained out of it most of the day. I wish he hadn't done that. The same thing used to happen with Riley. It wasn't until around 5:00 or so that she started to shake it off. She's sore and antsy and is constantly asking for water. I can only give her a bit at a time. She seems to have an appetite but she's also a bit nauseous, due to the drugs in her system, so we're taking things slowly. I really felt strongly that one of us should be downstairs with her during the night, so Don took the first shift and I took the second. She was constantly getting up and down during most of my shift, which kept me from sleeping. We finally moved to the den, where I set up her bed by the sofa and after another hour or so, we both got some sleep. Not enough, but it will do.
There's still a bit of bleeding, but much less than there was. I'm keeping an eye on it. Her butt was shaved, of course, and I see she's getting a bit of a rash, poor thing. Anyway. She's here, she came through the surgery, she's a fighter and she's getting mildly demanding. That's a very good thing.
Update: we're going to take her in for an anti-nausea injection and some fluids. She threw up this morning. All of this was very, very hard on her.
I can't tell you how much your prayers and support have meant to Scout, Don and me. We thank you from the bottom of our hearts.
Remember the oversized tea/coffee cups I bought at Anthropologie?
Here is what I did with them: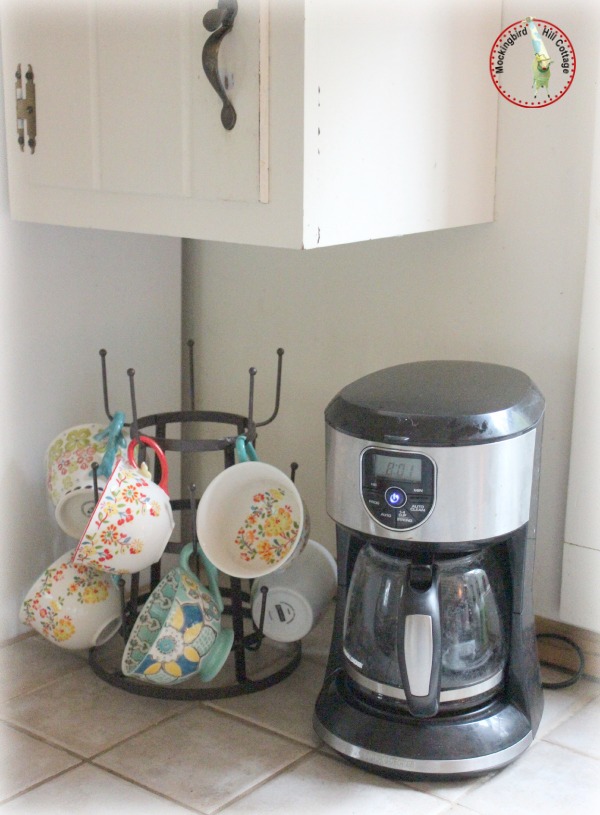 I originally saw this glass drying rack, along with some snazzy cups from Anthropologie, on a post at The Inspired Room. That post is what got me thinking about those cups again. And then I thought about the rack, which was only $14.99 at World Market. Of course, mine doesn't look quite as pretty because I don't have white counters and subway tile backsplash, but it will do.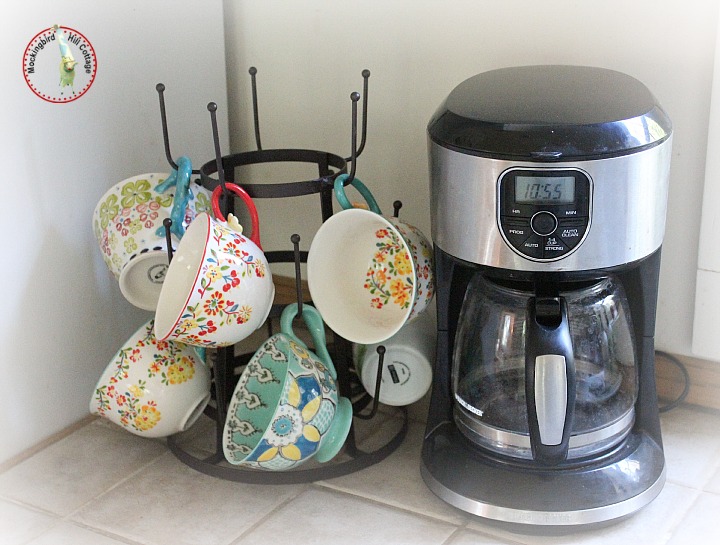 Coffee stations seem to be all the rage right now, but I've never felt the need for one. I always place my coffeemaker under the cupboard that holds our glasses and mugs. It's also usually right next to the refrigerator where the half and half lives. Just makes sense. Since we don't use flavored coffees or k-cups or any of that sort of thing and counter space is at a minimum here at the cottage, why the heck do we need a coffee station? Believe me, it took some rearranging just to give this drying rack a home, but I wanted to have those pretty cups on display. This is usually a darkish corner of the kitchen and those beautiful cups add the perfect punch of color. I think I'm going to keep my eye out for a vintage tole tray to put under the rack and the coffee maker.
Oh, forgot to tell you. The car repair was relatively minor and we passed the inspection in the nick of time. Yesterday was the deadline for our inspection! Now we have to deal with the chimney and the trees.
Love to you all on this Tuesday.