When did I first go to Hartford this year? April? That sounds about right.
Well then, since April, my little studio has been rather a mess. I packed up 2 boxes of supplies to take to Hartford, along with Mabel. Then when I returned in late May, knowing I would be leaving again at the end of July, I simply stacked the boxes on the floor right by my chair.
Yesterday I grabbed a couple of hours while Don was here to keep an eye on Scout and I finally unpacked those boxes and put everything in its proper place. I grabbed the camera and quickly took some pictures. No styling. No perfect lighting. Just as is.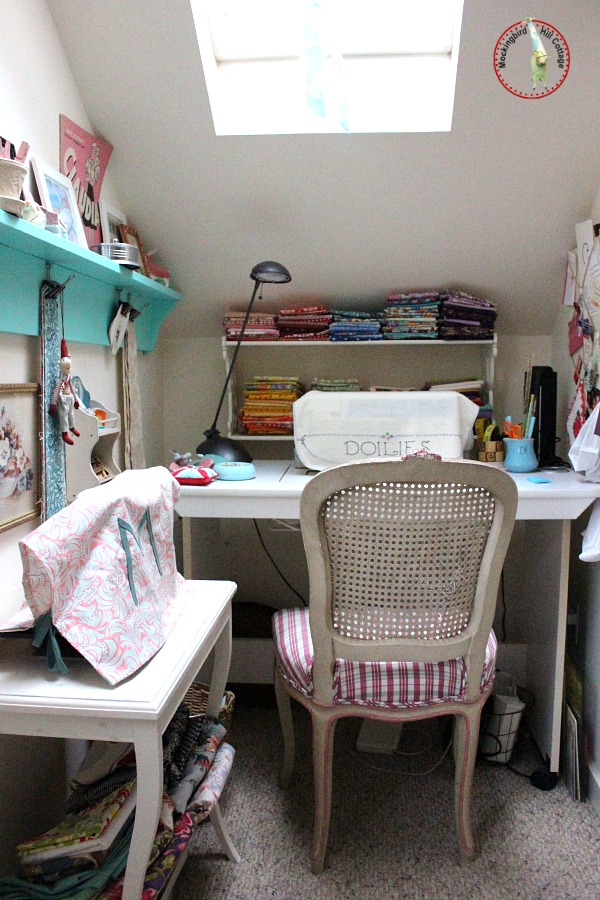 This is what greets you at the top of the stairs. If this is your first time visiting the studio or craft space, whatever you want to call it, it's located in the hallway upstairs. I don't have a separate room for my things. This is it. Consequently, it's almost impossible to get a complete shot of anything, especially in front of the cabinet – too narrow.
The skylight is a welcome source of light. (It's rather dark here today as it's going to rain, so excuse any graininess in the photos.) You can see Mabel, back in her rightful place.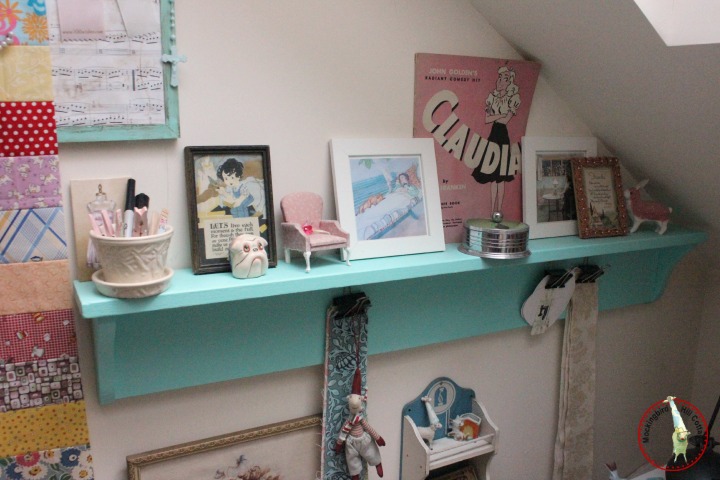 A closer view of the mantel turned shelf.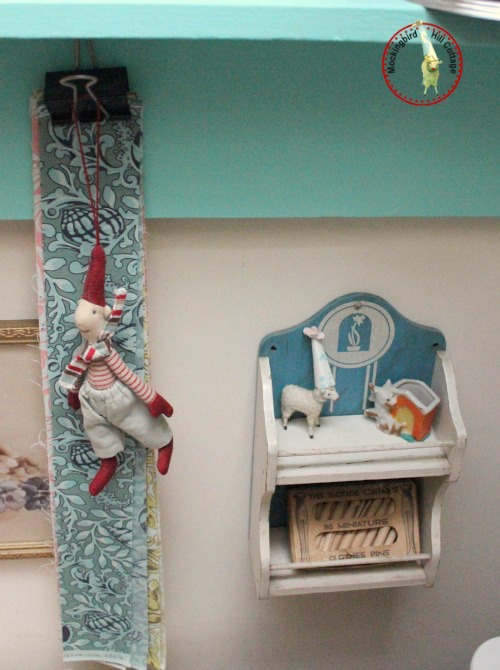 My little nisse is hanging from a hook. And on the little shelf? My original Lamb With The Party Hat. See how tiny he is?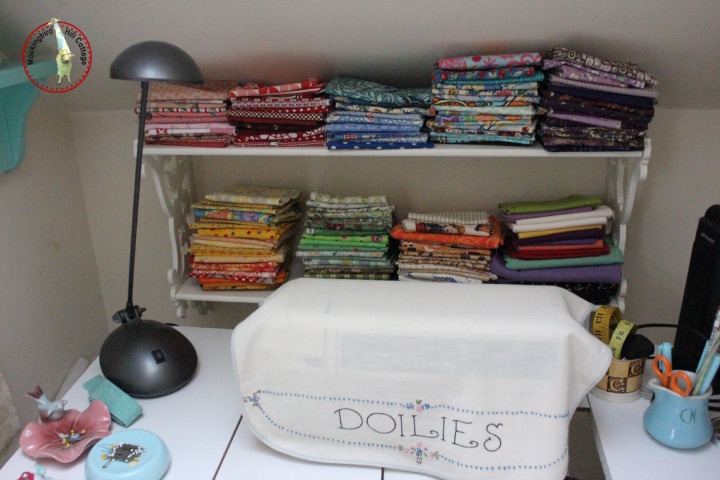 Underneath that vintage doily cover is my trusty Elna.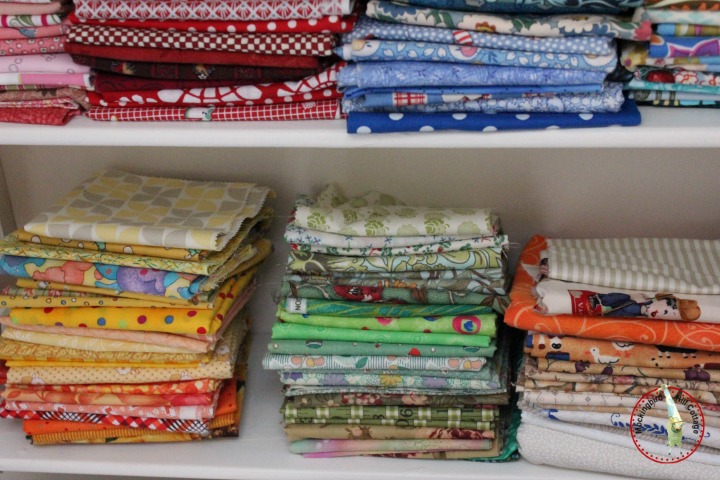 I refolded all the fat quarters that I took to Hartford. Oh fabric, you are so pretty.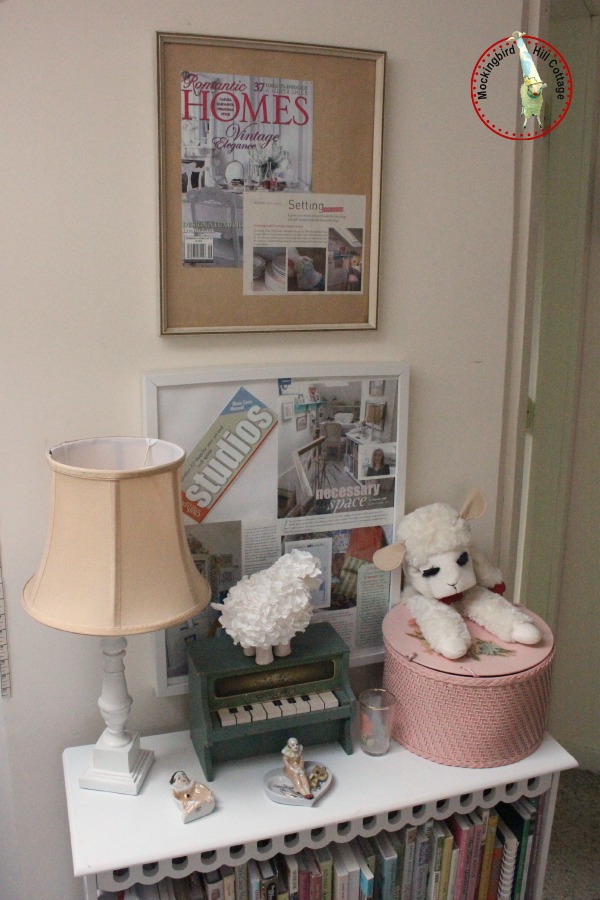 My bookshelf, beloved muse Lambchop and some framed press that I'm rather proud of. The little vintage toy piano was a gift from Don. The other lamb, made of paper, was a gift from my sister Meredith.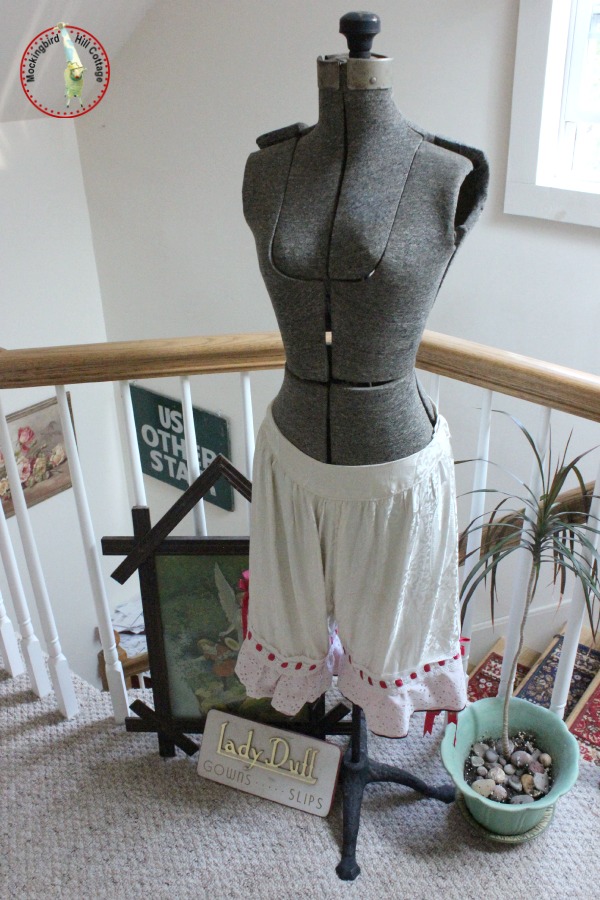 Letitia, wearing my bloomers (from a play I was in, long ago.)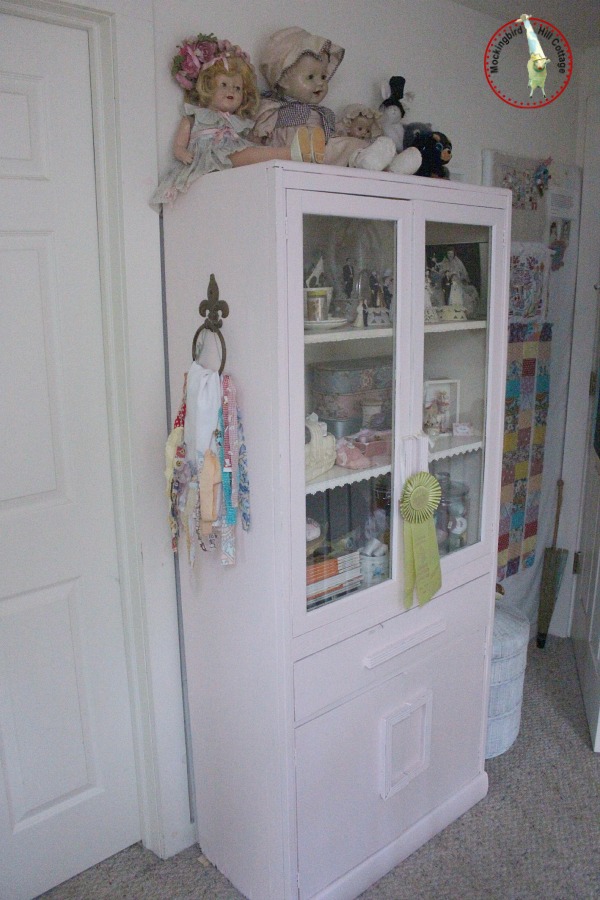 The cabinet that I got via Craig's List, formerly painted in a combination of taupe and blue, now a soft pink.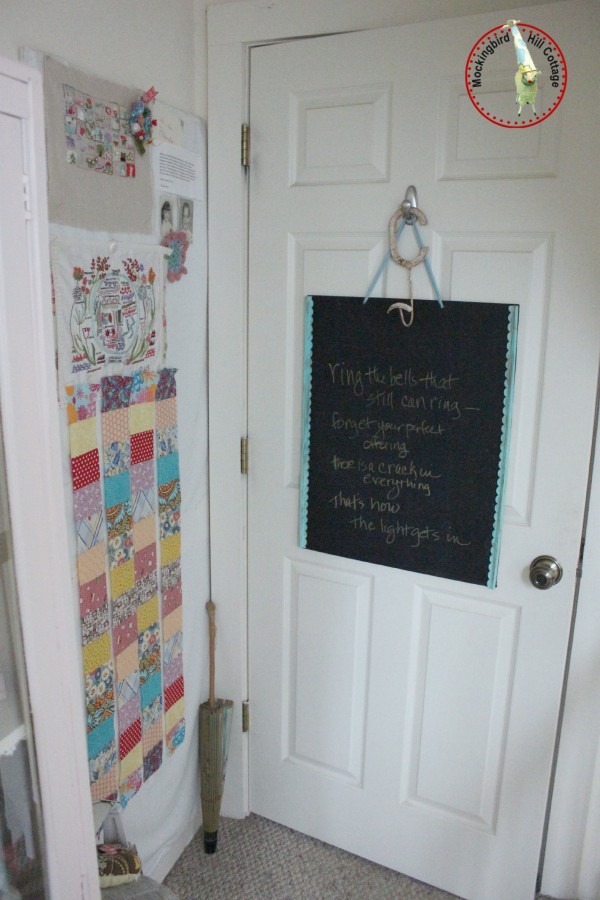 The corner between the cabinet and the door leading to the guest bedroom/Don's studio/office. That's a flannel covered mini-design board on the wall and my chalkboard on the door. The silk parasol was a gift from my cousin when I was a young girl. He brought it home from Korea.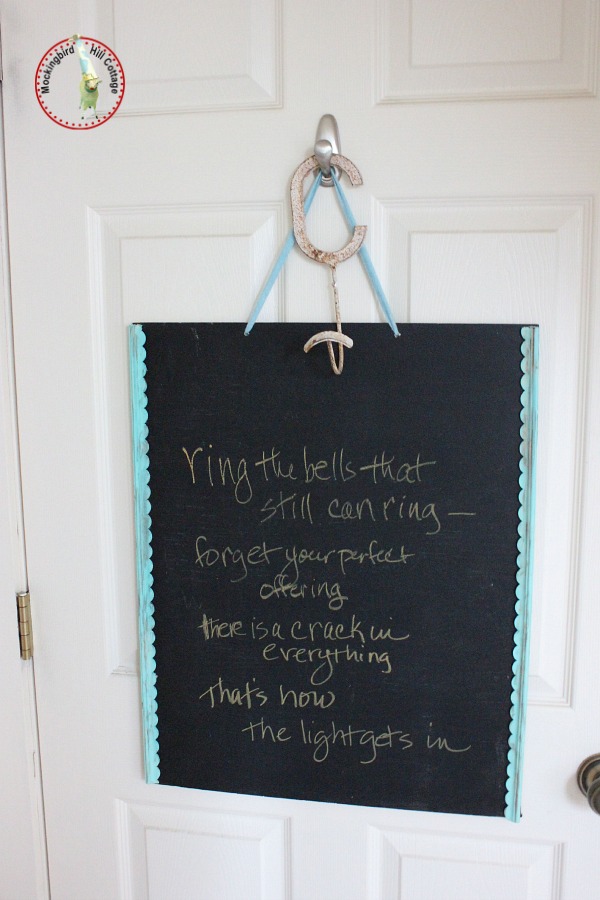 On the board? My current favorite quote.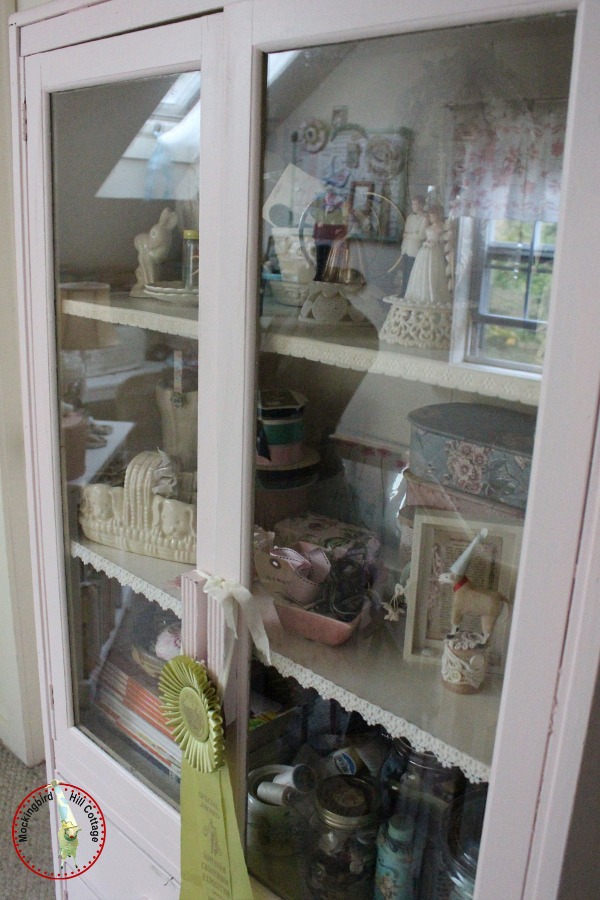 Little treasures and supplies inside the cabinet.
The light isn't the best, but take heart, if you want to see more you can find a lot of other photos of the studio on the blog.
Today I have to find space for all the reference books I've stashed in various totes since April. They go on the bookshelf in the bedroom. More sorting. More arranging.
And I will be watching my Red Sox in the ALDS at 3:00!
Scout update: Little miss continues to improve. I wish the bleeding would stop but yesterday, when I had to run to the vet for some special food, I happened to see the doctor who operated on her and she assured me again that it was normal. It only happens when she urinates – I guess that area is still healing. We have towels stashed in all her favorite places in which to recline, including the 'tunnel.'  Last night she was so ravenous it was like she was hopped up on speed! But she's eating and I can't tell you how happy that makes me. We are still really tired as we haven't been sleeping all that well.
Here she is. This was taken just a moment ago: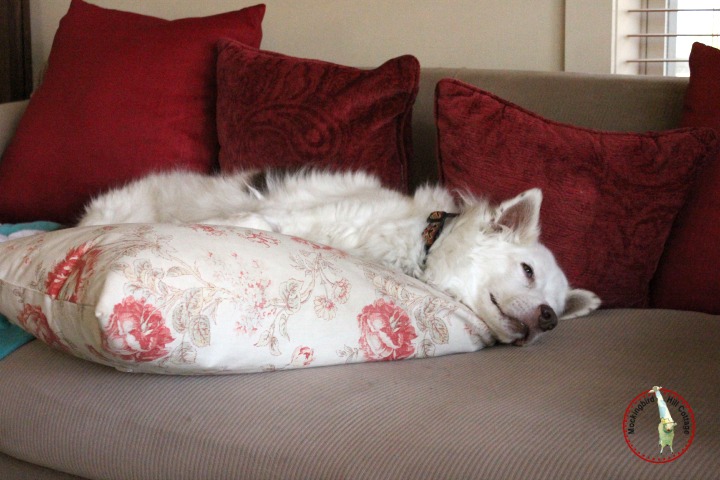 Scout says thank you for all your prayers and love and everything. We do, too. Have I told you how much you all mean to me? A whole lot.
Happy Friday.