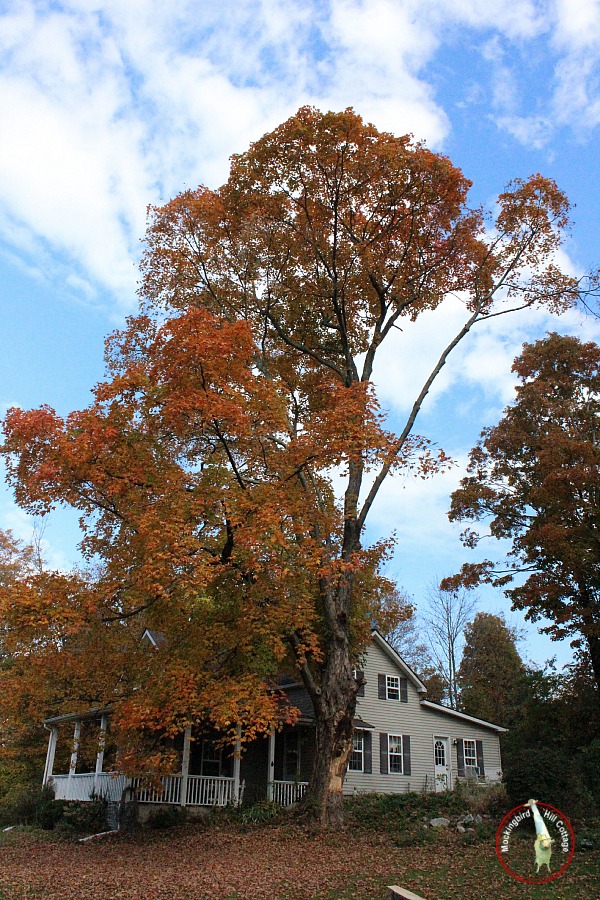 • The sugar maple. You can see where the damage occurred. There was a huge limb that grew out of that section of the tree and arched over the garden. When it came down it fell right on the garden. There are large sections of the garden where I can see no trace of my plants. Plants, for the most part, that have been growing there for seven years.
It's not easy to see our sugar maple this way. If you remember, we lost another big limb during Hurricane Irene. This is also why we now need to get it and a few other trees pruned, so that there is no unnecessary weight pulling on the tree.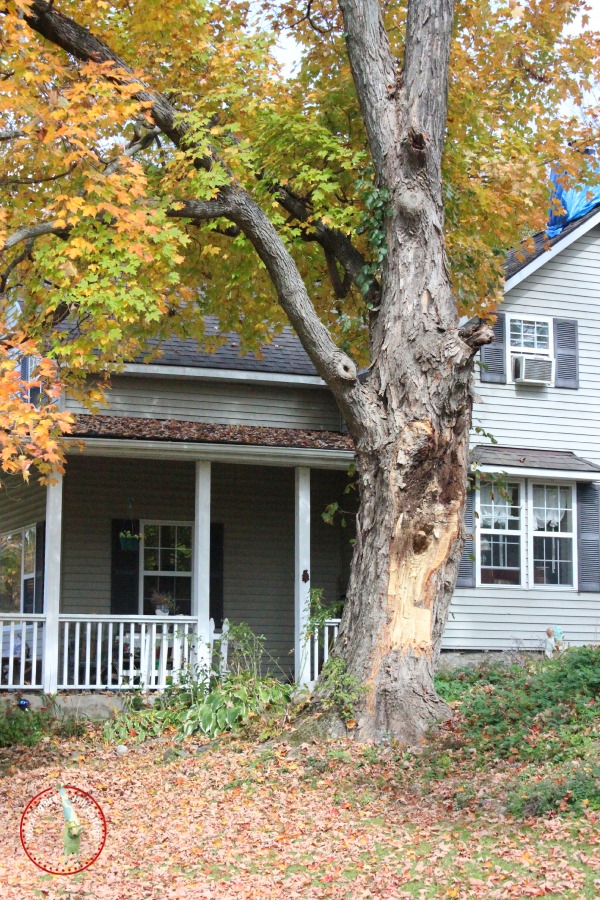 Quite a gash, no? The arborist tells us it will heal. But I can feel the tree's pain as this limb was ripped off. Oh yes, I believe trees and plants feel things. Just how and what, I don't claim to know. But they feel. Now that Scout's crisis is under control, I'm going to have spend some time with this tree. More than a few hugs and positive healing words are in order.
• Leaves are falling everywhere here at the cottage. Maybe because I've been away and missed the first signs of color change, it seems to be happening so fast. We're avoiding any raking at the moment. Eventually, we'll have to get out there and clean things up, but now? We're tired.
• You all know I'm a big Red Sox fan. My sister, who lives in Florida, is a Tampa Bay Rays fan. Uh oh. Those two teams are currently battling it out in the ALDS. The Sox won last night, but the Rays are a good team and I know it will be a battle. Meredith, I like your Rays and their manager, Joe Madden. But I'm hoping the Red Sox win. All's fair in love and war.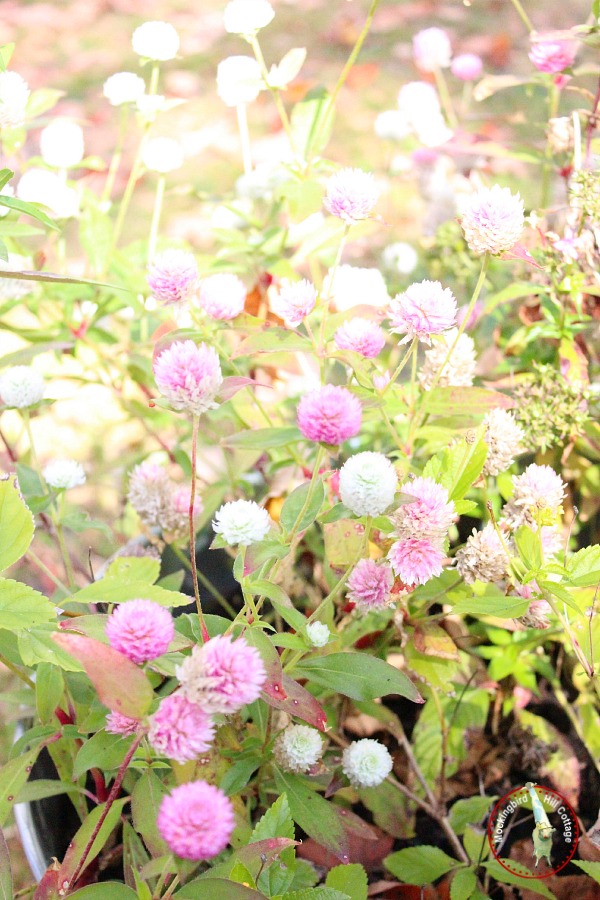 • I took this picture of the Gomphrena growing in my galvanized planter. It looks like I used some sort of photo effect, but I didn't. It just came out this way. I like it.
• Scoutie is improving daily. Yesterday I told Don that I would know she was getting back to normal when she demanded something or other from me by barking. A few short hours later, she wanted more food (she didn't have anything to eat for about 4 days when she first become ill and she's doing her best to catch up) and sure enough, after a stare-down contest, she started barking. Careful what you wish for, Claudia. She's still tired but her energy level in general is a lot higher. I'm so grateful. This girl has been through a lot in the past 15 months: The scare with Geriatric Vestibular Disease, when she couldn't walk or keep her balance and her eyes darted back and forth and I thought she'd had a stroke; Lyme Disease, which resulted in hospitalization and lots of worry and finally coming home on my birthday and this latest, the tumor in her vulva.
All of the dogs we have been lucky enough to have in our family were rescued and each of them dealt with chronic problems, diseases and, in the case of two of them, attacks from other dogs. I was thinking about that the other night. I'll have to list everything someday. It's mind boggling.
• And finally, I didn't get around to picking the winner of a copy of Lowcountry Bombshell until this morning. The winner is longtime reader, Claudia Ehlers. Congratulations, Claudia! (You have a beautiful name, by the way!)
Happy Saturday.