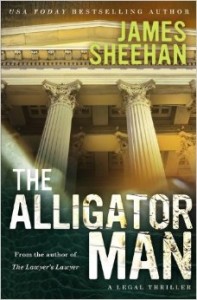 Today I am reviewing The Alligator Man by James Sheehan for TLC Book Tours. As always, I am provided with a copy of the book in exchange for my honest review.
About the book (from the publisher): Roy Johnson, the former CEO of Dynatron, preyed on smaller companies, swallowing them whole and spitting them out after taking huge profits. He left Dynatron with a one hundred million dollar golden parachute before the company took a nose dive, wiping out the jobs and benefits for all its employees. When Johnson goes missing and pieces of his clothing are discovered in alligator-infested waters, it is assumed he was murdered, and he's dubbed the Alligator Man by a New York Times columnist. Billy Fuller, a former Dynatron employee who lost everything, including his wife, is just one of many who have a motive to murder Johnson.
Kevin Wylie, a lawyer in Miami, learns that his father, legendary trial lawyer Tom Wylie who he hasn't spoken to in 28 years, is having surgery for cancer and may not survive. Kevin decides to visit his father in St. Albans, and hopefully, get some answers on why his father abandoned him. While there, Kevin learns that his childhood friend Billy is the chief suspect in Roy Johnson's murder. All the evidence points to Fuller's guilt, but both Kevin and his father believe in Billy's innocence. They decide to reunite to fight the courtroom battle for Billy's life.
My review: The Alligator Man is a thoroughly engaging story and one that I got hooked on immediately. Sheehan, a former trial attorney, knows his subject. He also knows Florida and his descriptions of Miami and the fictional towns of St. Albans and Gladestown are full of the kind of details that create a vivid picture of the novel's world. Kevin Wylie is at a crossroads in his life after having worked for a law firm that tends to defend drug dealers. He's also in a long-term relationship with a woman that just might be on its last legs, so he is more than ready to leave town and see his father once again. And that's where the story begins.
The cast of characters, including some quirky eccentrics, is fully drawn. Using his words with care, Sheehan sometimes simply gives a few well-written details that manage to make the characters spring to life. Kevin is the protagonist, but we also hear the story from the point of view of the supporting cast, which I love because it creates a multi-layered story. The book is well plotted with rather short chapters that keep the action moving. Sheehan manages to do something gracefully that I often see other writers do clumsily; he weaves all the 'legalese' into the story naturally. You aren't even aware that you're getting valuable and necessary plot points about the law, the courtroom, judges, clients, briefs because Sheehan does it all so artfully. Often I see that kind of information presented as a kind of lecture that is tiresome and has the effect of taking me out of the story. Not with Sheehan.
Comparisons are not always helpful, but in this case, I think they are. Sheehan's book reminds me of the best of John Grisham. They are both writers who write legal thrillers with compelling characters; the plot is always character driven. And back to the world of the novel: Sheehan has written it so deftly, so completely, that you can't imagine the plot taking place anywhere else but in Florida.
I really enjoyed this book. I was throughly caught up in its pages right from the start. I think you'll enjoy it, too.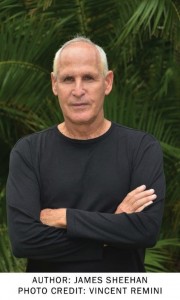 About the author:  Born and raised in New York City, Sheehan moved to St. Petersburg, Florida to attend Stetson Law School and was a practicing trial attorney in the Tampa/St. Petersburg area for 30 years. He is now the Director of the Tampa Law Center at Stetson University College of Law and is also a Visiting Professor of Law. Stetson is the author of three acclaimed legal thrillers, the best selling Mayor of Lexington Avenue, The Law of Second Chances and The Lawyer's Lawyer.
Good news! One of you will win a copy of The Alligator Man. Simply leave a comment on this post and I will draw the winner's name on Thursday evening. Good luck!
Happy Monday.