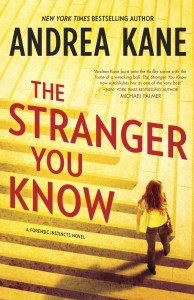 Today I am reviewing The Stranger You Know by Andrea Kane for TLC Book Tours. As always, I am provided with a copy of the book in exchange for my honest review.
About the book (from the publisher): It begins with a chilling call to Casey Woods. And ends with another girl dead. College-age girls with long red hair. Brutally murdered, they're posed like victims in a film noir. Each crime scene is eerily similar to the twisted fantasy of a serial offender now serving thirty years to life – a criminal brought to justice by Forensic Instincts.
Call. Kill. Repeat. But the similarities are more than one psychopath's desire to outdo another. As more red-haired victims are added to the body count, it becomes clear that each one has been chosen because of a unique connection to Casey – a connection that grows closer and closer to her.
Now the Forensic Instincts team must race to uncover the identity of a serial killer before his ever-tightening circle of death closes in on Casey as the ultimate target. As the stalker methodically moves in on his prey, his actions make one thing clear: he knows everything about Casey. And Casey realizes that this psychopath won't stop until he makes sure she's dead.
My review: One of the benefits of reviewing books is that I often encounter new-to-me authors that I might not have discovered otherwise. My reading horizons are expanded. I love a good thriller or mystery, as you well know by now. But if I had encountered this book in the mystery section of the bookstore, I would probably have passed it by. Why? Because the team behind Forensic Instincts is predominantly young, beautiful and/or hunky; the same formula I avoid like the plague when watching television shows with impossibly beautiful young things working as CSI investigators or lawyers or doctors or FBI Agents. That's a formula concocted for mass appeal and has very little basis in reality. In fact, this Forensic Instincts series of thrillers is practically screaming for some screenwriter to develop it into a pilot. I wouldn't be at all surprised if that happens. (That's not a bad thing, by the way.) Anyway, I'm grateful that I had the opportunity to review this book because my initial assumptions would have kept me from a very good read.
Andrea Kane is a very good writer. Even though I was at first skeptical, I found myself caught up in the plot, which is tightly written and compelling. Kane knows how to build suspense, leaving tantalizing clues for the reader as she constructs a plot that careens toward the final pages. The story is told from the point-of-view of each of the members of the Forensic Instincts team as well as that of the killer, giving us rich, taut character development and a back-and-forth that is tightly edited, almost cinematic in quality.
The idea of a team of maverick investigators who, at times, cross lines that the police cannot is ingenious. While they often work alongside the police, this group is full of specialists (a former Navy SEAL, a retired FBI agent, a behaviorist, a tech wizard, an intuitive) who work out of a brownstone in New York City. Kane's descriptions of NYC and the surrounding area of New Jersey and New York State (including some settings very near to my home!) are right on the money. It's a compelling read. I couldn't put it down.
I really think you'll like this book. As I said before, it's part of a series; two other books preceded this one. If you like to escape into a thriller that grabs you and takes you on a wild ride, you'll like The Stranger You Know.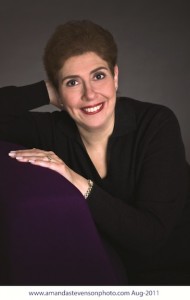 About the author: Andrea Kane's psychological thriller The Girl Who Disappeared Twice became an instant New York Times bestseller, the latest in a long line of smash hits. With her acclaimed signature style of developing unforgettable characters and weaving them into carefully researched story lines, Kane has created Forensic Instincts, an eclectic team of maverick investigators. Recruited because of their special talents and dynamic personalities, the high-energy members thrive on blatantly disregarding authority. Armed with skills and talents honed by years in the FBI and Special Forces and with training in behavioral and forensic psychology, this unstoppable team solves seemingly impossible cases while walking a find line between assisting and enraging law enforcement.
With a worldwide following and novels published in more than twenty languages, Kane is also the author of numerous romantic thrillers and historical romances. She lives in New Jersey with her family, where she is busily crafting a new challenge for Forensic Instincts.
Lucky you! I am giving away one copy of The Stranger You Know. If you are interested, just leave a comment on this post and I'll pick a winner on Thursday evening.  Good luck!
Happy Monday.