Provocative title, right?
Of course, I'm talking about what's hanging on the wall of our tiny half bath – a room so tiny that one can hardly move more than a couple of inches in any direction. I painted it green not long after we moved in here and it's become a mini-gallery of sorts.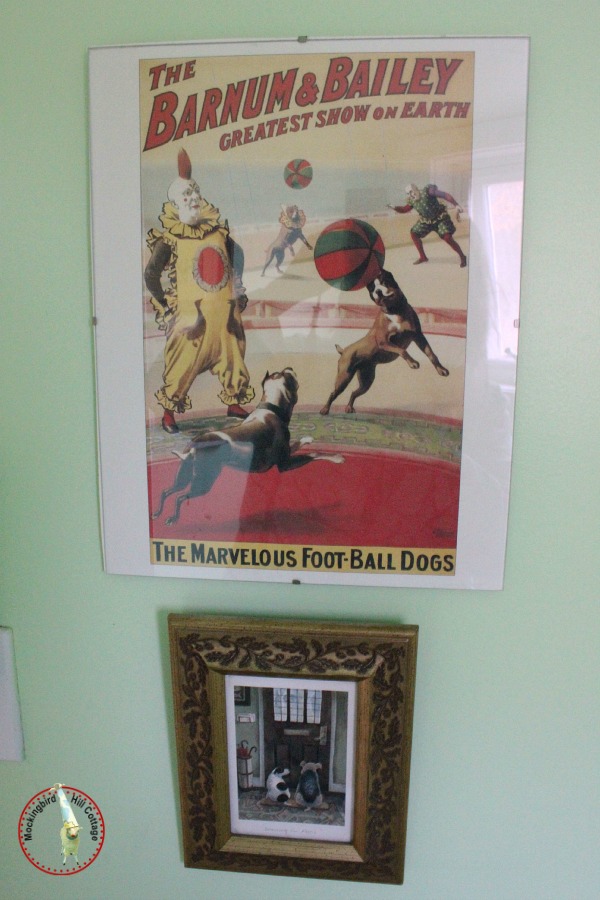 Let me just say that taking these shots requires a level of limberness that is no longer as readily available as it used to be.
The Marvelous Football Dogs print was a gift from our friends, Lynne and Sean. The colorful vintage circus poster style is irresistible and the subject matter is dogs, so it's a win-win. Let's get a closer look at the framed print below.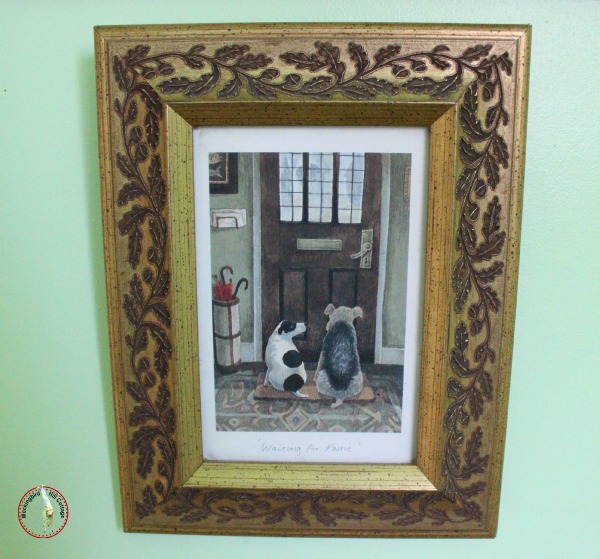 This is a card that Don gave me one year entitled "Waiting for Postie." Very British and very charming. But he bought it because the two dogs look like Scout and Riley, if Scout had black spots. We tried several times to recreate this pose with our dogs but they wouldn't cooperate. Darn them. Isn't this print adorable?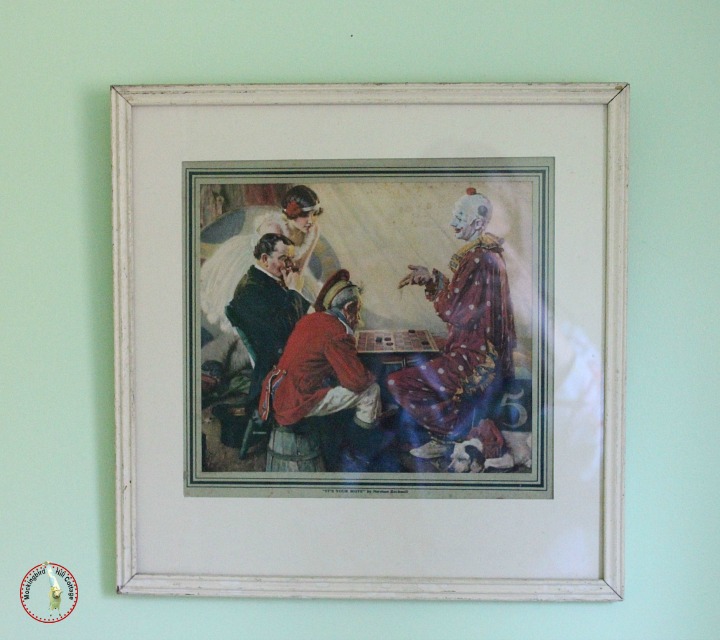 This is one of our favorite finds. We found this period Norman Rockwell calendar print when we visited the Berkshires many years ago. It came in this vintage frame and I think it might have been part of a calendar, but I'm not sure. It's entitled "It's Your Turn." I'm not necessarily a fan of the circus, nevertheless, that makes two circus-themed prints in the bathroom. I absolutely love this print and I could look at it for hours, as I can with all of Rockwell's work.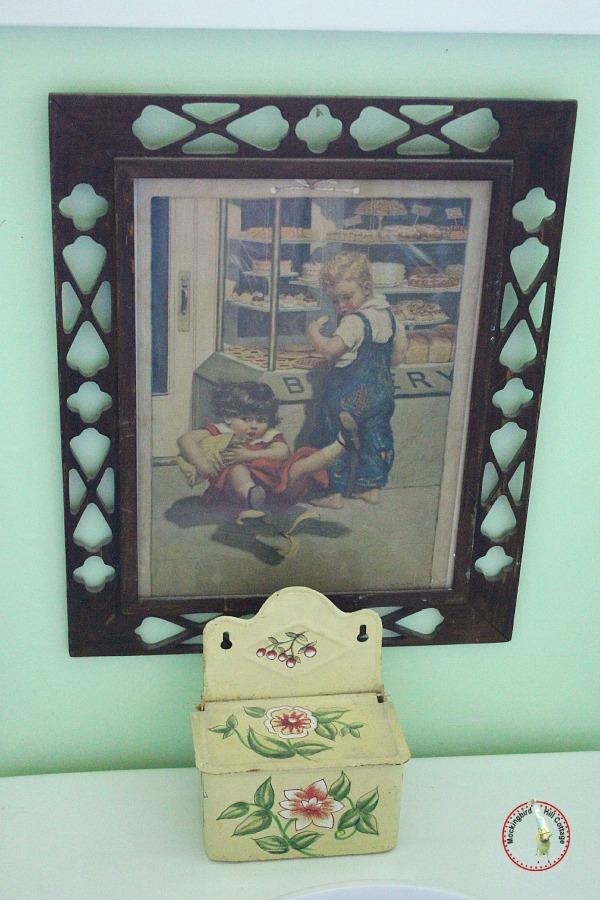 This print is under the window and above the toilet. We found this in San Diego many years ago and snapped it up. Another no brainer for us: a vintage print of kids outside a bakery and need I say more? The frame. The frame is to die for.
On the other wall: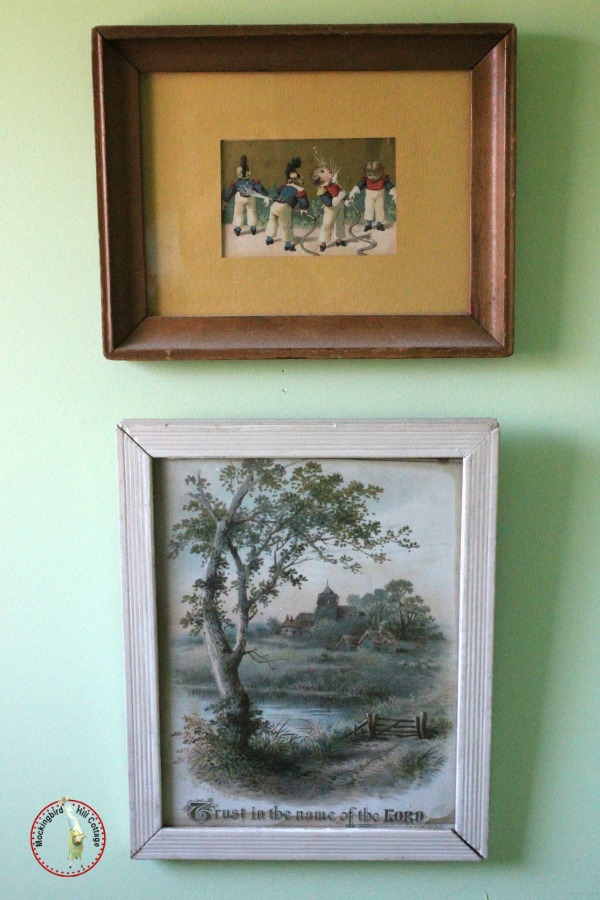 A vintage print of kids dressed as toy soldiers playing with a hose and the framed print below that was my grandmother's. I think it hung in her guest bedroom. The frame is fragile and I kept it tucked away for years until I decided to hang it in the bathroom.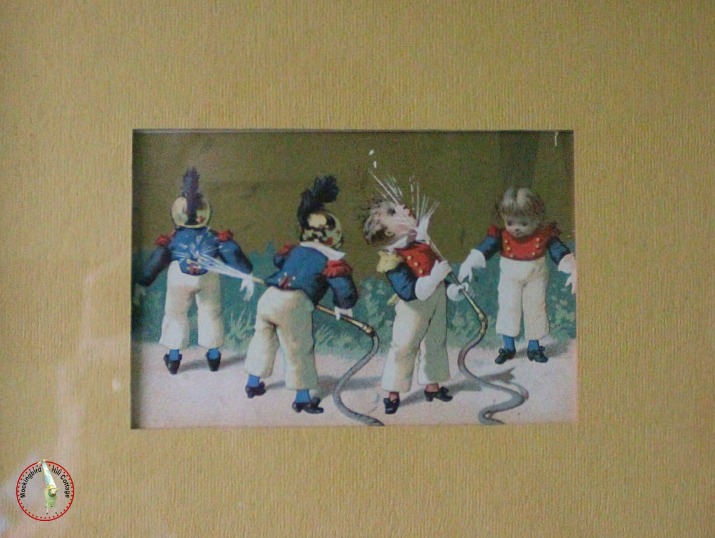 A close-up of the kids and the hose. This was also a San Diego find. I love vintage illustrations, especially when children are the subject matter.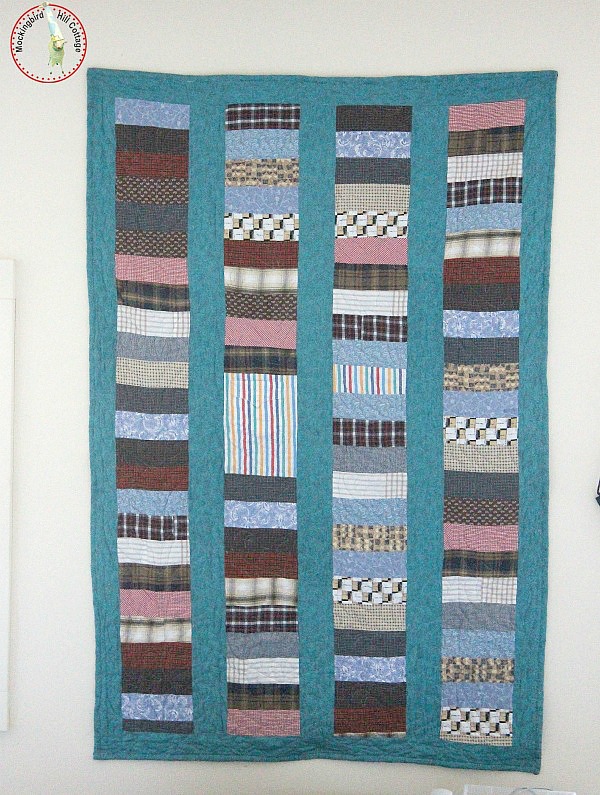 Since I'm not showing you the spare bedroom/office/Don's studio, I thought I'd at least share a photo of this quilt, which is hanging on the wall there. It belongs to Don. After his father, Lee, died a few years ago, Don's stepmother and half sister asked a quilter to make one of these for all of the children. It's made out of Lee's shirts.
Needless to say, it's priceless.
Tomorrow, I'll share a few of my thoughts on decorating a home: how I put my own individual stamp on my home, why I avoid trends like the plague, and what rules I think are worth following and what rules I ignore. Modestly, of course, because I am certainly no expert.
Oh, one more thing. I've had a daily photo blog for about 3 years. Unfortunately, with daily posting on this blog I had let it fall by the wayside over the past year and a half. I'd been thinking about it lately and then my friend Dawn did a post about her new photo blog (she's a great photographer) and I thought to myself, "Claudia, that's a message from the universe. Start posting on that darned blog again." So I have. I want to better my photography skills. The link is on my sidebar, if you're at all interested. It's called Through a Lens Daily.
Happy Sunday.