I woke up at 6:30 this morning and it was still dark. In fact, for a short time, I had no idea what time it was. It could have been the middle of the night. Now we're headed for a time change which will be even more disconcerting. Getting dark at 4:30? Do not like. Why do we still do this whole time change thing?
I digress. Next stop on the tour: the den. As you probably know, the den is our hangout, our television/movie watching room. Speaking of movies, we watched a simply dreadful Vincent Price movie last night in honor of Halloween, the kind of movie that is so bad you cannot stop watching.
I miss baseball.
Anyway, the den is also my blogging room. In other words, I'm in here a lot. It's sunken, just two steps down from the living room. It feels like a little secluded retreat.
Looking into the den from the living room. We put those rectangular carpet pieces on the stairs to make it easier for Riley, and now Scout, to get down the steps. I'm not crazy about them, but I'd do anything for our dogs.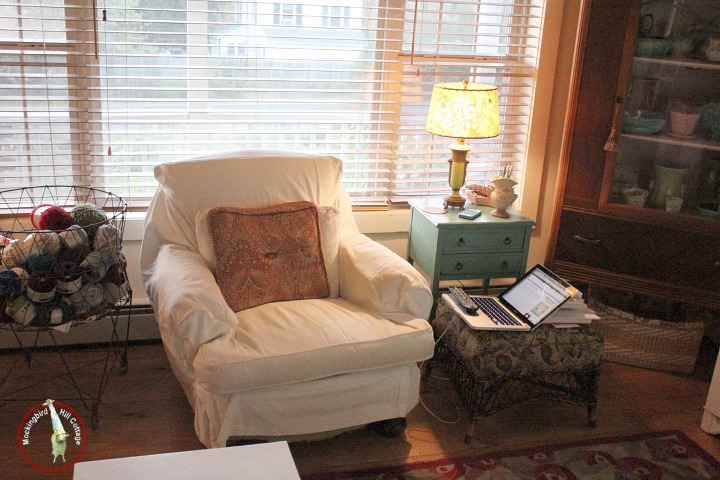 The Blogging Chair. Yes, that's where the magic happens, my friends. The chair itself is old and has a beautiful shape, but was covered in a sort of naugahyde-like fabric. And it's desperately in need of entire re-upholstery job, which is low on the Must Be Done list.  So I use an IKEA slipcover that doesn't quite fit, but works in a pinch. I got the teal/green table at auction, along with another table, for $25. The rug is from Pottery Barn. We bought it about 10 years ago. Can you tell I like red? Especially in a cozy space?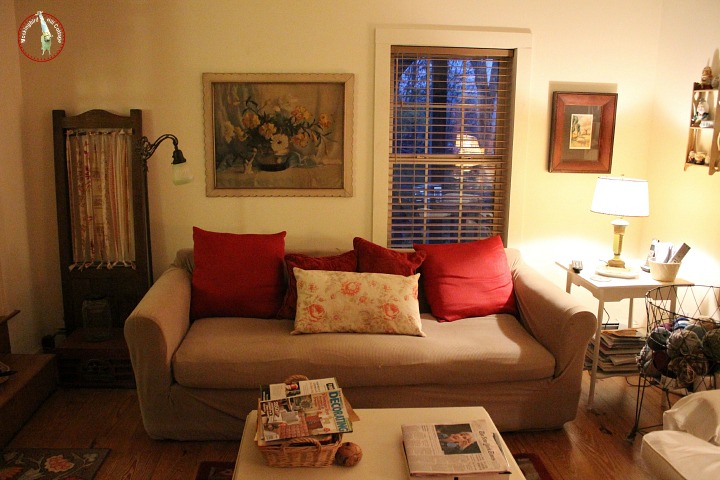 After several fruitless attempts at getting a good picture during the day, I resorted to an evening picture. And I like it. Because that's when it looks the most warm and cozy and welcoming in here. The sofa? Old. We bought it when we first moved in together. It's on its second slipcover. The springs are sort of shot, I eliminated the back pillows a few years ago because they drove me nuts and bought 4 red pillows to replace them. I like the shot of color. And that IKEA flowery print pillow (I have a few of them) is Scout's pillow.  Every night we move it so that it's perpendicular to the position it's in here and she nestles next to it. She sometimes obsessively licks it. It's rather yucky at this point, but it's hers.
The screen is an oak Craftsman piece from our former home in San Diego, which was a Craftsman style house. It originally had fabric panels but they had deteriorated, so I tied strips of fabric to the rods and placed it against the wall.
The floor lamp is a vintage find from our time in San Diego. It had a glass shade that didn't match the lamp and I searched for months until I found the green and cream glass shade that completed the piece.
The large print on the wall is one of my favorite-ever auction finds. That wooden frame is scalloped. It's big and heavy and I got it for $15. The coffee table was a steal at $10. The white side table was formerly brown until I painted it. Now it looks much more cottagey.
My dream is to have a wall of built-in bookcases behind the sofa. I'm going to make it come true.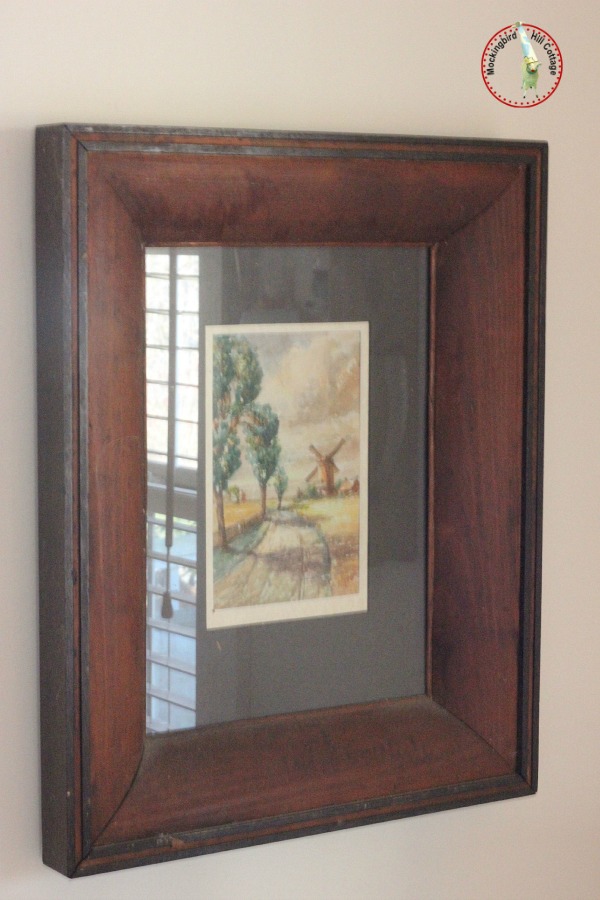 This is the watercolor painting that is on the wall above that table. We found it in San Diego. We fell for both the charming scene of a windmill and the frame.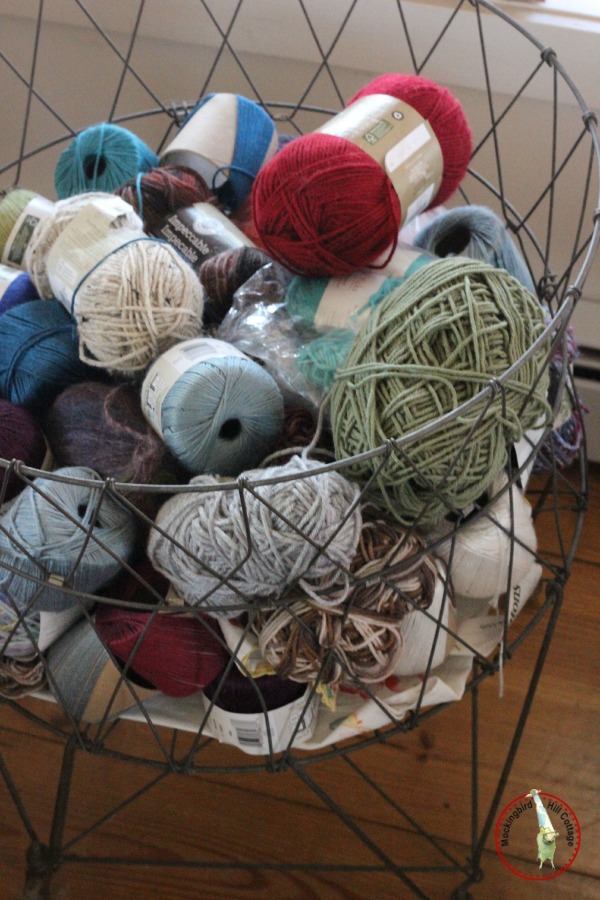 The vintage wire laundry basket was a Craig's List find for $50. Have I touched that yarn recently? No.
Our most recent find: these gorgeous lamps that were our anniversary gift to each other. This one is lit….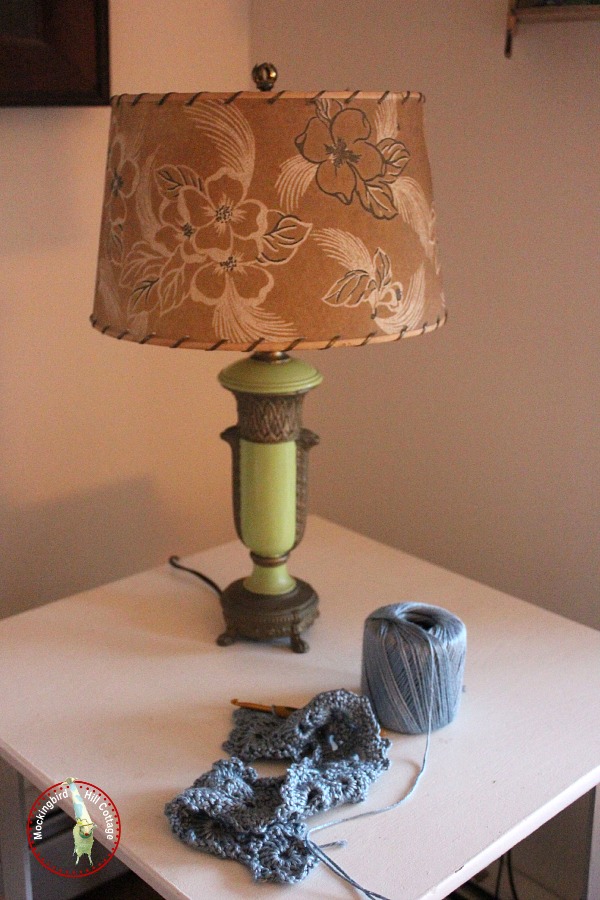 And this one unlit. It's been a few weeks now and I still can't stop looking at them.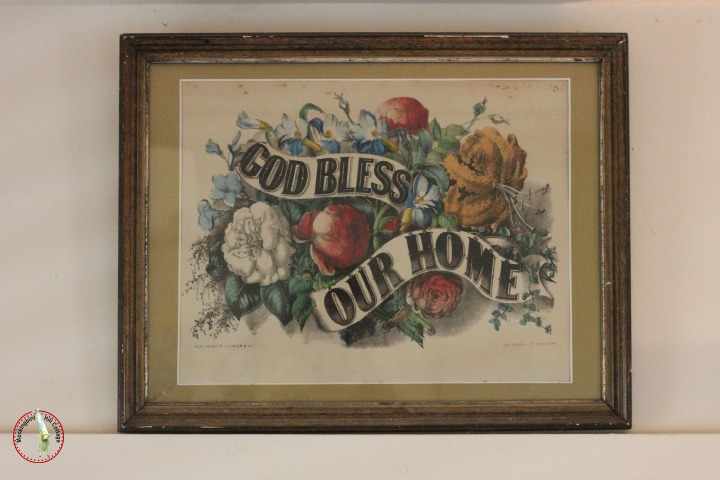 This is an original Currier and Ives lithograph that I found at auction. It's old and fragile and has some stains and I love it. I'm amazed at how vivid the colors still are. It hangs above the large picture window.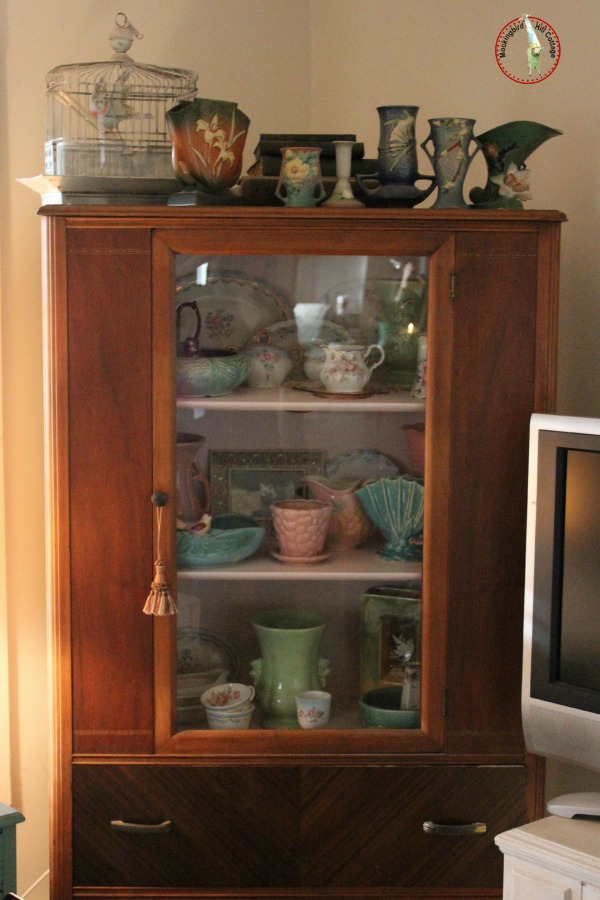 One of my china cabinets is tucked into this corner. I bought this beauty the first year I was living in San Diego. It held my Fiesta collection, which has since been sold. (I've retained a few of my favorite pieces.) It now houses some of my favorite pottery and china, including McCoy and Haviland and some French pieces. On top you can see the vintage bird cage I bought at Vignettes in San Diego and some of my Roseville pottery. Behind them are some old books, including some of my dad's school books.
You can see that the television is right next to it, where it has to be because there is a window to the right that we don't want to block. Televisions are not all that attractive, but I'll show you the cabinet on which it stands.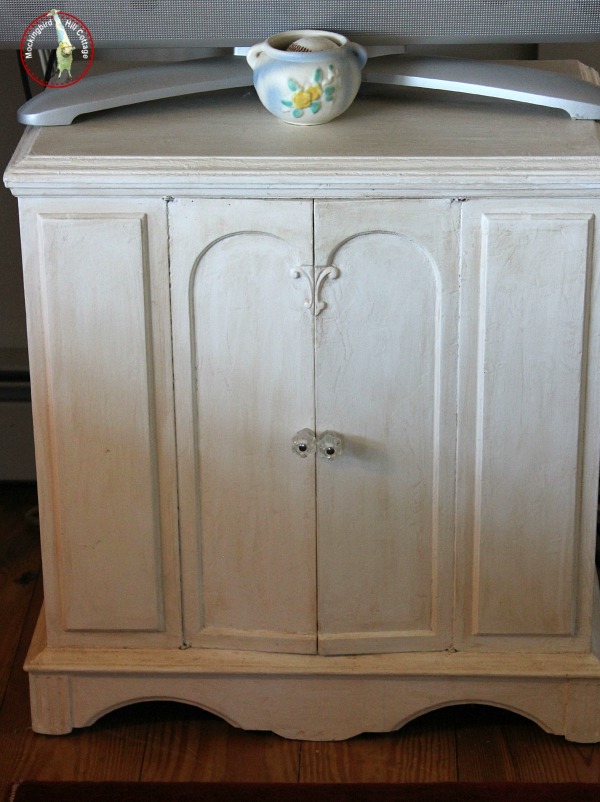 I got this cabinet, which has no back, for $5 at auction. I painted and glazed it and changed out the knobs. I really love it. It holds the cable box and the dvd player.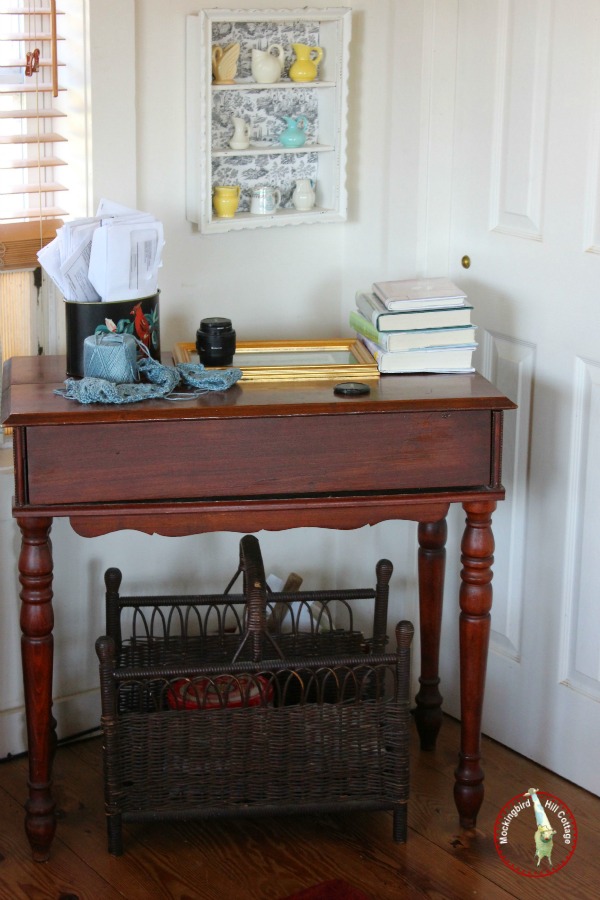 In the corner, our spinet desk, which used to be in the spot by the stairs where my desk now lives. I closed the cover, so it would look a bit less busy. The wicker magazine holder is vintage and we bought it years ago in San Diego.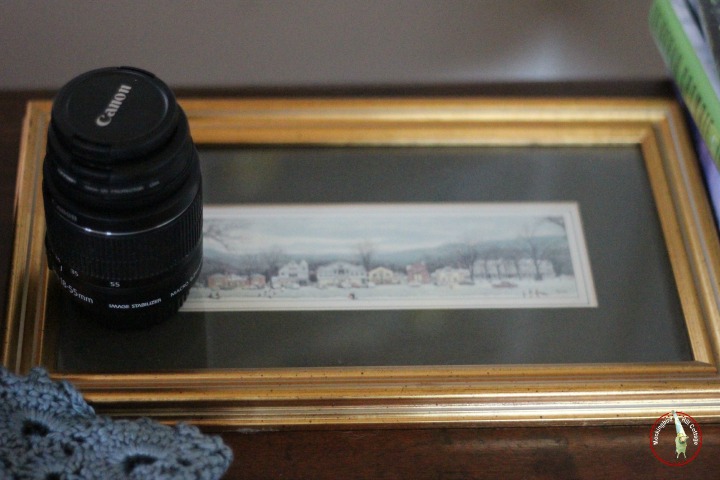 That's a framed Norman Rockwell print of Main Street in Stockbridge, Massachusetts – one of our favorite places.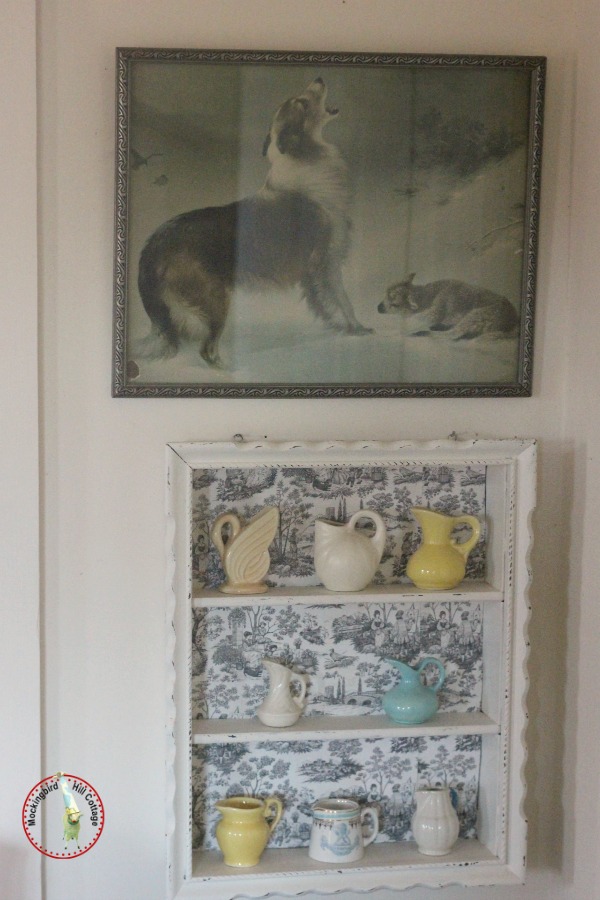 The beautiful Lost Lamb print came from Debra of Common Ground. I saw it on a blog post that showed one of her retail spaces and I wrote her immediately. It has the most beautiful frame. The shadow box was from a vendor's space in Heidi's shop. The lady who ran that space was a friend of mine and she died rather suddenly a few years ago. Heidi gave me this piece as a memento. It was originally finished in a dark stain and the back was mirrored. I painted it and covered the mirrors with toile scrapbook paper. It now displays my miniature pottery.
Can you tell that I have a pottery obsession?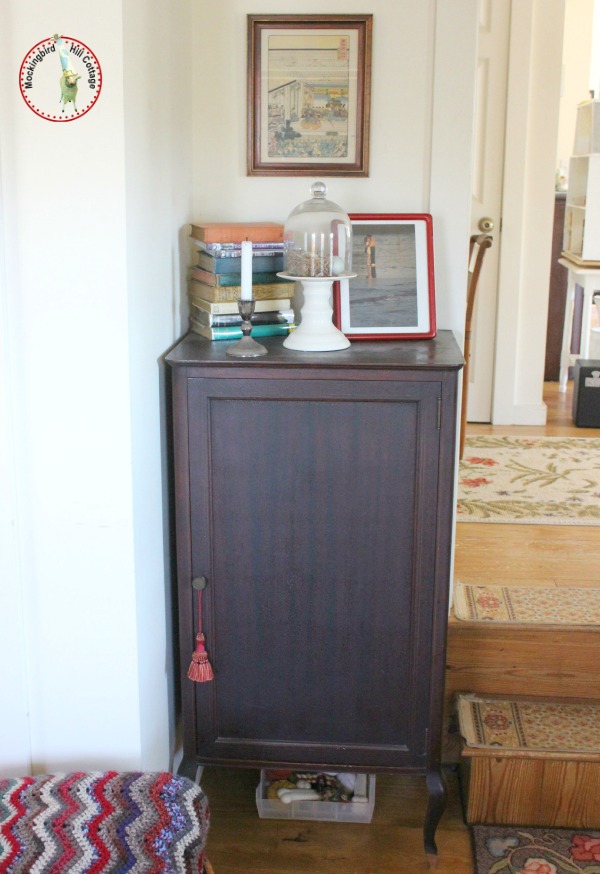 We've come full circle. Just inside the entrance to the den is this music cabinet. Another auction find for about $25. I have a lot of sheet music, but it also stores other things that need to lie flat, like prints and dollhouse wallpaper. Some of my favorite vintage books are on top along with a silver candlestick (one of a pair) given to us as a wedding present by the founder of the Old Globe Theater, Craig Noel. Craig, who was a dear friend to both of us and a mentor to Don, died a few years ago. Underneath? Dog toys that are never used anymore but I'm sort of sentimental about. I can't get rid of them. And to the left is a basket with quilts and throws.
The den is decorated but not decorated. It's meant to be cozy, comfortable and enveloping – the kind of place where you can flop down on the sofa, cuddle, read, write, and pet a beloved dog. There are several pieces of furniture but I work very hard at not cluttering a space. Cozy clutter? Yes. Stuff everywhere? No. I edit what I hang on the walls and what I display. And, as always, everything has a story. Everything has a meaning to us.
If you ever came for a visit, I would probably drive you nuts sharing all those stories.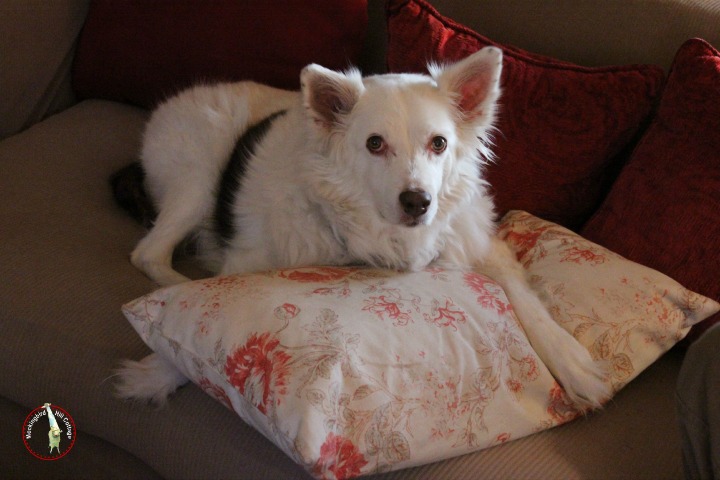 Scoutie on her pillow.
More tomorrow.
Happy Friday.