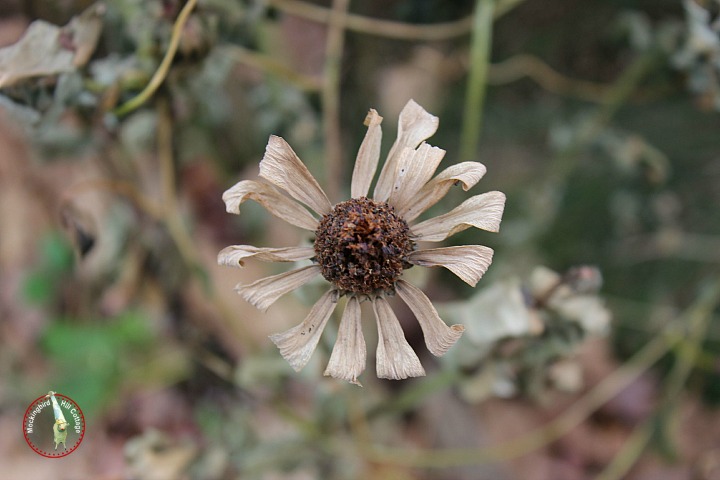 There is beauty in zinnias that have succumbed to freezing temperatures, have lost their brilliant color, yet still retain their shape and form. They are like earth-toned sculptures. I wanted to capture them with my camera before I start to clean up the Chicken Wire Fence Garden, which might be today. Or not. I also have to clean up the side of the house, where there is a greenish tinge on the siding that I have ignored far too long. That is definitely on the agenda for today.
A story from yesterday: Around noon, Don and I went to run some errands. We also stopped at our town hall to vote. After we voted, Don asked me if today could be the day we used a $25 gift card for Applebee's that he had received as a gift last year. Okay, I said. I'd never been to an Applebee's. I've found that most chain restaurants have a menu that is mostly comprised of meat and fish. I'm a vegetarian. But in the past few years, I've noticed that more and more of these chains have incorporated a veggie burger or a pasta dish that works for vegetarians into their menus, so I was hopeful.
We drove to Applebee's.
The menu had virtually nothing for vegetarians. Even the salads had chicken or bacon or shrimp. Don started feeling guilty because I couldn't find anything to eat. But after some discussion with our waitress, I discovered there was a three cheese grilled sandwich and a house salad that normally came with bacon, but that could, she assured me, be specially ordered without bacon. Okay. Good.
In the meantime, I started to look around the restaurant. There was a bar in the middle of the room with several television screens that I could see from my booth. There were also television screens in the dining area. One of the screens was showing Law and Order SVU. The others? A program that is all about deer hunters, deer hunting and killing those deer with crossbows.
Are you kidding me?
This is on in a restaurant? While people are dining?
Now, if you have read this blog for any length of time, you know I am passionately anti-hunting. I abhor it. So being in a room with some frigging television screen projecting images of deer peacefully grazing and being stalked by men wearing camo is about as distasteful as it can get for me.
But, even if I was someone who didn't have a problem with hunting, does my local Applebee's really think that showing deer being hunted and killed is a good accompaniment to the dining experience? Does anyone want to see this stuff while they are eating?
I had one screen directly in front of me that was showing the program and one to my right. If Don, sitting directly across from me in the booth, moved his head ever so slightly, I was suddenly thrust into the world of deer hunting. If I turned my head slightly to the right, there it was again.
Really? What are people thinking? It was like we had been transported to some world dominated by survivalists and hunters instead of a large city relatively close to Manhattan.
The whole experience was unsettling and I couldn't wait to get out of there. Yes, I know I could have asked them to change the channel but I didn't want to stay there one minute longer than necessary.
Also, this brings to mind another question: Why do we need all those televisions on when we are dining? We can't manage to get through 60 minutes or so without a screen in front of us? This certainly isn't just happening at Applebee's. It's happening everywhere. Can't we just talk? Or, if dining alone, read? Or be alone with our thoughts?
The cheese sandwich was very good. And my salad? Very good except for the 2 or 3 pieces of bacon I encountered.
I don't eat out very often and my tastes are pretty simple. I'm not a demanding diner who sends things back. But no bacon is no bacon. And dining to the accompaniment of deer being killed is definitely not acceptable.
No more Applebee's.
That's my story from yesterday.
Happily, the day ended with watching A Streetcar Named Desire on TCM, with the brilliant performance of Vivien Leigh doing a great deal to erase those horrible images from earlier in the day. Thank goodness.
(In a bizarre sort of irony, what is showing up in my Adsense ads? Coupons for Applebee's.)
Edited to add: Dear reader Lori, who manages an Applebee's in South Dakota, wrote a wonderful comment assuring us that all Applebee's are not like the one I went to. Maybe mine is the black sheep of Applebee's? Thank you, Lori!
Happy Wednesday.