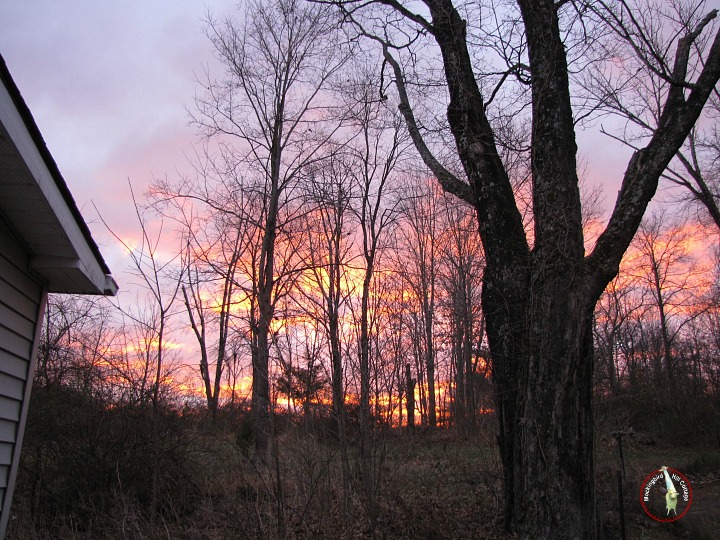 Yesterday morning's sunrise. Barely awake and having just let Scout out, I stumbled back in the house, grabbed my old camera which sits at the ready in the kitchen for just this sort of thing, and got this shot. Timing is everything (something I seem to say weekly on this blog). A minute later, the spectacular colors were gone.
I used the same shot on my photo blog yesterday. (There's also a link on the sidebar.) I started it with the intention of posting a photo a day in order to better my photography skills. After a hiatus, I've recently started posting there again. It's on Blogger and I have to say that after wrestling with posting photos and tweaking the site, I now realize just how much I love WordPress. But on Blogger it will remain because I don't want to hassle with a domain name or anything like that. At least not until I see if I can maintain my post consistency.
Last night was our coldest night so far, with temperatures dipping down into the mid-twenties. There is frost over everything this morning. Once again, I rescued the potted impatiens from the porch and brought them inside. I wonder just how long I'll get away with this before the inevitable happens and I forget to check the weather forecast, waking up to shriveled plants? Any guesses?
Dollhouse noodling: a few things I had ordered from Miniatures arrived yesterday. Part of the order consisted of more chair rails and pieces of wood trim to frame the remaining two windows that I haven't touched. But there were a couple of fun items as well.
I've had this idea for over a year and I finally made it happen: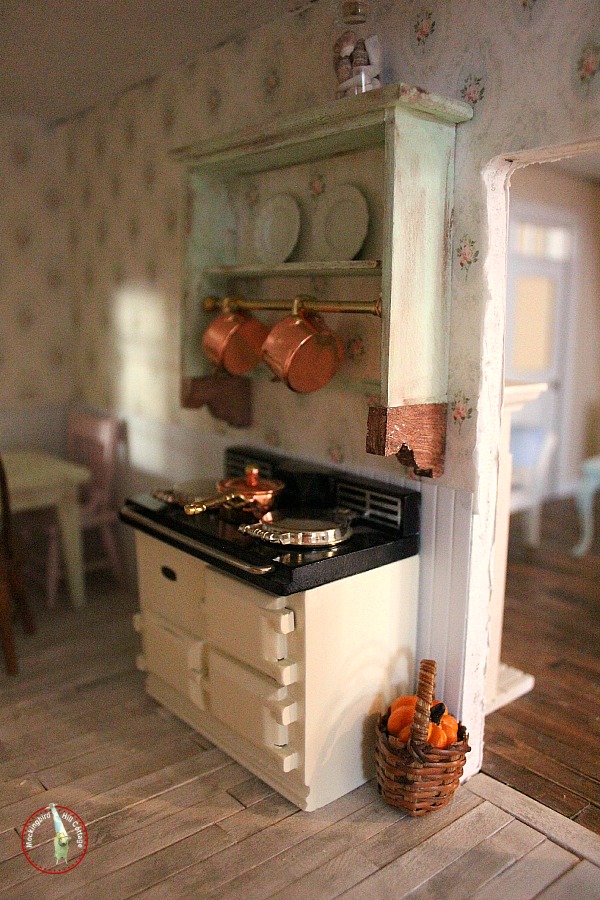 Eeeek! I'm swooning a bit here. The shelves are part of an inexpensive Michael's cabinet that I took apart. In doing so, I lost the bottom shelf. Not to worry, I had an idea. I finally ordered a mini curtain rod and some copper pots and voilà! Now the little dollhouse kitchen has the warmth of hanging copper pots above the stove, with one ready to go on top of the Aga.
Dollhouses are such a wonderful way to indulge all your decorating fantasies. Barring a lottery win, I could never afford an Aga. There's no space here to hang copper pots and it doesn't really matter because I don't have any. But I do in my dollhouse kitchen!
And I love, love farmhouse sinks. Maybe I will have one someday, but in the meantime: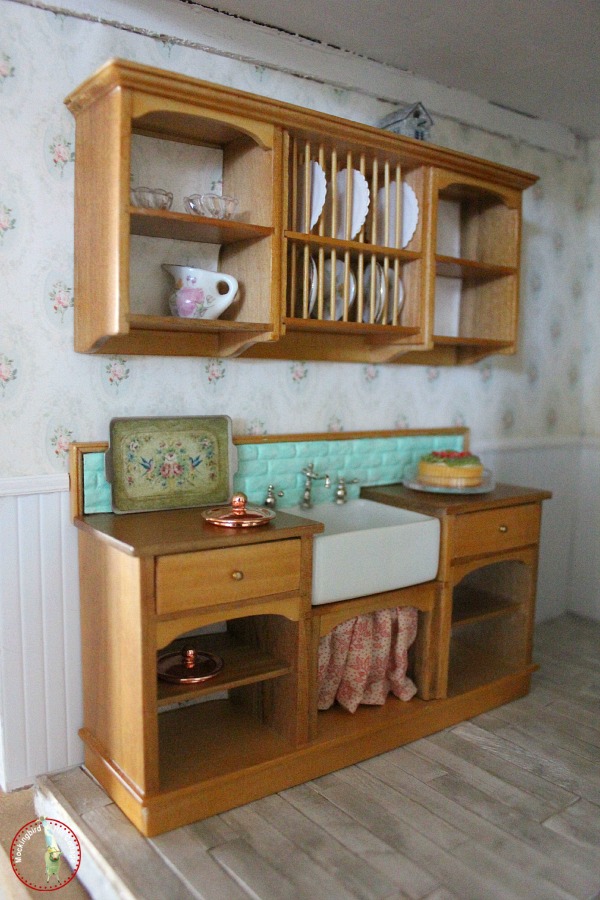 I have a farmhouse sink in the dollhouse kitchen. Yesterday, the faucets and handles arrived. Using my dollhouse plumbing skills, I installed them and now we have 'running water' in the kitchen. Double Eeeek!
Poor Don. He innocently sits in the living room trying to do his thing and I'm constantly calling him over to the dollhouse to look at what I've just done. Bless his heart, he gets up and peers into the kitchen and says all the right things. Yesterday, while trying to look into the kitchen, he accidentally hit this unit and it went flying out of the kitchen. I had a tense moment or two until I saw that there was no damage. Don's hands are simply too big for this little kitchen. Actually, so are mine. Trying to glue that curtain rod into the shelf unit was a pain in the butt!
I've spent hours looking at dollhouse miniatures on Etsy. Oh my goodness. I did order a couple of small things and eventually they will be winging their way to me from…Spain! I can't wait.
My friend Norma, who is a talented miniaturist, shared this link to her Pinterest board, chock full of great tutorials. You might want to check it out!
Happy Wednesday.