A Favor
Dear friends, may I ask a favor of you?
I have ads on this blog that generate a small income for me. Small is the operative word here. You see, that income only comes when a reader clicks on this blog. It doesn't come from an email subscription to this content or from a reader. I am thrilled that so many of you read this blog in a reader or via email and I know that each of you has your preferred method of content delivery. I've done my best to give you as many options as possible. But in doing so, I can also lose potential income if readers never click over to this blog.
I love writing this blog. I'd do it for free and did, for many years. But I now write and compose a post every day. I do book reviews. I try my best to provide good content. I've invested in a camera for better quality photos. Keeping this blog running requires a monthly financial commitment on my part.
When you get your email delivery of the day's post or see Mockingbird Hill Cottage in your reader, could you occasionally click over to the blog itself? Like everyone else, we have our financial challenges. If you can visit the blog itself, it sure would make a difference in my income. You don't have to click on the ads, nor would I ask you to. Just visit the blog. A simple click….easy. Thank you.
The Dollhouse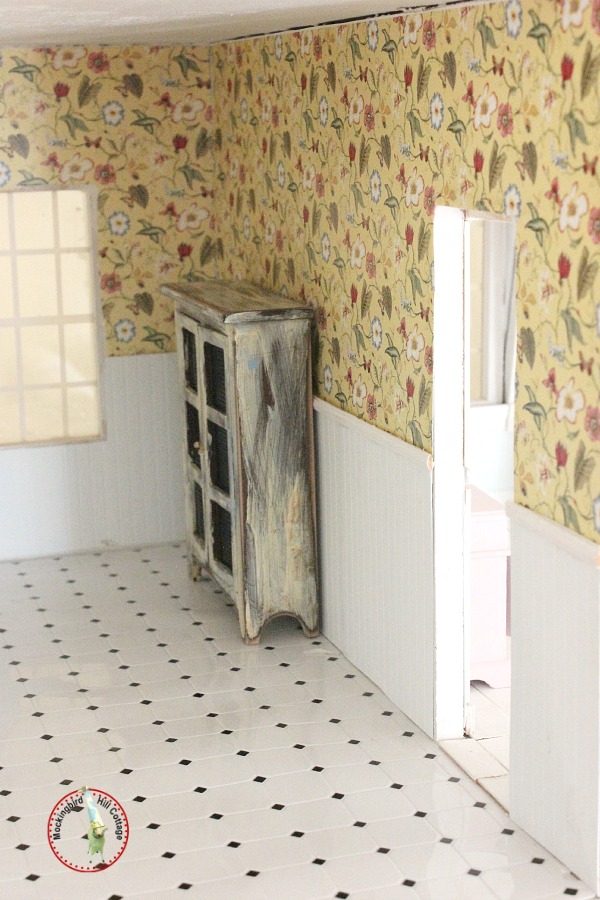 I spent several hours wallpapering the dollhouse bathroom the other day.
Oy.
It's messy and, at times, frustrating. This particular room was not, to put it kindly, assembled as tightly as it should have been by the original owners. Sounds like real life, doesn't it? So there are quirky things to work around.
I chose this pattern because I wanted to make more of a statement in the bathroom. It also came in aqua and that was my first choice, but I have a lot of aqua in the house already, so I went for this golden yellow.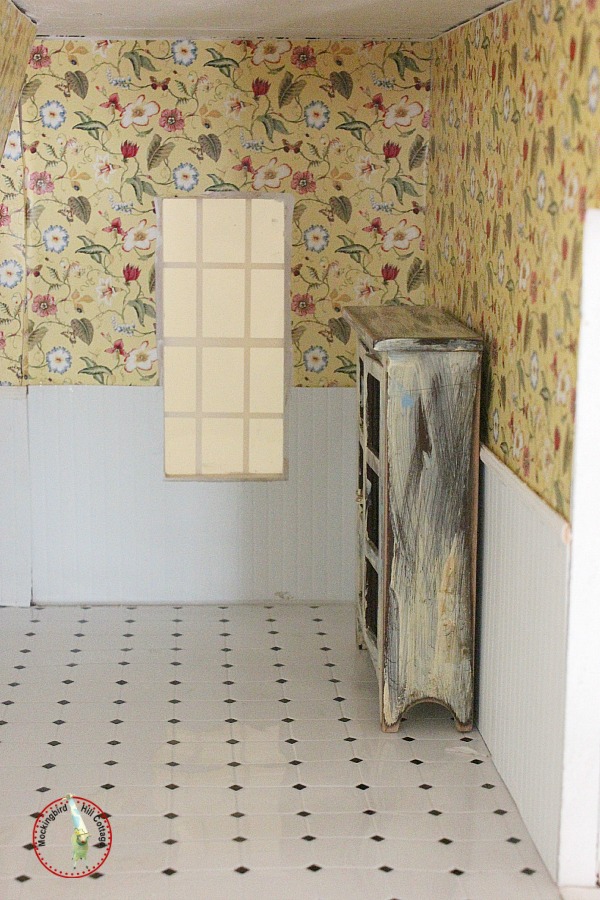 The window and door need to be trimmed out. I'm waiting for more trim and molding to arrive in the mail. I also have a sink/vanity coming, but it's on backorder. I don't know how much exploring, if any, you've done on websites that sell miniatures but here's something I don't get: so many of the bathtubs and toilets available have flowers painted on them. Why? I don't see that in mini refrigerators or stoves or kitchen cupboards. So why in the bathroom? I'm not kidding, I've been looking at fixtures for over a year and 90% of what I see is slightly out of proportion and flowery. When is the last time you saw flowers painted on a bathtub in real life?
Oh, and mini refrigerators: boxy, unrealistic, slightly out of proportion. Another source of frustration. I would love to see a mini refrigerator that looked like a SMEG, for example, that had the curves of a slightly retro look. I've seen a couple of tutorials on how to make one….but I'm not necessarily good at that sort of thing. If anyone out there has a suggestion, please pass it along!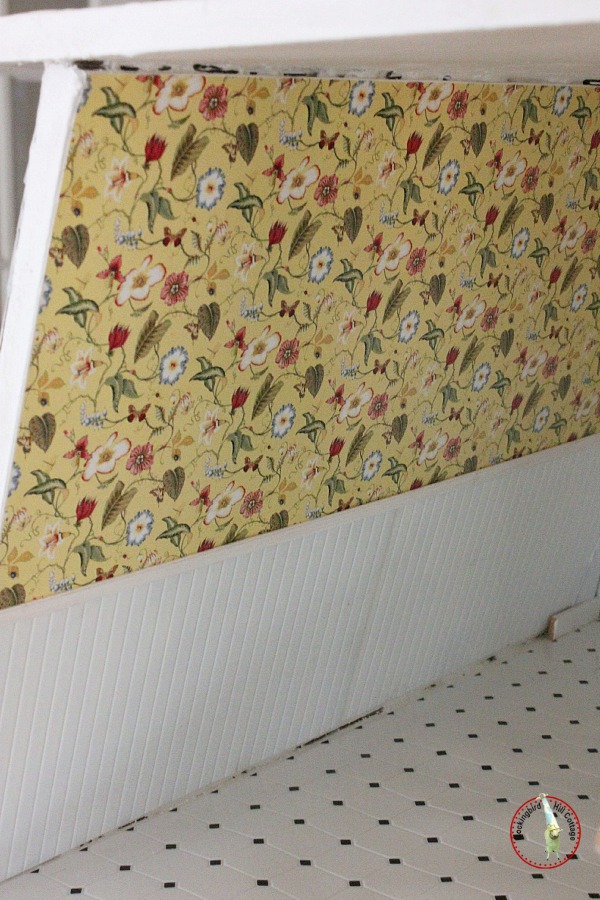 I hope my trim pieces arrive by tomorrow…it would be nice to work on the dollhouse over the holiday. In the meantime, I just may put in a wood floor for the office/craft room/studio, which is the only room that I haven't touched yet. I've got some ideas for that space.
Mixed Feelings re: Thanksgiving 
It's just us for Thanksgiving this year, as it is most years. Our families live in Florida and Michigan and Illinois and California. We debated whether we should cook a Thanksgiving meal. Yes, Thanksgiving is a time to give thanks, but we give thanks every day. I think there is a lot of undue pressure to have a big feast, spend lots of money and be surrounded by family. Not everyone has family or can be with family members at this time. Many people are alone. Many are hospitalized or in nursing homes. Many are homeless. And this year, with certain store chains having made the choice to be open on Thanksgiving, many people will find themselves having to work on what should be a holiday. (Don't get me started.)
Holidays are lovely but, frankly, they can be too much. Too much hype, too much pressure to do what everyone else is supposedly doing, too much pressure to be with family, too much everything. I have mixed feelings about all of it. Maybe this is due to being apart from our loved ones on Thanksgiving and Christmas for so many years. Maybe it's due to the fact that the holidays can be very hard indeed for those struggling with loneliness or addiction or depression. We have a Norman Rockwell idea of Thanksgiving and Christmas and, while no one loves Norman Rockwell more than I, I question just how real that idea is for most people.
All that being said, I know that Thanksgiving is a meaningful time for many – a time to be with family or friends, to dine together and give thanks. After deciding to not go through all the hoopla this year, yesterday found us driving around running some errands. Don suddenly said he wanted to buy some Tofurkey (the vegetarian version of turkey) and cook it on Thanksgiving. That led to a discussion of mashed potatoes and biscuits and a vegetable…..so I guess we will be having some sort of feast here at the cottage.
The weather looks to be very messy and potentially dangerous out here in the East. I think I'm glad we'll be at home.
Happy Tuesday.