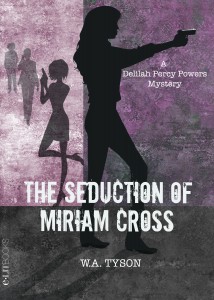 Today I am reviewing The Seduction of Miriam Cross by W. A. Tyson for TLC Book Tours. As always, I am provided with a copy of the book in exchange for my honest review.
About the Book (from the publisher): 
A sordid sex tape.
A venture capital firm.
A secret society of women.
A Catholic nun.
Miriam Cross, author, feminist, and philanthropist, disappears from her Philadelphia home. A year later, a lonely recluse named Emily Cray is brutally murdered in her bed in a small Pennsylvania town.
The police discover that Emily Cray and Miriam Cross were one and the same, but if they know who killed Miriam, they're not sharing. Miriam's niece wants answers. She turns to the one woman she knows she can trust – private investigator Delilah Percy Powers.
As Delilah and her staff of female detectives – a militant homemaker, an ex-headmistress and a former stripper – delve into Miriam's life, they become submerged in an underworld of unfathomable cruelty and greed with implications that go far beyond the gruesome death of one woman or the boundaries of one country. Eventually, Miriam's fight for justice becomes Delilah's own…and Delilah's obsession with finding the truth may be just as deadly.
My review: I reviewed another of Wendy Tyson's books a few months ago; Killer Image. I liked that book very much, so I was happy to have the opportunity to read another of Tyson's mysteries. It does not disappoint. Tyson writes an intricate plot, one with all sorts of twists and turns that leaves the reader truly wondering how it will resolve in the end. Let's face it, no one really wants to be able to figure out who the bad guy is before reaching the end of the novel – we want to be surprised.
This is the start of a series involving Delilah Percy Powers and her team of detectives. Each of them is complex, with a back story that we get hints of along the way. Not everything is revealed, however, and I'm sure that future books in this series will provide more details. I like it when everything about a character isn't revealed at once – when the author decides when and where more will be revealed. Louise Penny does that. It makes you want to come back for more. That is far more interesting to me than characters who are fully fleshed out almost immediately. We all have secrets. We all have parts of ourselves that we are not willing to reveal.
The plot is fueled by the horrific murder of Miriam Cross and the search to discover what Miriam was hiding and the secrets she kept, secrets that ultimately led to her death. Like peeling an onion, layer upon layer is stripped away until the truth is finally discovered.
On a personal note, having lived in Philadelphia for five years, I am very familiar with the city and its environs, so I greatly enjoyed the settings Tyson uses. It was as if I was back in the city once again.
The cover is a little Charlie's Angels-ish, but once you get past that, you'll find that Tyson writes very well indeed. I think you'll really enjoy this mystery/thriller.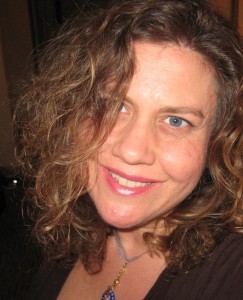 About the author: W.A. Tyson's background in law and psychology has provided inspiration for her mysteries and thrillers. The Seduction of Miriam Cross, to be published by E-Lit Books this fall, is the first in the Delilah Percy Powers mystery series. She has also authored Killer Image (Henery Press, October 2013) the first novel in the Allison Campbell mystery series.
Good news, my friends: one of you will be the lucky winner of a copy of The Seduction of Miriam Cross. Just leave a comment on this post and I will draw a winning name on Sunday evening.
If you're interested in education and the benefits of going back to school, read my post about my personal story, sponsored by Kaplan and BlogHer.
Happy Friday.