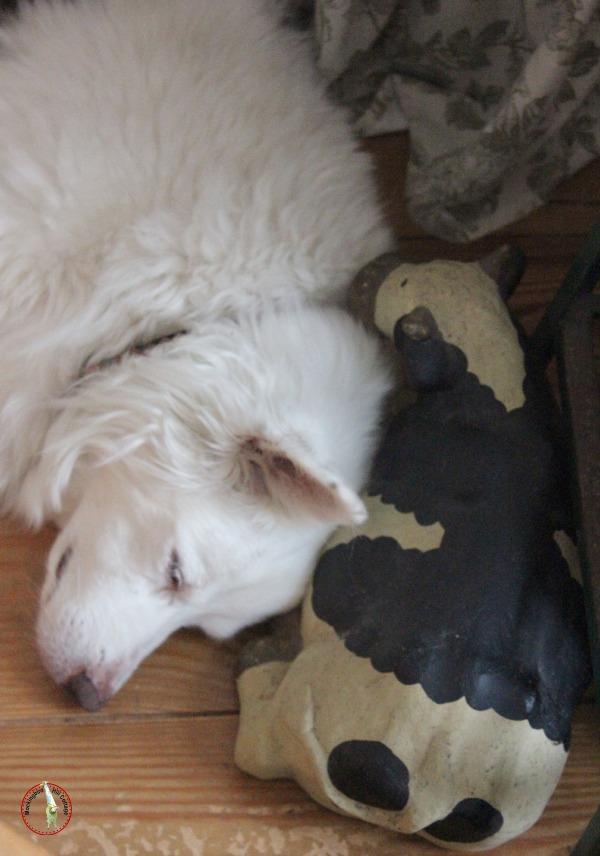 Monty the cow is temporarily on the floor. He had to vacate his usual space on top of the lab stool so that we could put up the little white Christmas tree.
Scout has found a napping companion in Monty. My two kids are bonding.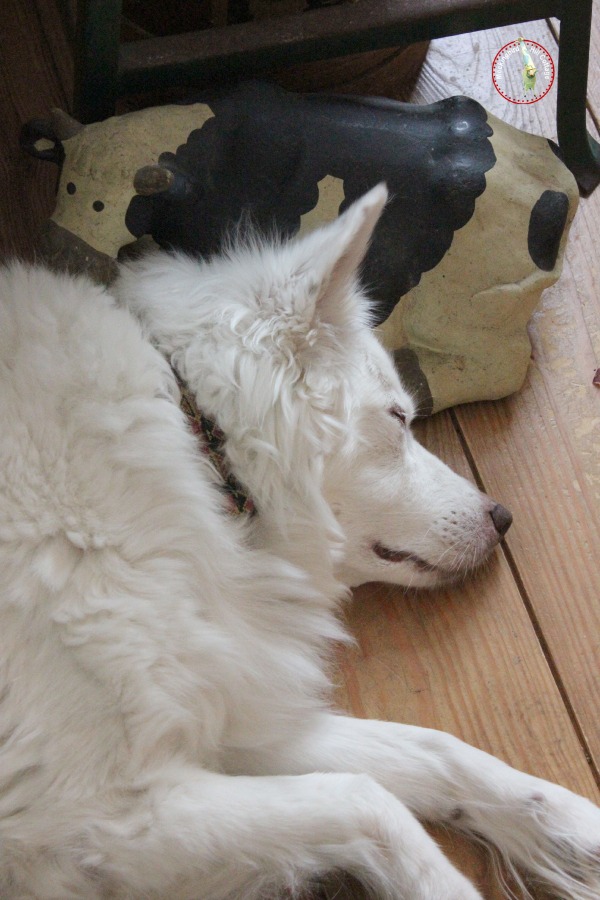 I'm thinking that Monty rather likes this temporary arrangement. He looks a bit surprised, but then again, he always does.
I'm having trouble remembering just what day of the week it is. That always seems to happen around the holidays. Is it Friday? Is it Monday? Oh, right, it's Sunday. An old friend of ours who lives in Los Angeles and is visiting New York City for the holidays is taking the train up our way today to spend a few hours with us. I'm so looking forward to seeing him again. Don's known him for years and years and I got to know him when I worked with him in a couple of productions at the Old Globe. It will be the first time he's seen our house. (I always wish these first visits could be in the summer when the gardens are blooming instead of during the rather bleak landscape of winter. Ah, well.) The important thing is that we're going to get to spend some time with an old friend.
Recommendations from Yours Truly
Movies: We've been watching lots of old movies lately. I introduced Don to The Bishop's Wife the other night and last night we watched Gaslight. I hadn't seen Gaslight in a long time so I didn't remember all of the plot, which was perfect, because I was surprised. Such a great movie! Ingrid Bergman won an Oscar for her role and Charles Boyer is chilling in the role of her husband. Did you know that the plot of that movie (and the original play) inspired the use of the term 'gaslighting?'
From Wikipedia: Gaslighting is a form of mental abuse in which false information is presented with the     intention of making a victim doubt his or her own memory, perception and sanity. Instances may range simply from the denial by an abuser that previous incidents ever occurred, up to the staging of bizarre events by the abuser with the intention of disorienting the victim. The term "gaslighting" comes from the play Gas Light and its film adaptations. The term is now also used in clinical and research literature.
It's a wonderful movie, directed by the great George Cukor, with incredible set design and lighting, with all the contrast in highlights and shadows that can only happen in a good old black and white film.
Books: I'm currently reading Proof of Heaven by Eben Alexander, a neurosurgeon. Have you heard of this book? It's the true story of Dr. Alexander's rare and almost certain to be fatal illness that resulted in his being in a coma for seven days with the part of his brain that controls thought and emotion shut down. He had a Near Death Experience (NDE) that was simply extraordinary. As a scientist who previously discounted NDE's as fantasies the brain created while in a state of being half-in, half-out of this world, this experience completely changed his life and his beliefs. The mere fact that he came back from almost certain death to tell his story is a miracle beyond imagining.
I have to tell you, this book is life-changing. Find it. Read it.
Television: If you love the Arts, as I do, watch The Kennedy Center Honors tonight at 9 pm on CBS. Simply the best awards show ever, head and shoulders above anything else in that genre. In fact, we think it is the best show on television, hands down. You will be inspired by the accomplishments and careers of the honorees, you will be entertained, and if you think the Arts are essential to our culture as I do, you will take heart. The show is always done stylishly, with impeccable taste. I find myself, each and every year, crying with joy throughout the show.
If you're interested in education and the benefits of going back to school, read my post about my personal story, sponsored by Kaplan and BlogHer.
Happy Sunday.