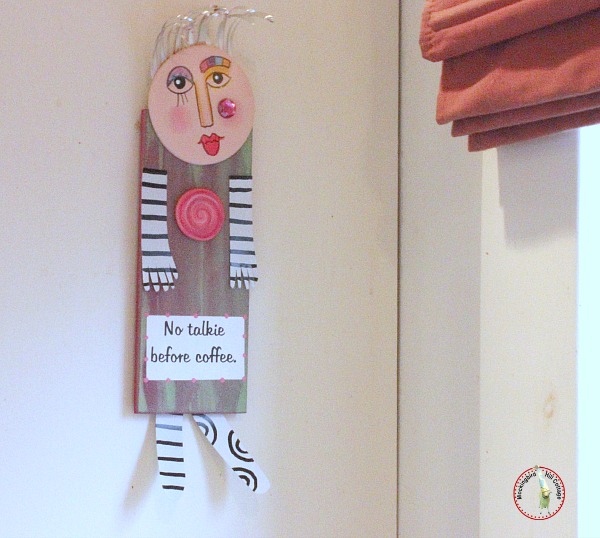 Did I ever share this with you? Don gave this piece, made by a local artist, for my birthday.
He knows me very well. Just this morning, he tried to initiate a conversation before I'd had my coffee. He quickly realized his mistake with the words, "We'll talk later." Wise man. (I have this hanging on the side of the cupboard by the kitchen window.)
Anyway, happy 2014 and all that. We were reading in bed by 10:00, asleep by 11:00. Yes, what wild partiers we are!
We had a dusting a snow yesterday afternoon, in preparation for the big storm that is going to hit us tomorrow and Friday. I haven't checked the updated weather forecast, but I've heard anywhere from six inches to over a foot of snow is on its way. Oh boy.
Thoughts on the New Year:
I'm not one for choosing a word for the year. There are too many words going on in my head at any given moment and I'm not about to lock on to just one. Doing that would eliminate too many exciting possibilities for the days ahead.
I'm not one for making New Year's Resolutions. I move forward with the same thought in mind that I had the previous year, and the year before that: to be a better person. That's it. It I can accomplish that to a small degree, I'm very happy.
I'm also not one to look back with regret or to ruminate about things that have happened or not happened or choices that I've made or not made. Whatever choice, I made it. It took me a while but I've learned an important truth. I take responsibility for all my choices, good and bad, knowing full well that I shape my life. It's no one else's responsibility to make me happy, including Don. It's my responsibility. Though I try to do my best, I make mistakes often. I'm a work in progress.
Anyway, I refuse to be a victim. I am the author of my life and the lessons I have to learn and re-learn can be painful, but are ultimately freeing and will help me to do that very thing I wrote of earlier: be a better person. And I have much, much more to learn – I need to break some patterns of thought that keep me from moving forward in certain areas of my life. I need to change those thoughts to positive, empowering ones.
It's a challenge I embrace.
I plan to write more on this subject in the near future. It's something that's been on my mind lately.
Housekeeping:
I was busy doing other things yesterday, so I had no idea that my host, Bluehost, was down for a few hours until Dawn called me in the early evening to tell me. So if you tried to get to the blog and couldn't, that's why. It happens with every host at some time or another, including Blogger. It's back up now and I was probably better off being blissfully ignorant of the whole thing!
I wish for all of you a very Happy New Year, with blessings and joy and love and happiness and everything good for you and yours.
Happy Wednesday.