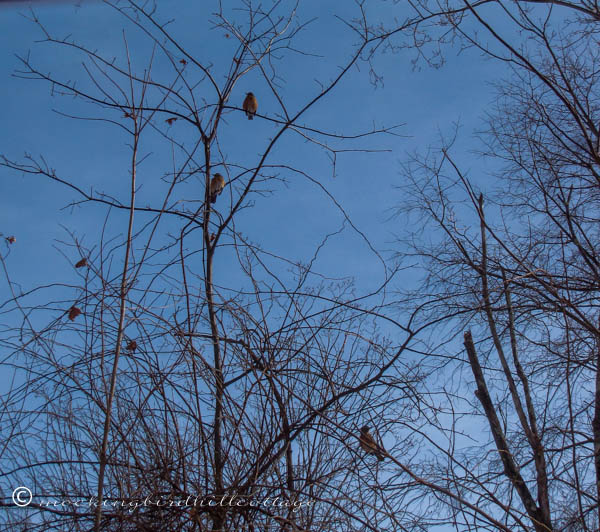 In the "I had no idea" category, I looked out the back kitchen window yesterday and saw about 10 fat robins flitting from branch to branch in this wild rose bush, or as I call it, a prickly pain in the tush. Since I thought that robins disappeared for the winter, I was really surprised and I ran to get my older camera, which sits in the Vernors crate on the kitchen table.  They were very active, flying from branch to branch, then to the trees, then back again.
"What are you doing here?" I said. "There's a huge storm coming!" Surely they didn't think spring was here! Not by a long shot.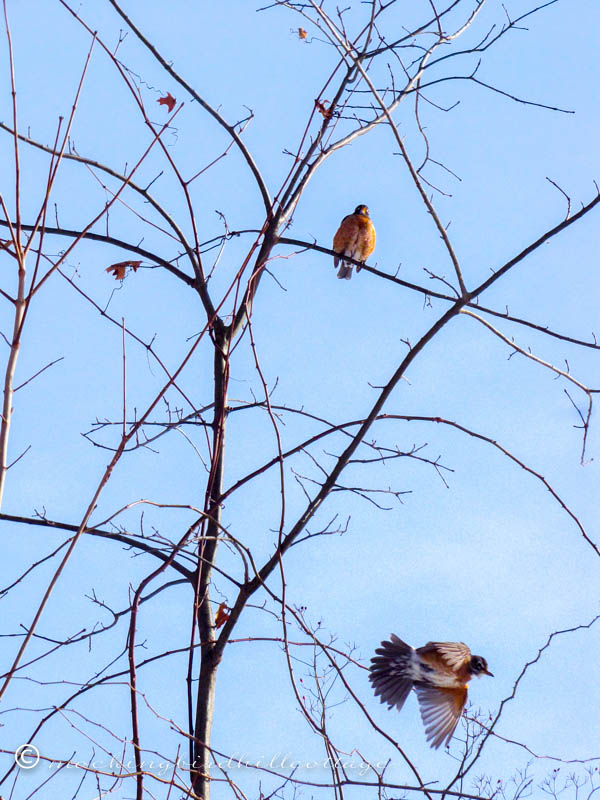 The display window on my older camera doesn't work very well, so I just went for it, snapping away, zooming in, hoping I got a good shot.
Well, I did a little research and much to my surprise, some robins hang around in the winter, even here in the Northeast. And though they don't do it in summer, in the winter they hang out in flocks. What I saw was a flock of robins – they can't get worms from the ground, so they look for berries and there are berries on the wild rose bushes.
I love learning something new.
As I'm typing this, in the midst of this epic Nor'easter, the oil delivery truck just backed up in the lower portion of our driveway. Thank goodness. At least I don't have to worry about running out of oil! When I got up this morning and saw the snow already on the ground, I was sure there was no way they could deliver today. There is already over 2 inches out there, the roads are snow covered and the snow is falling very heavily. But they did.
Now for the 12 -18 inches predicted for today, with the winds of a Nor'easter kicking in later in the day. This will go on for about 20 hours. I've been rather a mess, worrying about it all; about the house, about us, about the power.
Don feels powerless as he sits in his apartment in Boston. He wishes he was here.
I wish he was here.
Late in the day yesterday, I saw that my neighbor's van was gone from their driveway. They have a house north of here in a skiing area – they are avid skiers. I panicked. What if they were leaving for the mountain and wouldn't be here to help me? So I called them and Laura assured me they would be here to use their snow blower on my long, uphill driveway. Again, sigh of relief.
In the meantime, I will have to keep shoveling a path for Scout throughout the day. She has arthritis and it's hard for her to make her way though a lot of snow.
This is a huge storm. Keep all of us in its path in your thoughts.
Happy Thursday.