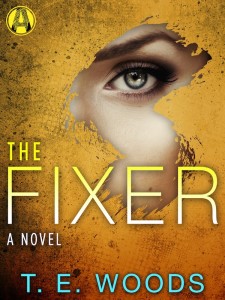 Hello everyone. Today I am reviewing The Fixer by T. E. Woods for TLC Book Tours. Note: The Fixer is only available as a digital book. As always, I am provided with a copy of the book in exchange for my honest review.
About the book:  Never a doubt. Never a mistake. Always for justice. Never for revenge. She's the person you hire when you need something fixed – permanently. With a strict set of criteria, she evaluates every request and chooses only a few. No more than one job per country per year. She will only step in if it's clear that justice will not be served any other way. Her jobs are completed with skill and precision, and never result in inquiry or police investigation. The Fixer is invisible – and quite deadly.
In the office of a clinical psychologist in Olympia, Washington, a beautiful young woman is in terrible emotional pain. She puts up walls, tells lies, and seems to speak in riddles, but the doctor is determined to help her heal, despite the fact that she claims to have hurt many people. As their sessions escalate, the psychologist feels compelled to reach out to the police…but it might be too late.
In Seattle, a detective gets a call from his son. A dedicated journalist, he wants his father's expertise as he looks into a suspicious death. Together they follow the trail of leads toward a stone-cold hired killer – only to find that death has been closer than either could have imagined.
My review: The Fixer is an interesting and, at times, riveting read. The premise, the whole idea of The Fixer, is something that I can see as the storyline in a screenplay or television series. That sort of 'taking justice into one's own hands' idea is the stuff of fantasies – the hope that justice will finally be served. There are compelling characters here –  Lydia, the psychologist, Mort, the grieving police detective, a university president, the woman who is Lydia's patient. Their stories are interwoven, but it takes some time for them to make sense in connection to each other. This requires some patience on the part of the reader, as Woods lays down the plot in a methodical manner. The exposition is slow going. Nevertheless, I hung in there and it was worth it.
There are twists and turns and a couple of rather big surprises. The characters are well written, the setting in the Pacific Northwest is well drawn. It's an intriguing premise that raises questions about the morality of becoming a vigilante, for that is what The Fixer is. Where does one draw the line? And what emotional price is paid for these acts?
There were a few places in the novel where I either missed something or where I suspect the dots weren't fully connected. I still have some questions that I don't think were fully answered.
There are a few rather graphic scenes and one specifically involving animals that I had to skip over because it were too hard for me to read. Just giving you a heads up.
This is the first book in a series that T. E. Woods is writing and I look forward to more in the series.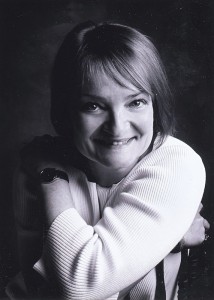 About the author: T. E. Woods is a clinical psychologist in private practice in Madison, Wisconsin. Her scientific writings are well represented in peer-reviewed journals and academic texts. Her literary works earned her first place for Fiction at the University of Wisconsin Writer's Institute. Dr. Woods enjoys kayaking, hiking, biking, and hanging around the house as her two dogs help her make sense of the world. Her habit of relaxing by conjuring up any manner of diabolical murder methods and plots often finds her friends urging her to take up knitting.
Giveaway: This giveaway will be different than my normal book giveaway. It is being done through Rafflecopter.
The Grand Prize is a $25 e-giftcard to the winner's book e-tailer of choice & a NetGalley review copy of The Fixer and the next book in the series, The Red-Hot Fix.
First Prize is Mystery Prize Pack: 5 assorted print mystery novels from the Random House Publishing Group.