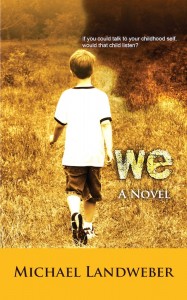 Today I am reviewing We by Michael Landweber for TLC Book Tours. As always, I am provided with a copy of the book in exchange for my honest review.
About the book: After an accident, forty year old Ben Arnold regains consciousness in the kitchen of the house he grew up in. Only he feels different, lighter somehow. Something is horribly wrong. Ben is swept into the arms of his mother, who he hasn't seen in twenty years. She calls him by his childhood name, Binky. He sees a younger, unbroken version of his father. His estranged brother is there, reverted back to his awkward teenage self. Finally, adding horror to his confusion, he glimpses his older sister Sara as she runs out the door to meet her boyfriend.
Sara, whose absence he has felt every day since her death.
Ben is a mere hitchhiker, a parasite in the brain of seven year old Binky, and his younger self is not happy to have him there.
It is three days before his sister will be attacked. Ben knows he has to save Sara but first he must gain Binky's trust. Even if he can get Binky to say the right words, to do the right thing, who will believe that a young boy can foretell the future?
My review: Where do I begin? This book blew me away with its beauty and heart. The premise of going back in time to change the course of events has been the theme for many a novel and movie. But this book tweaks that premise. What if going back involves residing in the mind and brain of our younger self? And from there, the story unfolds. Binky and Ben are 'We.'
There is so much to love about Landweber's writing. He explores the world through a child's eyes, along with the observations of the adult version of that child. He writes about familial relationships beautifully and about the difference between what we perceive as children and what we perceive as an adult. He takes us on a journey into the brain, with its 'rooms' and 'caves' and Id and Superego. His protagonist, Ben, happens to be gay. What I love about the way he is written is that his sexuality is no big deal. It's just a part of Ben's story. It's not an issue.
Landweber writes beautifully, with soaring imagination, heart and soul.
Ben's beloved sister, Sara, will be brutally attacked in three days. His family's world will be changed forever. He has to try to stop the attack from happening and he can only do that through Binky, through his younger self.
How many of us have wondered about a tragic event in our past? If only this or that had been done, it might not have happened. So many lives are affected by a tragedy, but if that tragedy had never happened might the course of those lives have been different? Might they be different people, perhaps even happier people, at their very core? Might their choices and roads taken and relationships forged have been very different indeed?
We is a wonderful mix of psychological thriller, science fiction, and love story – love of self, love of family, love of life.
I find myself at a loss for words (a rare thing) when describing the beauty and profound meaning of this novel. It has touched me deeply. It should be on every best seller list.
There is no giveaway for this book, unfortunately. I briefly considered giving away my copy, but I have to be honest here, I don't want to give it up. So I will simply urge you to buy it. It's available on Amazon in paperback and Kindle versions at a very reasonable price.
About the author: Michael Landweber is the author of the novel, We, which won a ForeWord First award for best debut novel. His short stories have appeared in a variety of places, including Gargoyle, Fourteen Hills, Fugue, American Literary Review, Barrelhouse and Ardor, and have been listed as Notable in The Best American Nonrequired Reading Anthology. He is an associate editor at the Potomac Review, and writes TV and movie reviews for Pop Matters. Landweber also worked at The Japan Times, the U.S. State Department and the Associated Press. He lives in Washington, D.C. with his wife and two children.
Happy Friday.