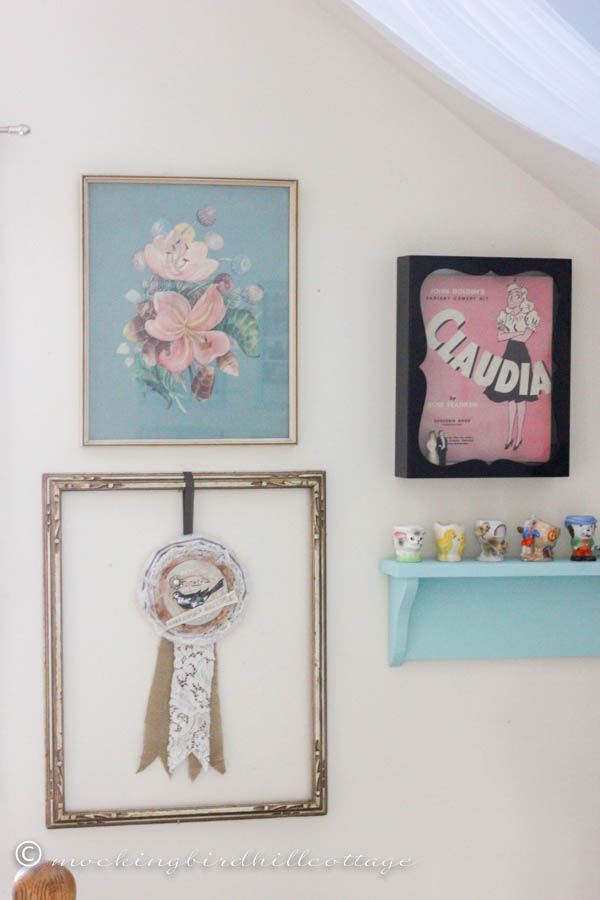 Yes, you were right. I added the Claudia shadow box to the mix in the studio.
Maybe someday the snow will stop covering the skylight and I will be able to get a good photo of this space. Since more snow fell yesterday, I'm not holding my breath.
I forgot to tell you about one other thing I bought at my favorite antique store. We picked it up when we bought the lithograph. I'm a sucker for the framed mottos that were in homes early in the 20th century. I have several of them. There is something so endearing about them. The graphics are wonderful and sweet. Just as the decorating trend of late has been using words on a wall, framed mottos did the same thing (I think much more charmingly) during the last century.
When I first walked in the shop, I quickly saw this, a beautifully done graphic of a poem: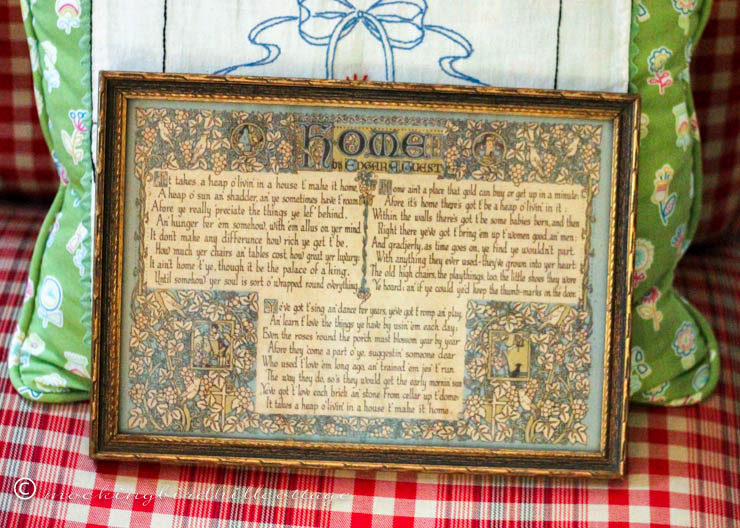 Home by Edgar Guest. This is probably his most famous poem – very folksy, very sentimental. The graphics are beautiful, yes, but why was I drawn to this?
Edgar Guest was my dad's godfather – he and my grandfather were best friends. Here is a little bit about Edgar Guest from Wikipedia.
 Edgar Albert Guest (20 August 1881, Birmingham, England  – 5 August 1959, Detroit, Michigan) (aka Eddie Guest) was a prolific English-born American poet who was popular in the first half of the 20th century and became known as the People's Poet.
In 1891, Guest came with his family to the United States from England. After he began at the Detroit Free Press as a copy boy and then a reporter, his first poem appeared 11 December 1898. He became a naturalized citizen in 1902. For 40 years, Guest was widely read throughout North America, and his sentimental, optimistic poems were in the same vein as the light verse of Nick Kenny, who wrote syndicated columns during the same decades.
From his first published work in the Detroit Free Press until his death in 1959, Guest penned some 11,000 poems which were syndicated in some 300 newspapers and collected in more than 20 books, including A Heap o' Livin' (1916) and Just Folks (1917). Guest was made Poet Laureate of Michigan, the only poet to have been awarded the title.
His popularity led to a weekly Detroit radio show which he hosted from 1931 until 1942, followed by a 1951 NBC television series, A Guest in Your Home.
When Guest died in 1959, he was buried in Detroit's Woodlawn Cemetery.
Dad has memories of Edgar Guest visiting his house quite often. He and my grandfather loved a good game of cards. Dad remembers him as a lovely, kind man. I remember his son, Bud Guest, who had a radio show of his own on Detroit's WJR for years. My mom listened to it every day.
Several years ago, I started collecting some of the many volumes of his poetry as a tribute to my dad and the grandfather I never knew.  So when I saw this motto, I was smitten. But I put it down and thought: sometime in the future. We left, came back the next day to buy the lithograph and there it was. As we were getting ready to leave, I saw a man pick it up and hold it. I panicked. Was he about to buy it? Turns out he wasn't, but Don said, "Get it, or you'll go crazy worrying about someone else getting it." So I did.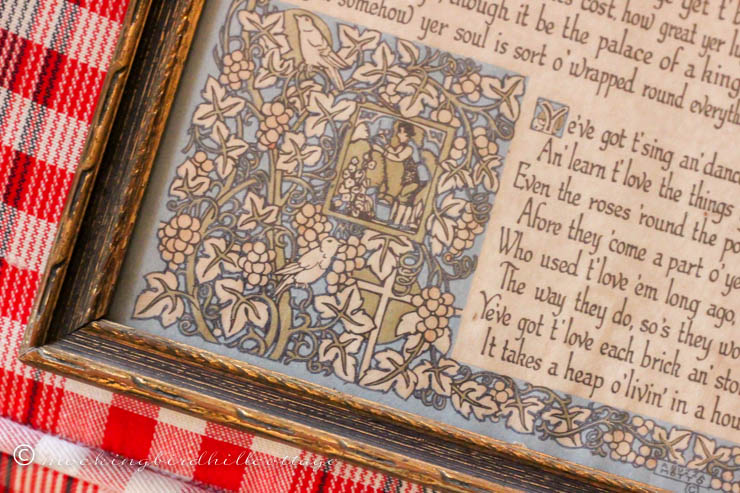 You can see how lovely the graphics are. The frame is beautiful as well.
Truth be told, the poems are often too flowery for me, but the sentiment behind them is one I share. When I was fearful about trying something new, my dad often said to me, paraphrasing a line of Guest's poetry, "Somebody said it couldn't be done, but I with a chuckle replied, I wouldn't say so until I tried." Wise words.
The actual words are:
Somebody said that it couldn't be done
But he with a chuckle replied
That "maybe it couldn't," but he would be one
Who wouldn't say so until he tried.
So he buckled right in with the trace of a grin
On his face. If he worried he hid it.
He started to sing as he tackled the thing
That couldn't be done, and he did it!
From It Couldn't Be Done by Edgar Guest
He grew up hearing those words penned by his godfather. So did I. That's why I gather and collect the poetry of Edgar Guest. And you know what? Sentimentality comes from deeply felt emotion, from truths that come from the heart.
I'm as sentimental as they come. Edgar Guest and I have that in common.
Happy Monday.