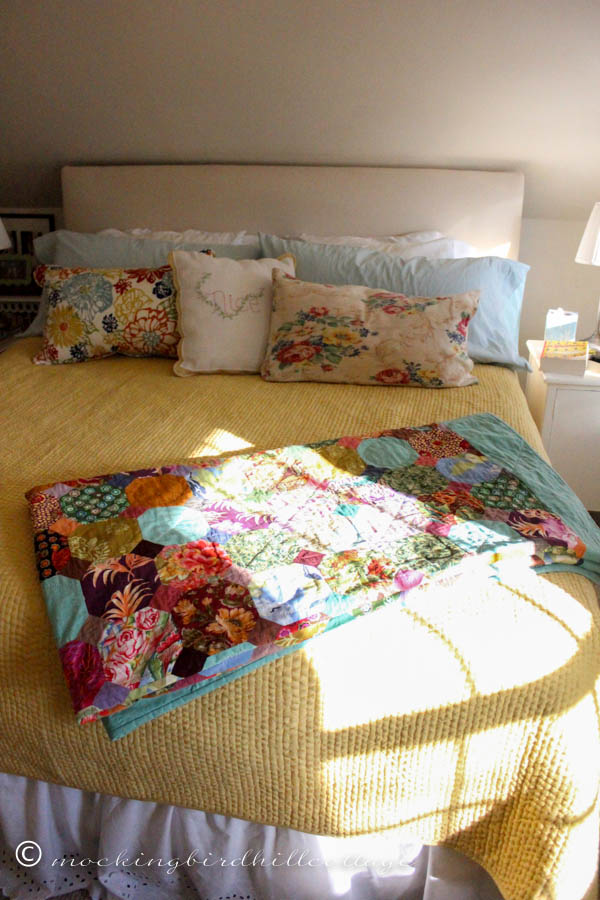 Oh, this bed. I love it. Although I have to say it's strange having all that square footage to myself. Poor Don. The bed in his apartment sort of dips in the center. He finds the sofa more comfortable and he's been sleeping there a lot.
And much to my surprise, I absolutely love this golden coverlet. I felt more than a little trepidation when I ordered it online. It was half off for one day (I think Garnet Hill was discontinuing this color) so I grabbed it. The whole time I was waiting for the bed – and we know that was a long time – I worried whether it would work in that room. I made back-up plans to order some other coverlet in aqua when I had some spare cash. But I love this color. I love the way it looks any time of day but especially when sunlight is pouring in the room. It just goes to show you that moving out of your usual color preference comfort zone is sometimes a very good thing.
In other news,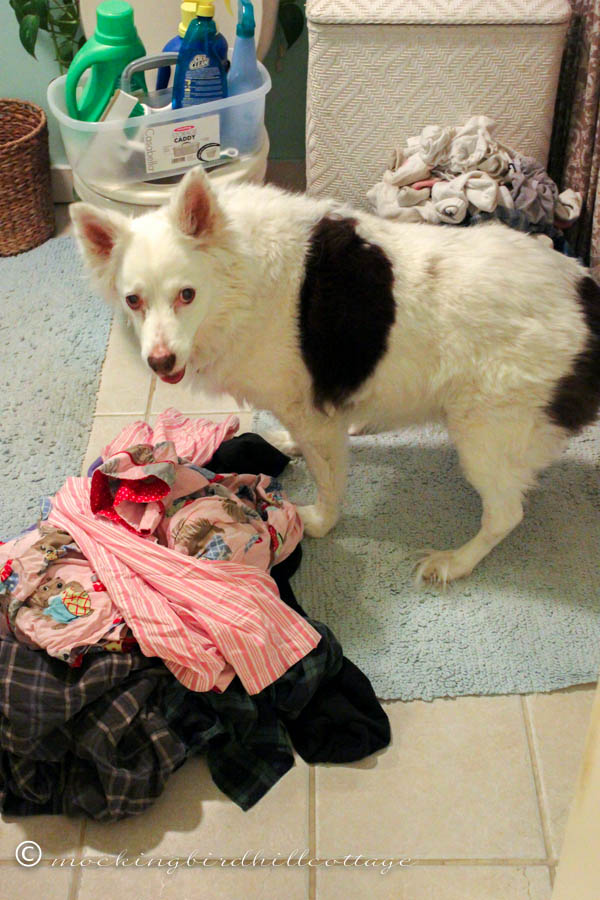 I'm training Scout to do the laundry.
She's a Border Collie, after all. She's very intelligent.
Actually, Scout has developed this habit in the last year. She has to go into the bathroom several times a day to check things out. I call it 'going on her rounds.' She checks out the bathtub. She checks out the trash. She checks out the toilet. And when there's laundry? She must check that out.
She's missing her dad. She's right by my side most of the day and I know it's because she can't understand where he is. Poor girl.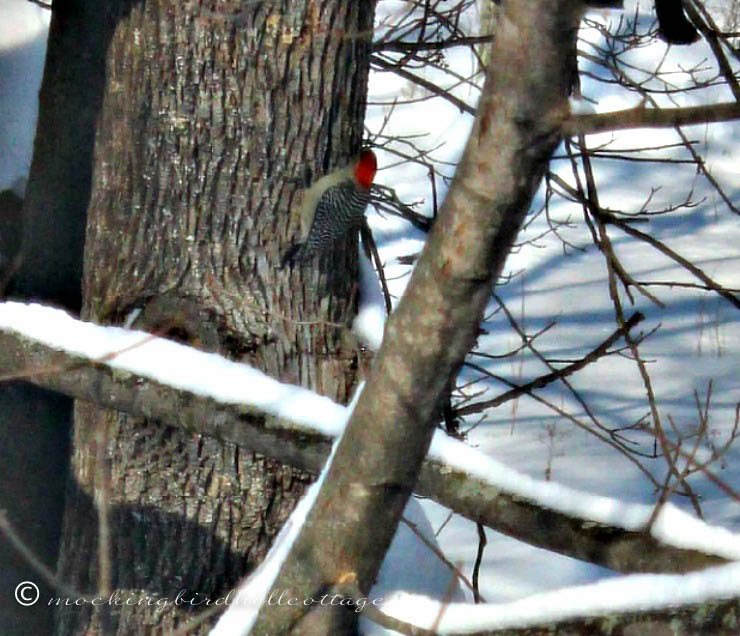 I was standing at the sink the other day and saw about 10 birds flitting from branch to branch in this tree. There were two woodpeckers: one had black markings and the other was this one – a red bellied woodpecker. I ran for my camera but only managed to catch a glimpse of this guy. I wonder if it's our friend Guthrie? I wrote a post about him that you can find here. Hello Guthrie, old pal.
I've been watching the Olympics like everyone else. I seem to be a bit more detached about them this time and I'm thinking it's because I often see the results before I can watch the event. This time difference is tricky. Being on the internet is also tricky. It's hard to avoid the results, as they seem to be everywhere.
I'm holding my breath about this approaching storm. As it moves up the East Coast, it could really wallop us. It all depends on the track. I'm praying it tracks further out to sea. I don't have Don here to help me and I'm worried and already overwhelmed by all the snow and ice around here. I'm trying to stay in the moment and appreciate the beauty of this winter, and it is beautiful out there, but it seems to be harder to do when there's already 15 inches of snow on the ground and there might be a lot more coming.
Winter, I love you for many reasons. But I am so looking forward to Spring.
I have two giveaways going on at the moment. Stop by my post about the Target Cartwheel app to be entered in a $1000 Target Gift Card Giveaway. And stop by my post about Suave Professionals® Moroccan Infusion Body Care to be entered in a $1000 Gift Card Giveaway.
Happy Tuesday.