I'm tired. I'm about as tired as I ever remember being. When I trudge up these stairs at the end of the day I am ready to sink into that new bed of ours and stay there for a week.
This bout of weather, the storms, the sheer amount of snow we have on the ground and on the roof, has been out-of-the-ordinary and almost impossible to deal with on my own. I feel like all I have been doing is shoveling, chipping away at the ice, digging to free downspouts, salting and then doing the same thing the next day. And the next.
I'll be honest. I've cried on the phone to Don more than a couple of times. He is frustrated because he can't help. I seem to be able to say only one thing, "I wish you were here."
Anyway, it's snowing. Again. Yes, on top of everything already on the ground, we're getting more today. To be perfectly honest, the thought of staying here for several more winters is losing its appeal. I hate to focus on age, but I'm getting too old for this. But then again, I think everyone around here, regardless of age, feels tired and sore and achy and sick to death of winter.
With mounds of snow everywhere, this property feels like a walled compound.
In Antarctica.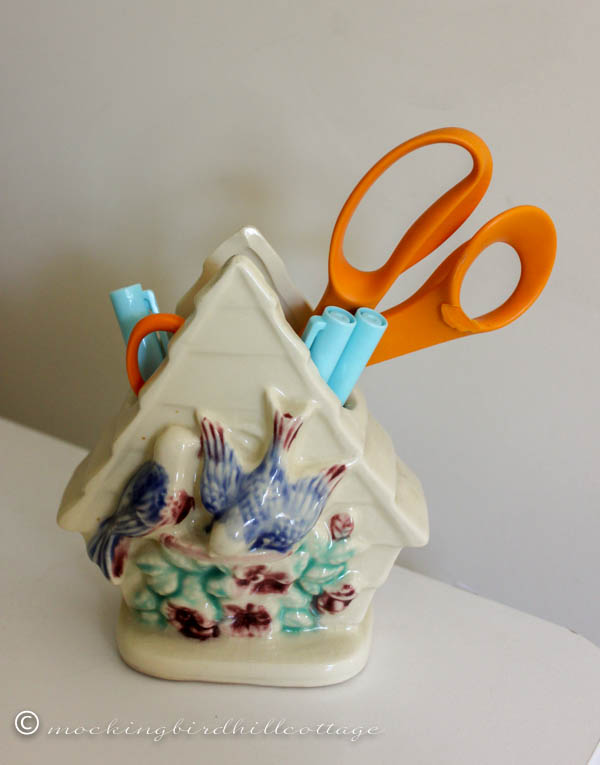 My newest wall pocket has been moved up to the sewing table where it is holding my scissors and invisible markers. The question now is do I actually hang it on the wall or leave it sitting on the table? The jury is still out on that one.
I finished Sycamore Row by John Grisham. Finally. It's a good book, but the pace is too slow and I figured out the plot twist at the end long before it actually happened. That's not good. But I finished it, as I vowed to do, and I'm on to the next book.
I've been watching the Olympics like everyone else; not all the time, but here and there. I find I enjoy watching events in real time during the day much more than the primetime coverage, which seems to be carefully crafted to hype certain events and 'rivalries.' Why oh why does NBC need to keep doing that? Just show us the competition. Ah, well. I suppose it's the nature of primetime programming, but I try to avoid it.
I think I love Ice Dancing the most. And short track speed skating, which is thrilling. Yesterday's Ice Dancing final was simply superb with every team skating so skillfully and beautifully. I could watch it again and again. The American gold medal winners skated to music from Scheherazade by Rimsky-Korsakov, one of my favorite pieces. I've listened to it since I was a young girl. I have it on CD and I'm going to play it on this snowy day – the perfect piece to take me to another place, another world. The perfect escape.
Thank you for your comments yesterday. On a day when I was so tired that I wanted to cry, your lovely words brought a big smile to my face. Thank you, thank you.
Happy Tuesday.