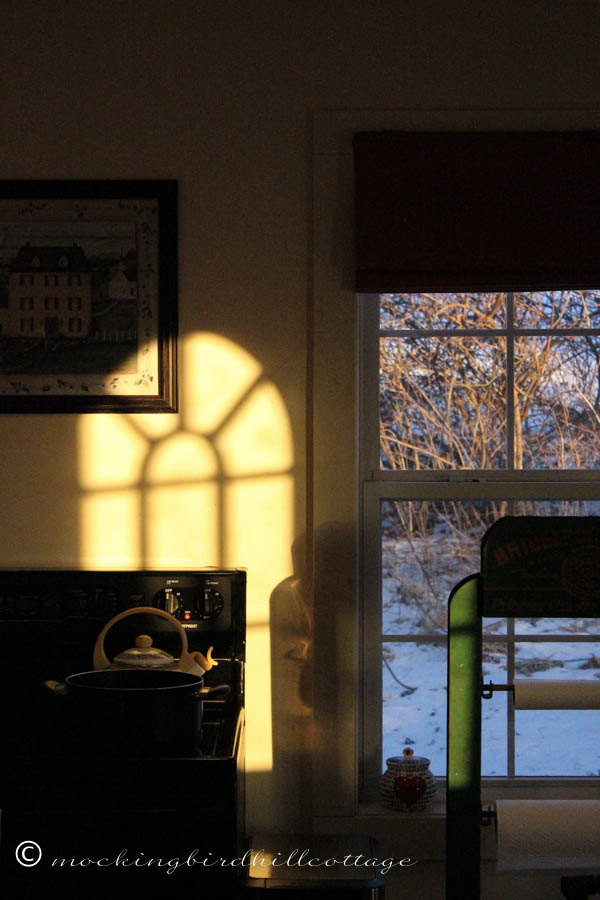 I'm going to name this week The Snowathon.
The predictions were for about an inch of snow yesterday. Ummm…..not quite. It snowed all day long and I think we got at least 4 inches, if not 5. Roads were messy, traveling was unwise. So we were stuck here. We are expecting anywhere from 6 – 12 inches of snow on Wednesday. Don leaves for Boston on Friday. That leaves just about a day, if that, to take care of any business he needs to attend to before he leaves. And, to top it off, they are predicting a Nor'Easter with more snow Sunday into Monday. At that point, I will be the only snow shoveler around here and it's hard to imagine where I'm going to put all that snow.
Not a big fan of February so far.
The bed is supposed to be delivered today sometime between 1 and 5. Don asked them to make sure it says California King on the packaging. (I did the same thing last week.) It does. I actually felt a twinge of sadness at leaving our little full-sized bed in the spare bedroom. That room, like the den, is sunken. You walk down two steps to get there. So it has a sort of attic retreat feel to it. I think we've done fairly well, we two tall people, adapting to the bed. Now we'll have to adapt to a new one. Don will have three nights to sleep on it before he has to adapt to another bed in Boston.
Thanks for all your wonderful comments on our new addition to the living room. We love it and are absolutely sure that buying it was the right thing to do. Oh gosh, I'm itching to do some rearranging, rethinking, re-everything and once the mattress has been delivered and the old mattress taken away, I'll be able to look at things more clearly. Not that I haven't already been thinking about it. These aren't big changes, more like little tweaks I want and need to make.
I'm also dreading the fact that Don is going away. We've done this many times and we know how to handle it, but it doesn't make it any easier. He's my best friend as well as my husband and I love being with him. We work well together. We like hanging out together. We sort of adore each other.
And he is my fellow snow shoveler!
Happy Tuesday.