I succumbed.
Weak of will, the image kept popping into my head. Then I'd scroll back at look at the original post and the picture of this one particular item. I'd stop thinking about it. Then, unbidden, it would pop into my head again.
Yesterday morning, missing my husband, the prospect of a lonely day stretching out in front of me, I decided I needed to get out of the house. Ice Station Zebra/MHC was losing its appeal. I put on makeup (rare) and headed out in the car. And I ended up at my favorite little shop, where I said hello and chatted a bit with Jean and then disappeared up the stairs where my hands grabbed this: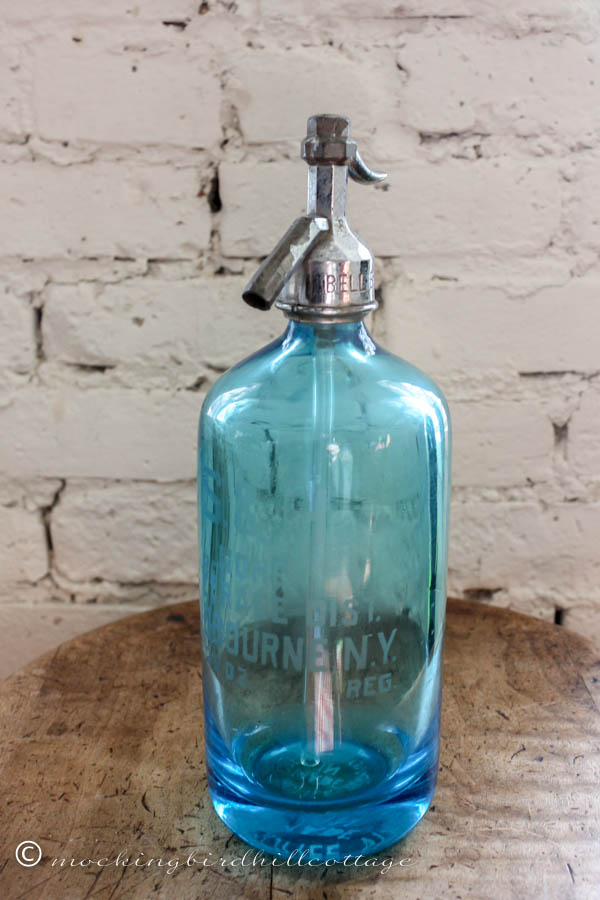 There was a couple standing near it and I moved in stealthily, shot my arm out and snatched it out from under them. I'm feeling a bit dramatic, but I think the reality is they were just standing there looking at all sorts of things, not necessarily my seltzer bottle.
These vivid aqua-y seltzer bottles are not easy to find and I've wanted one for a long time. Jean has a lot of lovely clear glass seltzer bottles as well and, who knows, I may get one of them someday. But this one? It needed to be in my cottage. The words etched in the glass are:
S&H.
Home Beverage Dist.
Woodbourne, NY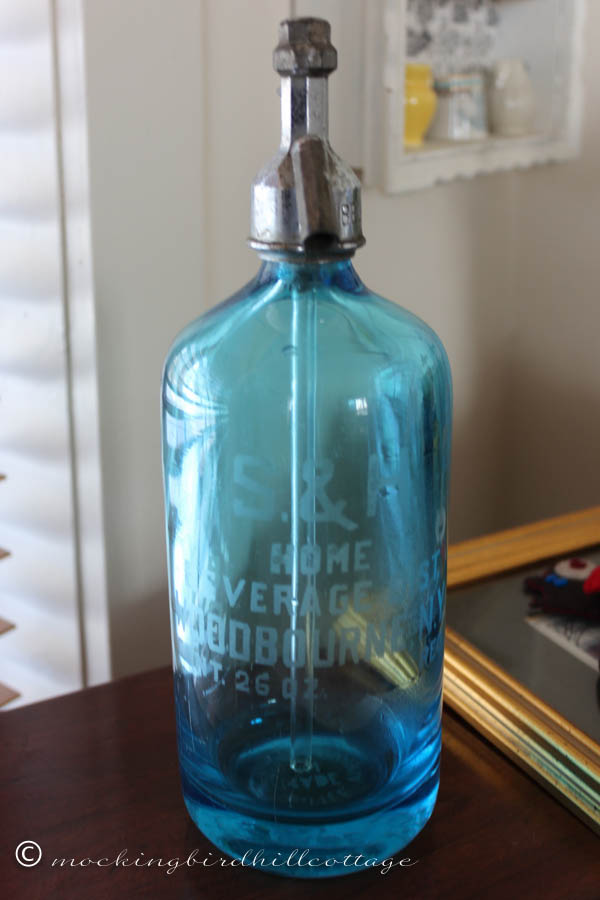 A thing of beauty.
I can't help it. Aqua-almost-anything tempts me. And aqua glass, as in ball jars, mason jars, and seltzer bottles? Forget it. I'm gone.
Then I found another temptation. I'd seen it on my last two visits. Do you remember the darling house wall pocket Judy sent to me?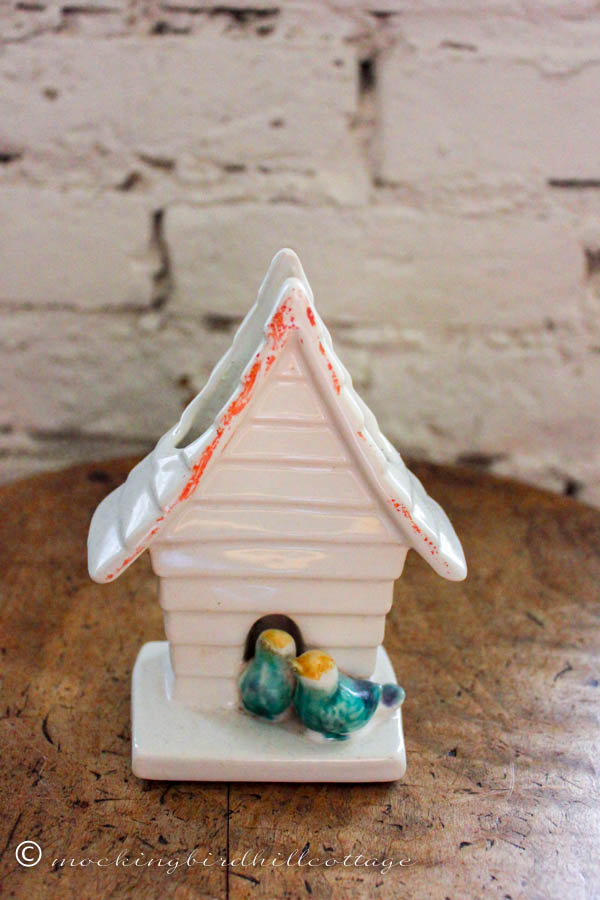 Adorable. It's one of my favorite things. Cottages. Birds. Happiness.
This was tucked away in a corner of the shop. And when I checked yesterday, it was still there.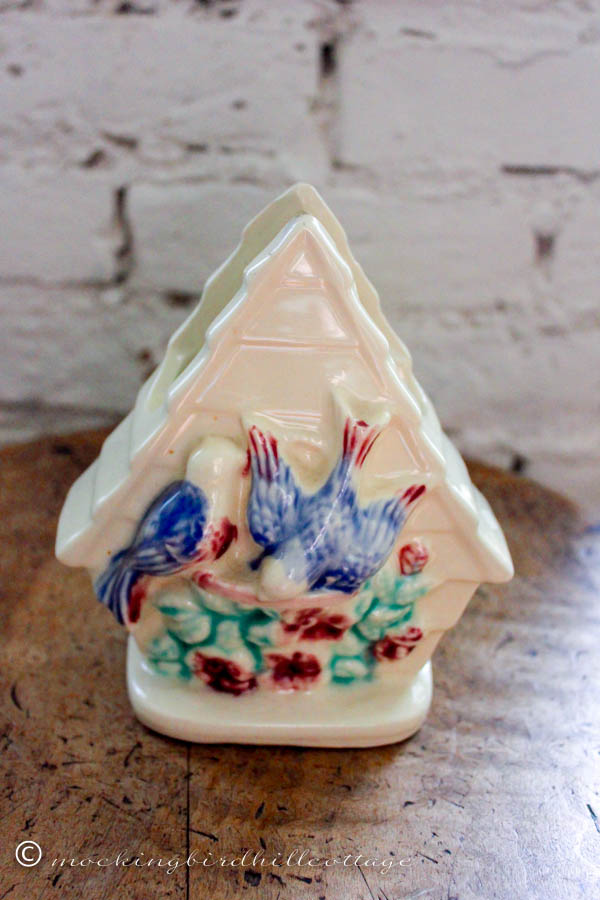 Same sort of house, different birds – with one dive bombing the birdbath. Or feeder?
Another item on Claudia's Can't Resist List: Adorable cottage-y wall pockets. With birds.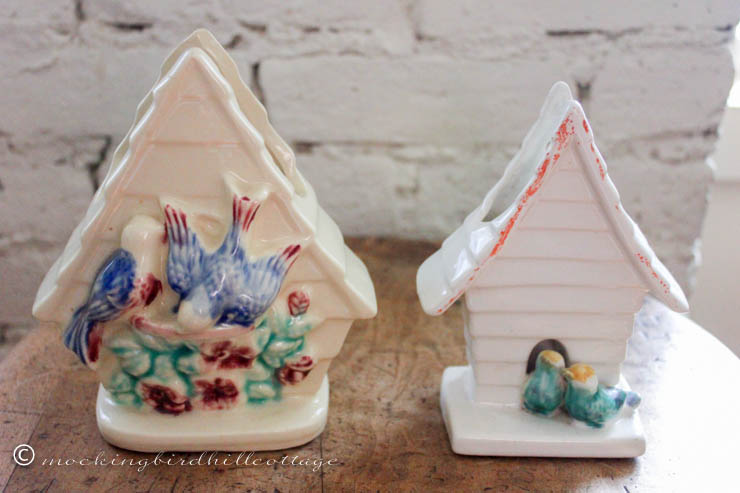 Here they are together. I'm thinking the larger one would look lovely on a wall near my sewing machine. It could hold scissors and other tools.
That's it. I can't buy anything else. But to finish this Favorite Shop theme, here's my Shawnee Miniature in its new home on the shelf.
I couldn't display it until the old mattress had been taken out of the den.
In other news:
• I succumbed again, and this time it wasn't a positive experience. On the way home from taking Don to the train station, I stopped at the grocery store to do some shopping and I grabbed a copy of Country Living. I knew better, but I guess I felt I needed some comfort and something to read with pretty pictures.
Mistake. I read it in ten minutes. Truly. And it's so thin! There's really nothing to it anymore. I got mad at myself for buying it. Lesson learned.
• Earlier this week, I shared our chromolithograph of the Aquitania with you. Much to my delight, I received this comment from Janet:
I have been reading your blog for quite a while but have never commented.
I sailed on the Aquitania from Southampton to Halifax on January 21, 1948.
Train travel from Halifax to Toronto. The grand sum of the ocean crossing for my
mother and I was 87 pounds. I crossed the Atlantic twice more. Once to return
to England on the Queen Mary and then back to the U.S. on the S.S. United States.
I was nearly two for the first crossing and eleven for the final trip to the U.S.
Isn't that wonderful? Janet traveled on the Aquitania! Thank you for letting me share this with everyone, Janet.
• Finally, thank you for all your wonderful comments on yesterday's post. I treasure them. And I stand in awe of those of you who have been happily married for thirty, forty and fifty years. You are a testament to the power of love and to the commitment and dedication and hard but unbelievably-worth-it work it takes to build a marriage that is strong and loving. Bless you.
Happy Sunday.