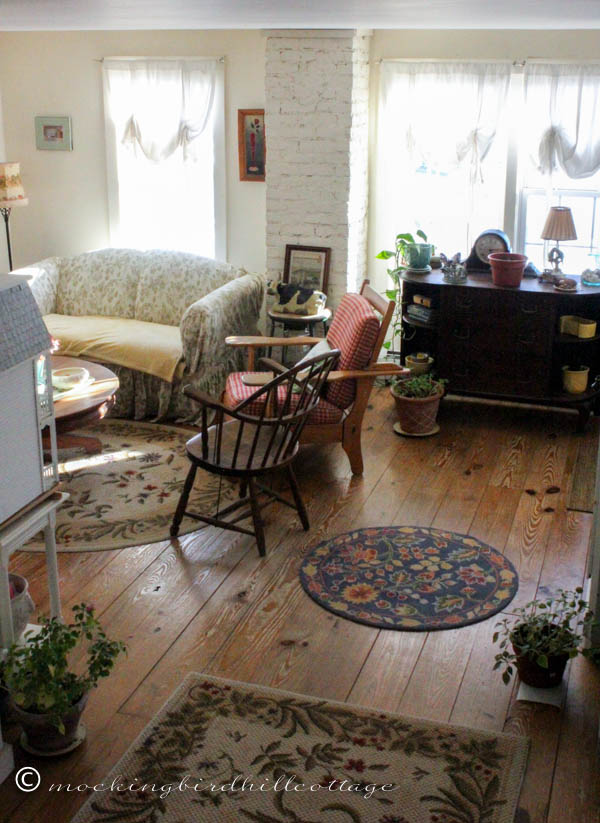 A while back, a reader asked me if I would mention where I got my rugs. I was reminded of that request when I was editing these photos this morning. When we first moved in the cottage, we only had one rug – the one that is in the den. We were on a budget (when aren't we on a budget?) so we went for easy and relatively inexpensive. The oval rug that you see under the coffee table is from Lowe's. I wanted something relatively light in color. With two dogs, I wanted something durable. This rug fit the bill. It was also very affordable. We found the round blue rug at Country Curtains. There is another small throw rug from Country Curtains at the base of the steps in the den.
When navigating the slippery wood floors in the rest of the living room became more and more difficult for Riley, I decided the open space between the stairs and the front door needed something more secure for my boy. I went to Lowe's and purchased the rectangular version of the oval rug. I didn't want three different rug patterns in the living room and decided to go for a more consistent look.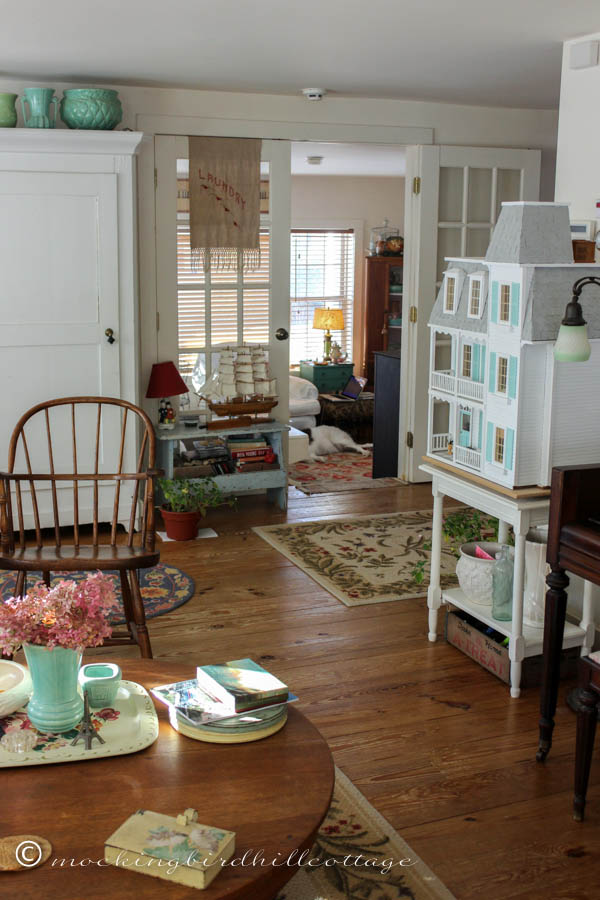 The red rug in the den (you can see Scoutie in her tunnel position) is from Pottery Barn. I'm sure it's no longer available as I saved my pennies for it when we were living in our rental. We've lived here for eight years and we lived in the rental for four years, so we've probably had it about ten years. The edges are a bit worn, but it remains a beautiful rug and I still love it after all this time.
If you look closely, you can see the Miss Keyboard's School sign hanging above the large picture window in the den. I will try my best to get a better photo but it's awfully tricky with the light pouring in. Trust me, it looks great there.
The upstairs has wall-to-wall Berber carpet. I'm not crazy about it and I'd love to see hardwood floors up there but Don is a "I want carpet in the bedroom" guy, so carpet it is.
As you can see from all the pots scattered around the living room, the Impatiens are still going strong. If I can keep them going, think of the money I'll save when Spring rolls around!
Right now, that seems very, very far away.
Yesterday's sunset: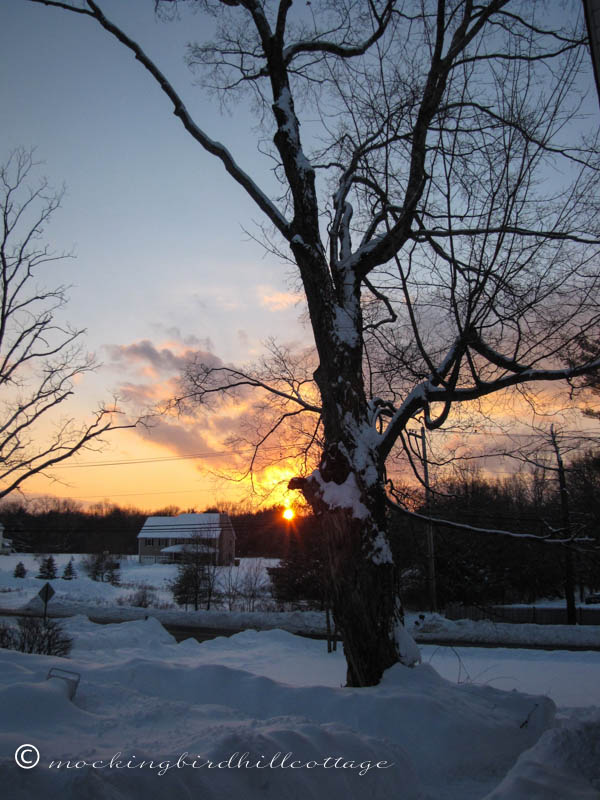 Don't forget to stop by my review post for Suave Professionals ® Moroccan Infusion Body Care and leave a comment to be entered in a $1000 gift card giveaway.
And our next Felt Ornament Party will be this Sunday, February 23rd. We'll be sharing February's creations.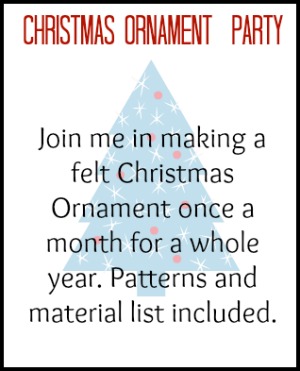 Happy Wednesday.