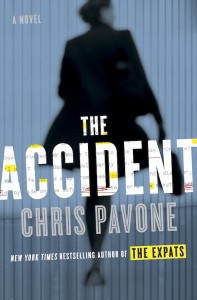 Today I am reviewing The Accident by Chris Pavone for TLC Book Tours. As always, I am provided with a copy of the book in exchange for my honest review.
About the book (from the publisher): In New York, in the early dawn hours, literary agent Isabel Reed is reading frantically, turning the pages breathlessly. The manuscript – printed out, hand-delivered and totally anonymous – is full of shocking revelations that could bring down one of the most powerful men in the world, and initiate a tremendous scandal implicating multiple American presidents and CIA directors. This is what Isabel has been waiting for: a book that will help her move on from a painful past, a book that could help reinvigorate her career… a book that will change the world.
In Copenhagen, CIA agent Hayden Gray has been steadfastly monitoring the dangers that abound in Europe.  His latest task is to track a manuscript – the same manuscript that Isabel is reading. As he ensures that The Accident remains unpublished, he's drawn into an elite circle where politics, media and business collide. On the one hand, the powerful mogul who has unlimited resources to get what he wants. On the other, a group of book professionals – an eager assistant, a flailing editor, an ambitious rights director, and a desperate publisher – who all see their separate salvations in this project. And, in between, the author himself, hiding behind shadowy anonymity in what he hopes is safe, quiet Zurich.
In this tangled web, no one knows who holds all the cards, and the stakes couldn't be higher: an empire could crumble, careers could be launched or ruined, secrets could be unearthed, and innocent people could – and do – die.
My review: I reviewed Chris Pavone's The Expats in January 2013 and said in that review: "I guarantee you will not be able to put this book down." I can unreservedly say the same for The Accident. Pavone is such a good writer, so skilled at pacing and character development, so adept at painting a scene, a city, an environment, that this book springs to life on page one. You hit the ground running, never stopping until the end.
The story – that of a manuscript so potentially inflammable that certain people and agencies will do anything to stop its publication – is completely compelling. And totally believable, I might add. It is a fast-paced thriller that keeps the reader guessing until the last page.
Pavone has a gift for storytelling. I love the way he writes about each character. Whether the character is major or minor, he paints with deft strokes, giving us details that immediately make the character come alive on the page. He manages to write about environment – whether that of New York or Zurich or Long Island – with such sharp and evocative details that you feel you are there, right in the midst of it. And he knows how to plot, going back and forth between characters, occasionally giving us a section of the manuscript for The Accident, building tension throughout.
I also found the world of book publishing to be absolutely fascinating and Pavone, who was a book editor for many years, clearly knows that world. Not only does he create the environment of a publishing house, he writes about the changes in that world and how they affect publishers and editors and book deals and bookstores. As a lover of books, that sort of stuff is irresistible.
Power, money, fear, secrets, redemption, betrayal – it's all there in the pages of The Accident. I loved it. I couldn't put it down. I'm sure you will love it, too.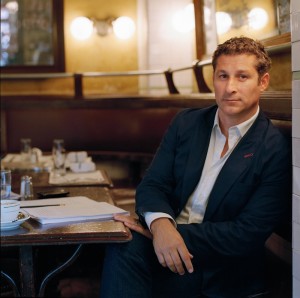 About the author: Chris Pavone is the author of The New York Times-best selling The Expats, winner of the Edgar award. He was a book editor for nearly two decades and lives in New York City with his family.
Lucky, lucky you! One of you will win a copy of this book. Just leave a comment on this post and you will be entered for this giveaway. I will pick the winner on Friday evening. Good luck!
Happy Tuesday.