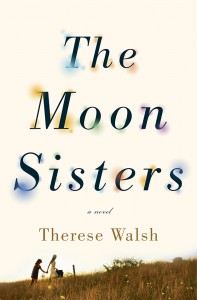 Today I am reviewing The Moon Sisters by Therese Walsh for TLC Book Reviews. As always, I am provided with a copy of the book in exchange for my honest review.
About the book (from the publisher): After their mother's probable suicide, sisters Olivia and Jazz take steps to move on with their lives. Jazz, logical and forward-thinking, decides to get a new job, but spirited, strong-willed Olivia – who can see sounds, taste words, and smell sights – is determined to travel to the remote setting of their mother's unfinished novel to lay her spirit properly to rest.
Already resentful of Olivia's foolish quest and her family's insistence upon her involvement, Jazz is further aggravated when they run into trouble along the way and Olivia latches onto a worldly train-hopper who warns he shouldn't be trusted. As they near their destination, the tension builds between the two sisters, each hiding something from the other, until they are finally forced to face everything between them and decide what is really important.
My review: One of the things I love about reviewing books is the opportunity to discover books that I might not be drawn to otherwise. Since I tend to gravitate toward mysteries and thrillers, this book might have slipped past my own personal reading radar. I'm so glad it didn't. It is simply lovely; a lush, emotionally complex, full bodied story of love and grief and longing and hope.
Walsh is a wonderful writer. She creates a world on the page that comes alive, that is so layered and evocative that I felt I was there. I could see everything, the trains, the bogs, the small town in West Virginia where the sisters live. When writing about Olivia, who has synesthesia, a neurological condition where the stimulation of one sense produces experiences in a different sense, Walsh beautifully illustrates for us the way in which Olivia sees and experiences the world. (Side note: I wonder if I have a touch of synesthesia. I have always seen voices in shapes and textures. This book got me wondering about that.)
The sisters, Olivia and Jazz, couldn't be more different in the way they see the world and in the way they grieve for their mother, taken from them much too young. The story is told from both points of view, interspersed with letters their mother wrote and never sent to the father who disowned her. As they take this journey, their world expands and they are forced to face assumptions and beliefs about their mother and each other. Everything is not as it seems. Nor are people necessarily what they seem to be on the surface.
With a strong element of magical realism, this story is compelling and beautiful. Walsh has a gift for writing complex characters and for creating an atmosphere that is worldly and other-worldly at the same time. I finished the novel last night and I still can't stop thinking about it.
Isn't that wonderful?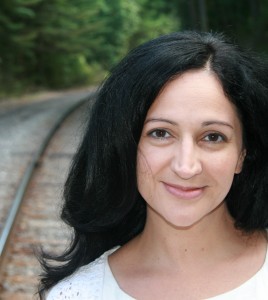 About the author: Therese Walsh is the author of The Last Will of Moira Leahy and the cofounder of Writer Unboxed. She lives in upstate New York with her husband and children.
One of you will be the lucky winner of a copy of The Moon Sisters! Just leave a comment on this post and I will draw the winning name on Thursday evening. (United States residents only.)
Happy Monday.