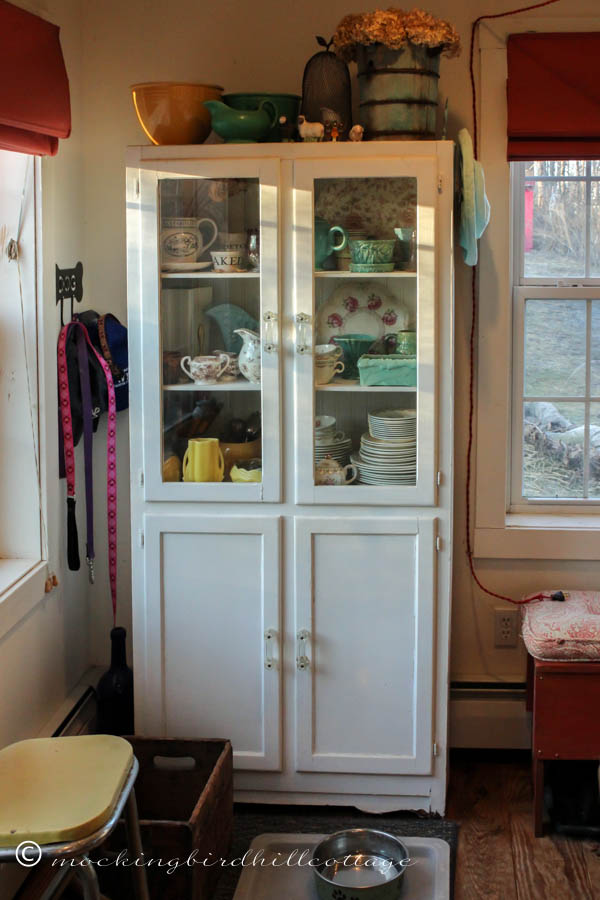 This Sunday morning finds us exploring another corner of the cottage – this time in the kitchen. By the way, it was photographed As Is – no staging.
This kitchen has a lot of windows; two to the left of this cabinet and one to the right, along with two over the sink. That is one of the reasons we fell in love with this house but also presents a challenge in terms of available wall space, which leads us to:
What's that piece of furniture? This kitchen cabinet was found when we were renting a very small cottage in Westchester County. The kitchen in that cottage had very little storage space, so when we found this piece we realized it would be the perfect fit. When we were considering whether to buy this house, I measured this wall to make sure the cabinet would fit. It did. It had fifties era stainless steel hardware on the doors (the exact design that we had on the kitchen cupboards in my childhood home) which I replaced with glass pulls. The backing behind the shelves is beadboard.
What else? Also in view is a wood crate with the word Moxie on its side that holds Scout's distilled water (it's on my shopping list today), a vintage step stool, Scout's water dish, and part of the red bench.
What's on/in it? On top: two Fiesta mixing bowls in yellow and green, a Fiesta green gravy boat, a metal mesh cloche over a vintage china pitcher, some sheep salt and pepper shakers, a fisherman that Don thinks looks like him and an old ice cream maker filled with dried hydrangea. Also, a hook that holds my gardening hat.
Inside: Lots of pottery and china, which is one of my favorite things to collect. Top shelf: Some Emma Bridgewater pottery, a Fiesta teapot, a Rose Chintz platter, some aqua McCoy, and pink depression glass salt and pepper shakers. Middle shelf: My favorite Red Wing pottery vase, a piece of Roseville Pottery, some brown transferware, a McCoy vase, two teacups from my favorite set of Edwin Knowles china, a hand-painted  plate from France, and three more pieces of McCoy. Bottom shelf: several pieces of yellow McCoy, a Homer Laughlin Harlequin pitcher filled with bakelite flatware, another Fiesta teapot in yellow, stacks of the Edwin Knowles china and a little teapot given to me by my friend Lynne.
Inside the lower doors: miscellaneous china, cleaners, dog brushes and dog nail clippers, dusters, swiffers, and a vase or two.
What's on the wall? A black metal piece in the shape of a dog bone with two hooks that hold Scout's leashes, Riley's purple leash, Scout's old collar, and several baseball caps.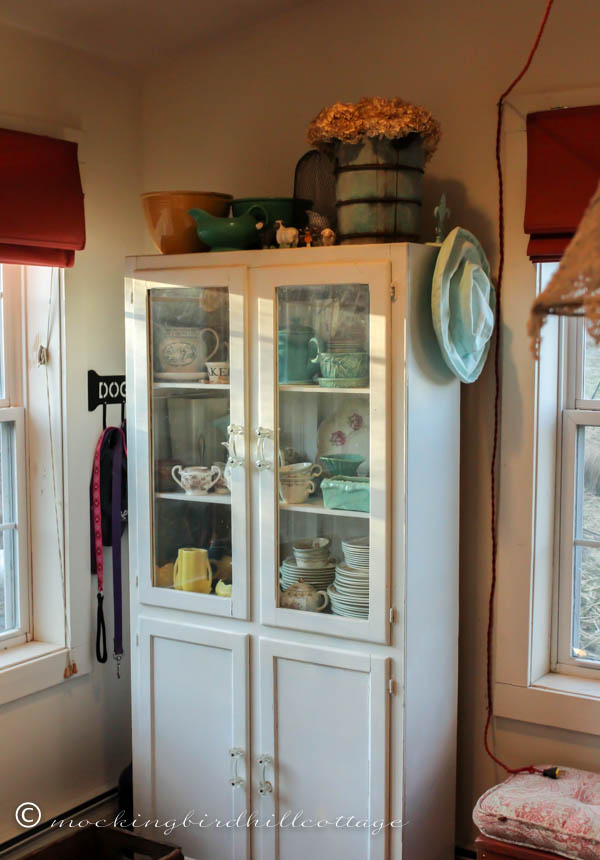 Any challenges? Trying to squeeze a lot into a small space and not have it look overdone or too cluttery is a constant challenge in this little cottage. The windows are always a challenge. Scout's water dish is a challenge, but this is the best place for it. (I've accidentally kicked it numerous times, resulting in some curse words and lots of paper towels being put to use.)
There you are – part two of my little series. Hope you're enjoying it!
Happy Sunday.