I'm thinking that Spring is about three weeks behind this year. If I didn't know what date it was, I would assume it was the beginning, rather than the end, of April. A long, hard winter and a late-in-coming spring. Yesterday? Rain. Today? More rain. I do take comfort in the fact that we will reap the benefits of all that moisture, whether snow or rain, in lushness of growth.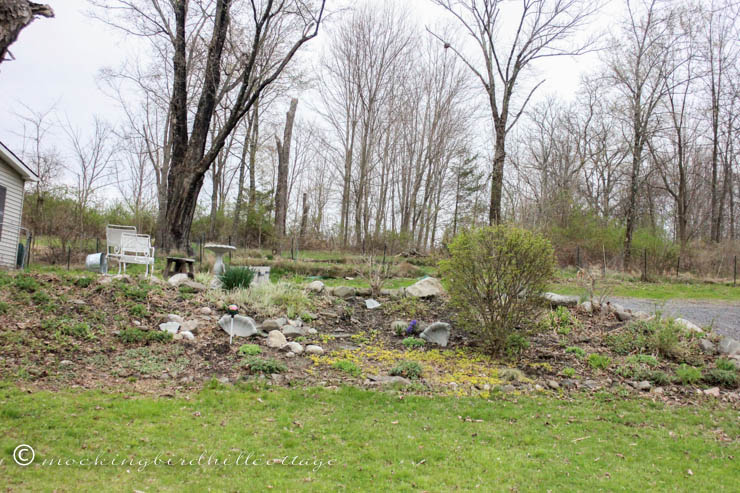 This is the large garden bed. I took this photo yesterday. Last fall, when I was away in Hartford, a huge maple limb came down in a storm and fell on the garden. It stretched all the way across the middle of the bed.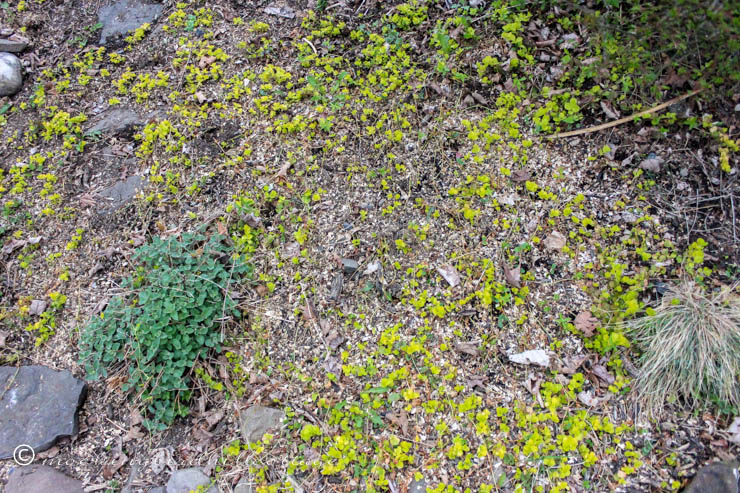 You can see the sawdust that still remains – a remnant of all the chainsaw activity the day after the storm. It was late September when I returned home, so I had no idea what plants might have been destroyed because of the damage. This perennial bed has been lovingly established over the past eight years and the thought of losing any of the plants made me very sad.
The good news is it looks like all is well. I can see the beginnings of most everything that was in the path of that limb. Time will tell, but it looks better than I thought it would.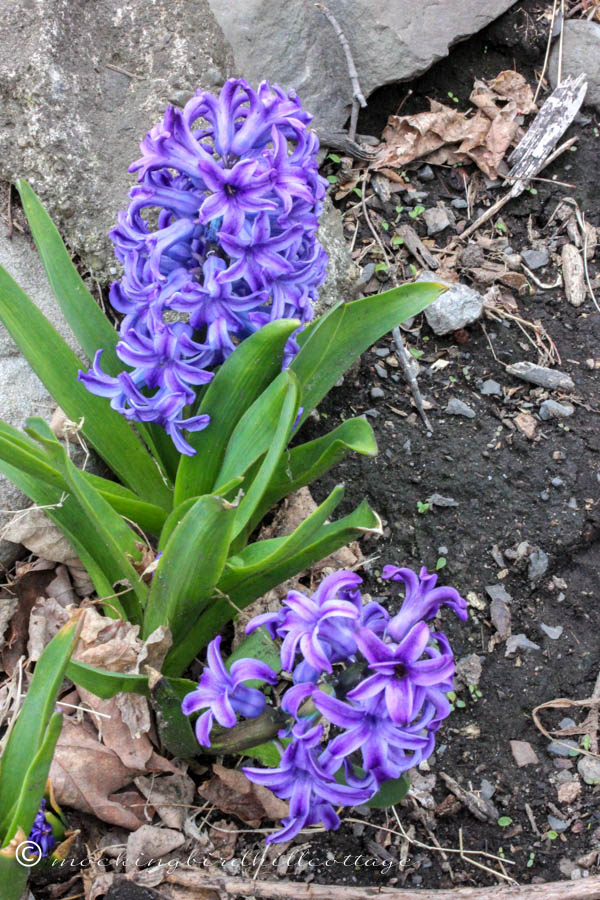 The hyacinths (mystery bulbs that I found deeply buried in one of the other garden beds) are gorgeous this year.
My Annabelle hydrangea, ever reliable, is leafing out.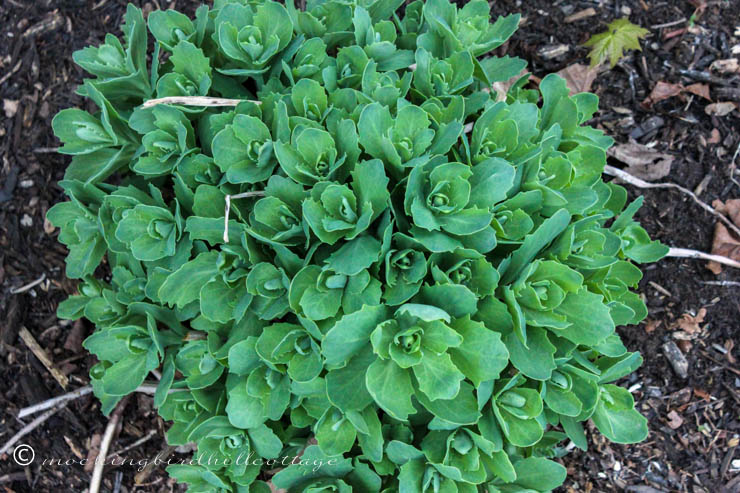 Sedum Autumn Joy, long established when we moved here, is blessing us with its beauty.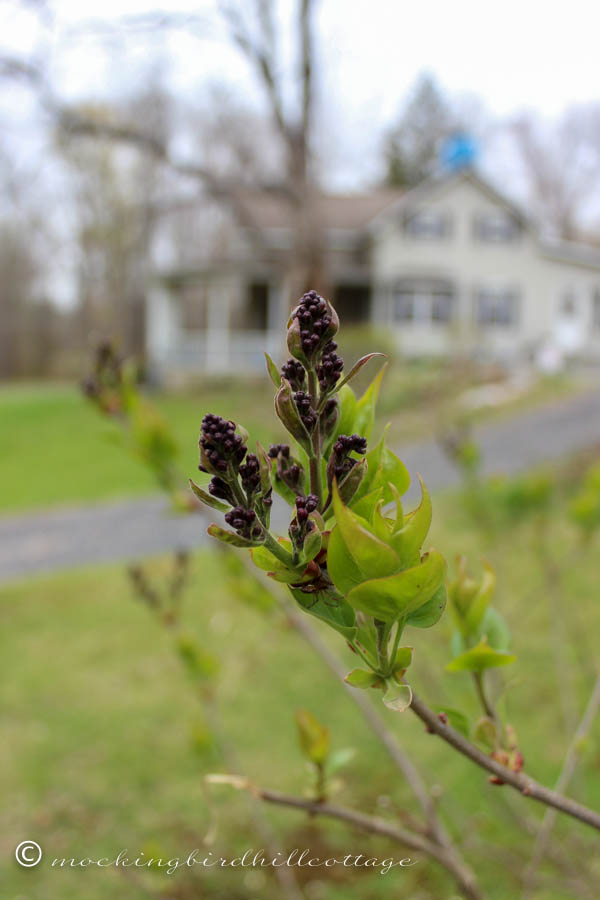 The lilacs are ready to open. (The blue tarp around our chimney is protecting us from leaks until we can scape together the money to repair it.)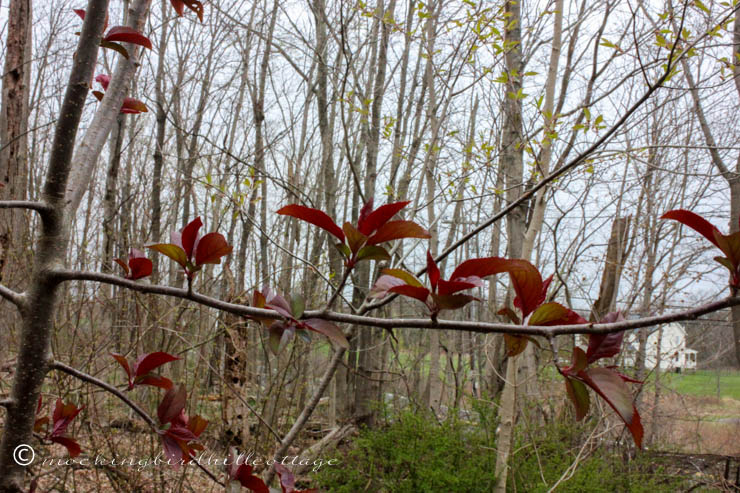 We've been doing a lot of bramble clearing and we have the wounds to prove it. What a pain in the tush – and the arms and the legs! We were clearing some of the brambles that are near the shed when I noticed this young tree, which was about to be overwhelmed by those pesky, thorny branches. I'm happy to say it has been freed. Does anyone know what kind of tree this is? The leaves are the maroon color of a Japanese or Norway Maple, but it is neither. I have a tree book somewhere around here and I'm determined to solve this mystery!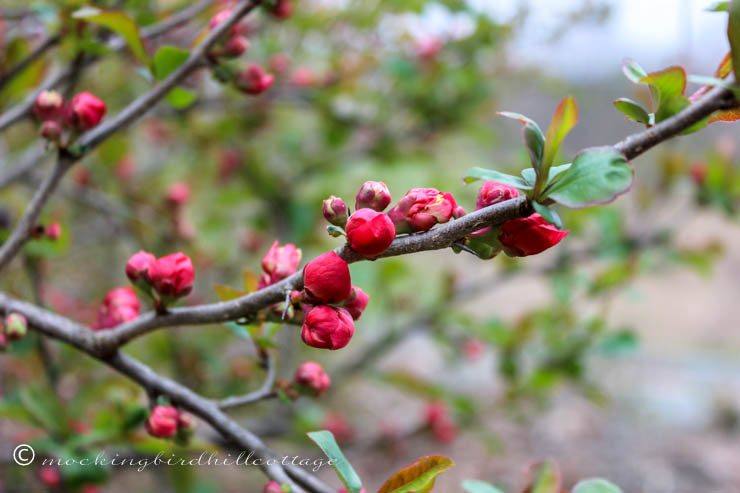 And the weigela bush (it's not a tree), like clockwork, has beautiful buds ready to open. I love this bush.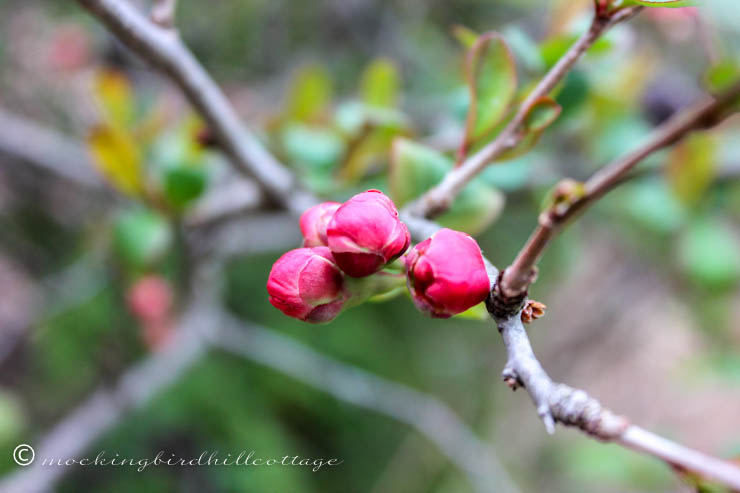 Aren't they beautiful?
I spent most of the day on Monday outside, clearing out garden beds, cutting back lavender plants near the kitchen, neatening up the stone edge that surrounds all the beds, pulling weeds.
I am passionate about gardening. I love it all, but I especially love perennial gardening. It takes patience. It's not an instant garden. But one of the great joys of living here after years and years of apartment living and/or house renting has been the opportunity to create my very own gardens. The only bed that was established when we moved here was right next to the house and that area had only a few hostas and sedums. Everything else I've added over time. The beds now stretch from the driveway to the far side of the house, from the chicken wire fence to the shed. I love my gardens and I'm proud of them.
I wrote a post in 2012 called: Why I love Having a Perennial Garden. You might find it interesting.
Gardening, that meditative and peaceful process, takes me to another place where I lose all sense of time, which makes it the perfect activity during this period of mourning. It offers some respite from my grief.
It's too early to plant seeds – that is at least another week away. But we did plant some wildflower seeds in an area to the left of the shed. I hope they take root. Our plan is to call it Shirley's Wildflower Garden in honor of my mother. Cross your fingers.
On another, seemingly endless, note: Those of you who subscribe to this blog may have noticed a lack of posts lately. But in reality, except for Friday and Saturday of last week, I have been posting every day. This problem is due to Yahoo and AOL making changes in an effort to stop spam or spoof emails. I subscribe to this blog via Yahoo, AOL and Gmail and the only consistent delivery lately has been through Gmail, though I did get the post via AOL yesterday. I'll say it again. Bookmark the blog. Visit directly. (Quite frankly, when you visit the blog directly, it helps my ad income.) Or subscribe through Bloglovin'. I've seen a few posts on how to fix this problem but the jury's out as to whether it will work. So I'm not doing anything until I know, for sure, that the problem will be solved and that I'm not creating another problem in the meantime.

I've written about this several times but I'm still getting messages from some of you saying you haven't received my posts lately. I can't make you bookmark the blog's URL or subscribe through Bloglovin' but if you don't, you probably won't receive any updates. It's up to you, my friends. I would sure hate for you to miss anything!
And finally, the winner of a copy of My Boyfriend Barfed in My Handbag…and Other Things You Can't Ask Martha is Janet in Rochester. Congratulations, Janet! I'm sending you an email.
Happy Wednesday.