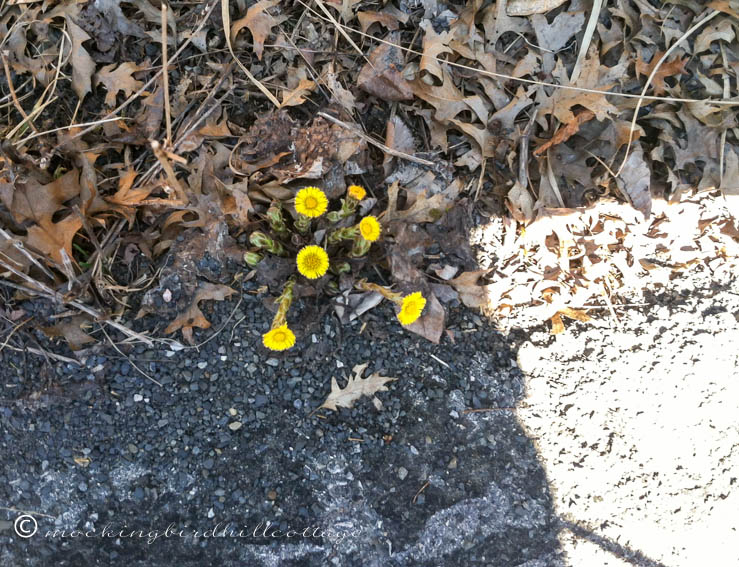 In a post-winter landscape of grays and browns and just a hint of green, I saw these little yellow flowers on the side of the road as I walked Scout. They are the first flowering anything I have seen this spring. Hurrah!
I have a story to tell you.
Saturday evening I did a load of laundry consisting of underwear, socks and a gray sweatshirt. After putting the load in the dryer, I promptly forgot about it until Sunday morning. Now, Sunday was filled with lots of chores as I prepared for Don's arrival home today. I had a check list and was very busy all morning getting things done. One of those items on the list was a trip to the grocery store.
Anyway, I threw our sheets in the washer, noticed the clothes in the dryer from the night before, took them out of the dryer and proceeded to fold them in the living room. It was a beautiful day yesterday, with the temps reaching the low sixties and I thought to myself, "I'll wear that sweatshirt with some jeans when I go to the grocery store. I won't even need a jacket!" I grabbed the pile of laundry as I went upstairs to make the bed and get dressed, put the underwear and socks away in the dresser drawer but kept the sweatshirt out because I was going to wear it.
After getting dressed, I grabbed my shoulder bag and my grocery list and left the house. Gorgeous day. I drove to the store, parked the car in the very crowded lot and proceeded to walk to the store, along with a lot of other people. As I was nearing the door, I adjusted my shoulder bag, which was slipping off my left shoulder. As I made the adjustment, I happened to touch the bottom edge of the sweatshirt that was sitting on my left hip.
Hmmm.
It felt bulkier than usual.
Still walking, still surrounded by people, I quickly felt under my sweatshirt.
I found a pair of underpants.
A pair of underpants that was seconds away from falling out of my sweatshirt for everyone to see.
Let me tell you, I grabbed that underwear and stuffed it in my bag so quickly it would make your head spin.
Did anyone notice? I have no idea. I was too busy cramming the pants into my bag.
All I could think of was this scene: Claudia walking through the grocery store with a pair of underwear either hanging out of her sweatshirt for all to see or said underwear falling onto the shiny vinyl floor as she merrily pushed her cart toward the produce section.
Would an innocent shopper have been thrust into the awkward position of informing me that my underwear had just fallen out of my sweatshirt? Or worse yet, pick it up from the floor and say "Excuse me…you dropped something."
Crisis narrowly averted.
When I got home I called Meredith and told her the story and we both laughed so hard that we cried.
That's my story for your Monday morning.
Don arrives at the train station around 3:00 this afternoon. Can't wait.
Happy Monday.