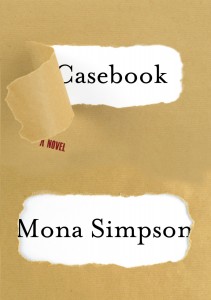 Today I am reviewing Casebook by Mona Simpson for TLC Book Tours. As always, I am provided with a copy of the book in return for my honest review.
About the book (from the publisher): From the acclaimed and award-winning author: a beguiling new novel about an eavesdropping boy working to discover the obscure mysteries of his unraveling family. He uncovers instead what he least wants to know: the workings of his parents' private lives. And even then, he can't stop snooping.
Miles Adler-Rich, helped by his friend Hector, spies and listens in on his separating parents. Both boys are in thrall to Miles's unsuspecting mother, Irene, who is "pretty for a mathematician." They rifle through her dresser drawers and strip-mine her computer diary, finding that all leads pull them straight into her bedroom, and into questions about a stranger from Washington, DC, who weaves in and out of their lives. Their amateur detective work starts innocently but soon takes them to the far reaches of adult privacy as they acquire knowledge that will affect the family's well-being, prosperity, and sanity. Once burdened with this powerful information, the boys struggle to deal with the existence of evil, and proceed to concoct hilarious modes of revenge on their villains and eventually, haltingly, learn to offer animal comfort to those harmed and to create an imaginative path to their own salvation.
My review: This is a story-within-a-story and the clever way in which it is set up shall remain a secret – I don't want to spoil your reading experience. This is not my usual reading fare, but I found myself fascinated and delighted by this book – by the gradual unfolding of this story told from Miles's point of view.
Every child listens in on conversations, does a little spy work, peeks into corners or closed drawers. I certainly did. With a premise that many of us can identify with, Simpson takes us on a coming-of-age journey that includes divorce, betrayal, secrets, lies and love. How much do we really need to know about the private lives of our parents? How much knowledge is too much knowledge? And how does a young boy who simply wants to protect his adored mother come to terms with his actions and their repercussions?
Miles is a thoroughly engaging protagonist. Simpson understands human frailty and she has a sense of humor, which is evident throughout the book. The characters come alive on the page: Hector, Miles's best friend; Irene and her female friends, Miles's father, the stranger (Eli) from Washington, DC, Miles's twin sisters, dubbed "The Boops." Detailed, sharply drawn, they and the somewhat privileged world they inhabit in Santa Monica, are vividly realized.
Above all, it is a story of a boy's love for his mother and the way in which every action he takes (both good and bad) shapes the young man he becomes at the end of the book.
It is beautifully written. I found myself missing Miles after I had finished the novel; found myself wondering what his life as an adult would be like. I simply love when a writer creates a world that is so real, so compelling, that I have to shake my head at the end of the book to remind myself that it's fiction. Isn't that the best feeling? It's what reading can do for you. It can transport you to another world.
Needless to say, I highly recommend this novel.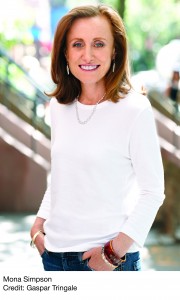 About the author: Mona Simpson is the author of Anywhere But Here, The Lost Father, A Regular Guy, Off Keck Road, and My Hollywood. Off Keck Road was a finalist for the PEN/Faulkner Award and won the Heartland Prize of the Chicago Tribune. She has received a Whiting Writer's Award, a Guggenheim grant, a Lila Wallace-Readers' Digest Writers' Award, and, recently an Academy Award from the American Academy of Arts and Letters.
I'm giving away one copy of this book to a lucky reader (U.S. residents only.) If you want to be entered, please leave a comment on this post.
Happy Monday.