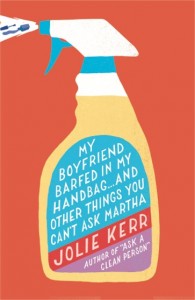 Today I am reviewing My Boyfriend Barfed In My Handbag…And Other Things You Can't Ask Martha by Jolie Kerr for TLC Book Tours. As always, I am provided with a copy of the book in exchange for my honest review.
About the book (from the publisher): Got a cleaning disaster on your hands? From the Deadspin and Jezebel author of the popular "Ask a Clean Person" column comes a hilarious and practical guide to cleaning all of life's little, and sometimes rare, household emergencies. Just in time for Spring Cleaning, Jolie Kerr's book tackles the most common (and uncommon) spills, odors, and – let's face it – those oh-so-embarrassing stains you just can't ask your parents about.
With her signature charm and humor, Jolie Kerr takes on everything from Cleaning 101 questions such as "How do I use a mop?" to the more obscure "How to I clean up this ginger beer that exploded all over my kitchen?" My Boyfriend Barfed In My Handbag is NOT your Martha Stewart's Homekeeping Handbook!
My Boyfriend Barfed In My Handbag showcases Jolie's infinite cleaning knowledge and terrific sense of humor, including remedies for heirloom wedding dress restoration, confetti stains on wood floors, dusty ceiling fans and endless laundry, as well as general tips for leading a tidier and happier existence.
Whether you're moving into a college dorm, purchasing your first home, of finally getting around to cleaning your old one, no stain, spill or surprise windowsill mushroom growth is too odd or embarrassing for Jolie. This book is the perfect guide for college students or housewarming gift for someone new to living on their own.
My review: Hey, it's obvious that this delightful book is geared to the younger generation. Jolie Kerr is hip and very funny. A few of the 'situations' that are covered are definitely more relevant to a younger reader – though I have to say they made me chuckle or, in some cases, ask "What the….??"
But here's the thing. Jolie Kerr knows what she's talking about. And she covers a multitude of cleaning questions with humor and down-to-earth practicality. She gets right to the nitty-gritty, as it were. There is a lot of valuable information in these pages – and it's not only valuable to a college student or someone just getting their first apartment. I learned a lot while reading this book and I've been cleaning for more years than I care to mention.
Some people like cleaning. I am not one of them. But I do it. I am the first to admit that I don't always know the best method for treating a stain or for cleaning a ceiling fan (Kerr has an amazingly easy way to do that particular cleaning task) or for cleaning tile and grout (an endless task here at the cottage and one I often avoid because I hate it.) Kerr's book provides clear and smart advice for all those situations and more.
Here is a section just made for me: Wedding Dress Restoration Projects: Before and After. Why, you ask? Because on our wedding day, my husband accidentally wiped his spare-rib-eating hands on his 'napkin,' which turned out to be my wedding dress. Maybe I should finally tackle that stain?
I love reading housekeeping books for several reasons; the advice is always helpful, I can pick it up and read a section or two at a time, and I learn a lot. But a cleaning book that tackles the subject with humor? Even better.
So, yes, this book is meant for twenty and thirty-somethings. But I (definitely not a member of either of those age groups) really liked it a lot. And I'll use it. It would be a great gift for someone younger in your life. (And they will think you are oh-so-cool to have discovered it.) It would also be a great gift for you. You can skip over any subject matter that doesn't pertain to your Older Adult life. Believe me, there is more than enough great advice here for anyone who has to clean their home or their clothes or their car. She covers it all.
About the Author: Jolie Kerr is the author of the popular column "Ask a Clean Person," which is featured weekly on Deadspin and Jezebel. Her work has appeared in Fortune, BlackBook, the Urban Outfitters blog, Gothamist, The Hairpin and The Awl. She has been featured as a cleaning expert in the New York Observer, O Magazine, InStyle, New York Magazine, Time Out New York, Health Magazine, and Parents Magazine. Jolie is a Boston native and graduate of Barnard College, now residing in a teeny, tiny, spotless apartment in New York City.
I am giving away one copy of this book to a lucky reader. Just leave a comment on this post and I'll pick a winner on Thursday evening.
On another note: Several of you who subscribe to this blog via email have mentioned that you have not been receiving recent posts. This is a Feedburner problem and it seems to be happening across the blogging world. The short answer: there's nothing I can do about it but trust it will be sorted out eventually. Feedburner often has mysterious glitches. May I offer some easy, practical advice? Most readers subscribe to a blog via email because the blogger doesn't post every day and they want to know when a new post is up. You know I post every day. Every Day. So, barring unforeseen circumstances, there will be a new post on this blog every morning. Why not simply bookmark the blog on your browser and click on it at some point during the day? Quite frankly, that's how I read blogs. (The only blog I subscribe to is my own and that's just to keep tabs on whether the email is working – and it has been working for me.) Bookmark it. You can rest assured that a new post will be up by 10 am every morning. Like clockwork.
Happy Monday.